Launched in 2019, Ergo (ERG) is a project that boasts a programmable blockchain with an energy-efficient and stable mining protocol. ERG currently trades at $8.34 per token with a capped supply of 97 million. Since not all tokens have been released yet, the current market cap of ERG is $268 million.
What Is Ergo?
Ergo is a secure blockchain equipped with decentralized finance (DeFi) functionalities. Ergo achieves this by taking features from the top two cryptocurrency projects, Bitcoin (BTC) and Ethereum (ETH). The project uses the Proof-of-Word (PoW) consensus protocol from Bitcoin to secure the network and implements smart contracts like Ethereum for its DeFi features.
Ergo utilizes a mining protocol known as "Autolykos," a modified version of Bitcoin's mining protocol. The Autolykos protocol is highly resistant to large mining pools and application-specific integrated circuit (ASIC) miners, making it more energy efficient. Moreover, to further mitigate the negative environmental impacts of Bitcoin's PoW protocol, Ergo limits the mining size for each node.
Ergo's native token is called ERG. The project had a fair launch where the project did not hold any Initial Coin Offerings (ICOs). Instead, Ergo adopted a PoW launch model, where users would have to mine or buy the tokens on a secondary market to acquire them. The project distributed these ERG tokens through block rewards. The block rewards started at 75 ERG for the first two years (2019 to 2021). After the first two years, ERG block rewards will steadily decrease until they reach zero eight years after launch, capping the total supply at around 97 million. By then, the rewards for miners will be sourced from storage fees and transaction fees instead.

Ergo has its own programmable blockchain so developers can build decentralized applications (DApps) on it. Current DApps on Ergo include SigmaUSD (a stablecoin protocol) and Ergo Auction House (made for NFTs). Both Ergo and Ethereum are programmable blockchains. However, the main difference between them is that Ergo does not require gas or transaction fees. This gives the Ergo blockchain predictable development costs, making it easier for developers to decide whether to build DApps on the platform. Another difference is that Ergo has its own scripting language, called "Ergoscript." This programming language provides more functionality and flexibility for developers, allowing them to create powerful scripts quickly and without high costs. As developers program Ergo smart contracts that are complex and secure, the network grows increasingly more suitable for various DeFi applications.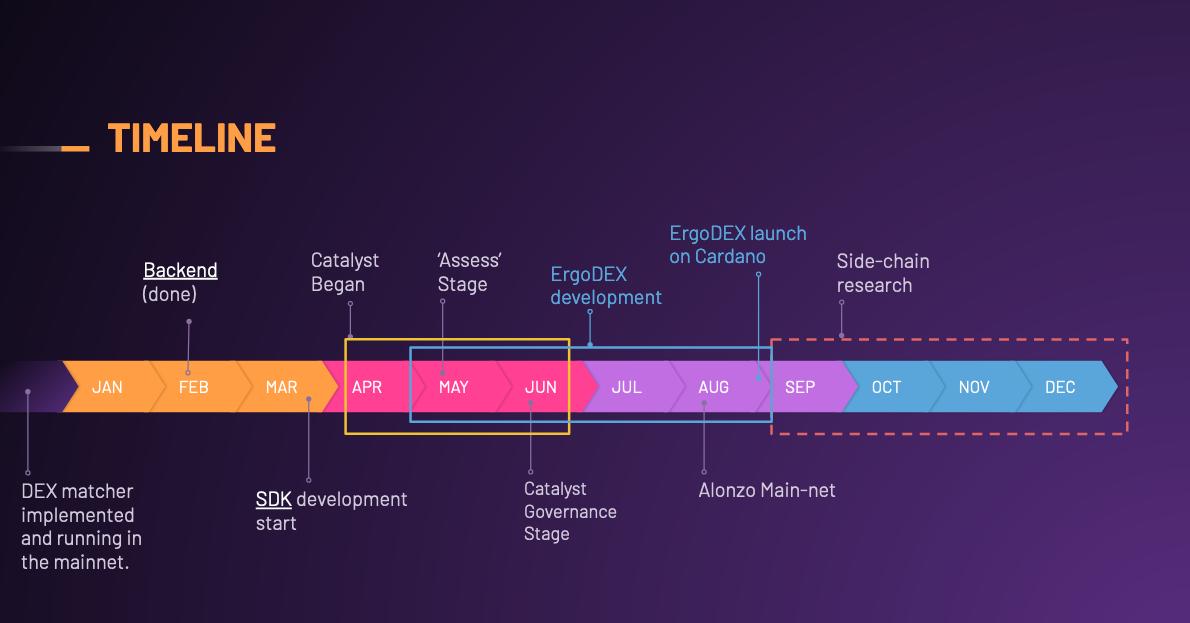 The Ergo development timeline for 2021 (Source)
What Is ErgoDEX?
ErgoDEX is a non-custodial decentralized exchange (DEX) on the Ergo platform. This DEX allows users to transfer liquidity between Ergo and Cardano (ADA) networks. ErgoDEX implements an extended Unspent Transaction Output (UTXO) or eUTXO model to enable liquidity sharing between the two platforms.
Like Uniswap (UNI) and SushiSwap (SUSHI), ErgoDEX is currently a DEX based on the automated market maker (AMM) protocol. However, before it fully integrates with Cardano smart contracts, ErgoDEX has plans to implement the order-book protocol on its liquidity pools. The combination of the AMM protocol and order-book protocol is possible due to Ergo's and Cardano's eUTXO model. The eUTXO model allows for the possibility of shared liquidity and interoperability on the Ergo and Cardano blockchains.
Furthermore, users are appropriately incentivized when they use the DEX and support the ErgoDEX ecosystem. Users of the ErgoDEX ecosystem include miners, UI providers, off-chain executors, liquidity providers, and traders.
Miners process and validate transactions and earn mining fees in the form of ERG in return.
User interface (UI) providers operate the UI and bots and earn fees when operations are performed through the UI.
Off-chain executors earn economic incentives from AMM and OrderBook services.
Liquidity providers provide liquidity and are rewarded with protocol fees from the liquidity pools.
Traders' interests lie in the services provided by the DEX.
What Is Ergo's Storage Rent Feature?
Throughout the years, Bitcoin has lost around 4 million coins due to lost or misplaced wallets addresses. On the other hand, the tokens from some projects remain untouched for a vast period of time, restricting the flow of tokens. Ergo intends to resolve these cryptocurrency issues with a special feature called "storage rent." In essence, the storage rent mechanism recycles lost and unused tokens and returns them into circulation. If the token is untouched for four years, miners are allowed to collect storage rental fees. These fees also serve as incentives for securing the network once the block rewards become zero.
Storage rent essentially eliminates unused data on the blockchain. Users may take out or transfer their tokens from the UTXO boxes before they get charged with storage rental fees at the fourth-year mark. Otherwise, they would need to pay a storage fee in ERG for unused UTXOs every four years to ensure that the unused tokens remain mineable. As a result, the tokens will return to the circulating supply, creating more liquidity.
Who Is Behind Ergo?
The Ergo team consists of members with blockchain framework and cryptocurrency backgrounds. Members come from projects such as Nxt (NXT) and Cardano (ADA). The team also has multiple experienced software developers, including Alexander Slesarenko and Denys Zadorozhnyi. Ergo's co-founders are Alexander Chepurnoy and Dmitry Meshkov.
Alexander Chepurnoy is the co-founder and core developer of Ergo. Prior to that, he was a core developer for the cryptocurrency project Nxt (NXT), a pioneering cryptocurrency that utilizes the Proof-of-Stake (PoS) consensus protocol.
Dmitry Meshkov is another co-founder of Ergo. Meshkov worked as a computer scientist in areas such as computer simulation and data mining for five years. Meshkov also worked as a researcher at IOHK and contributed to a blockchain prototype framework. Outside of Ergo, Meshkov is also the founder and CEO of Circlegain, which offers investment management solutions.
ERG Price History
The ERG token has only been listed on one major centralized cryptocurrency exchange and was launched recently in August 2021 with a price of $6.3. After the launch, the trading price of ERG grew to an all-time high of $18.8 at the start of September. After that, however, ERG's price fell and reached around $8 near the end of October. As of the time of writing, ERG's price trades at a range from $8 to $10.
ERG price from August 5, 2021 to November 19, 2021 (Source: Trading View)
ERG ranks #192 by market cap. The token's circulating supply is around 32 million tokens. The market cap is approximately $268 million and the fully diluted market cap is $818 million. ERG tokens have a maximum supply of 97 million.
What Is the Future for Ergo?
The ERG token experienced a 1,878% growth this year, but its recent price movement is rather lacking. Nonetheless, if the rumors of a bullish run are true, the ERG token will likely follow the overall cryptocurrency market trend and experience a price boost.
Ergo is vouched by Cardano founder Charles Hoskinson who expressed that the project should be one of the top 15 cryptocurrencies in the world because of its technological feats. However, the ERG token is not yet listed on most major exchanges, meaning that its outreach is not as far as other popular cryptocurrencies.

As previously mentioned, Ergo is a blockchain that uses a modified PoW protocol and the UTXO model. Meanwhile, Cardano utilizes the same UTXO model but adopts the PoS consensus protocol. Even though their consensus protocols are different, the similar UTXO model and smart contract language allow Ergo's PoW blockchain to be fully compatible with Cardano and its smart contracts. This compatibility enables Ergo to enjoy PoW security features for the execution of smart contracts, creating a potentially more secure platform for DeFi applications.
The following shows Ergo's roadmap. Some of the project's future developments include new token schemes such as refundable ICOs, Ergo Pay, private swaps, and so on. The increasing number of features and integrations may attract users to the platform and the ecosystem, leading to increased adoption and a possible increase in token value due to the growing use case scenarios.
Ergo platform roadmap 2020-2022 (Source: Ergo)
Moreover, regulators around the world are looking for ways to legalize and regulate the stablecoin industry and DeFi space. This type of regulation comes with both benefits and disadvantages. There is a good chance that Ergo will be deemed acceptable by authorities due to its infrastructure. On the other hand, heavy regulation could affect the overall cryptocurrency industry, leading to negative impacts on Ergo's development.
Conclusion
Ergo is a project that combines a modified version of the PoW protocol with smart contracts. The modified PoW protocol is more energy efficient due to its limited mining size and resistance to large mining pools and mining equipment. With this PoW protocol, Ergo has miners who process and validate transactions. Once the block rewards are reduced to zero, the incentives will be sourced from transaction fees and storage fees. The Ergo programmable blockchain does not require gas or transaction fees like Ethereum, thereby lowering the entry threshold for developers looking to develop applications on the platform. Only time will tell whether Ergo's technological feats can propel it into success.
---
Phemex |
Break Through, Break Free