How to Trade Crypto? Spot Trading Explained
For beginners learning how to trade cryptocurrency, spot trading is the easiest place to start. It's essentially buying a cryptocurrency at its current market price, and once you buy it, it belongs to you. For example, if Bitcoin (BTC) is trading at $40,000, a trader could buy one Bitcoin at the spot price of $40,000 on Phemex.
Bitcoin's spot price is measured in fiat currencies such as USD, EUR, GBP, CNY, or stablecoins such as Tether (USDT). Most crypto trading is done with stablecoins pegged to the US Dollar.
Phemex offers 100+ spot market pairs where users can trade crypto such as Bitcoin, Ethereum (ETH), Cardano (ADA), Solana (SOL), and more. These coins can be bought and sold on the spot markets, with their prices fluctuating based on the underlying market.
What Is Spot Trading?
Spot trading means buying at the current market price. This term is used in the crypto markets, stock markets, forex markets, and all other asset exchange markets.
A spot transaction is an exchange of assets for other assets for instant delivery at a certain date. Phemex handles $3B in daily spot transaction volume on average. If a user purchases Bitcoin using USDT on the spot markets on Phemex, they will receive their Bitcoin instantly.
The top 5 most-traded crypto on the Phemex spot market. (April 2022)

Assets can be bought and sold above or below the spot price depending on the exchange. For example, if the spot price of gold is $60,000 per 1KG, gold shops will buy it below the spot price, such as at $55,000. Traders buying Bitcoin at crypto ATMs will often pay above the spot price.
Phemex is the safest place to buy cryptocurrency and premium users can trade with zero fees, ensuring that they can trade crypto at the full spot value.
What Are The Benefits Of Spot Trading on Phemex?
Trading crypto on the Phemex spot markets carries advantages:
Crypto is traded with real-time pricing at the exact spot value.
Spot prices reflect the underlying crypto market.
Fees are extremely low (0.1% maker and 0.1% taker).
Crypto is deposited to user's account instantly.
Crypto is 100% owned by the user.
Crypto can be instantly withdrawn to a different wallet.
Users cannot lose more than what they own because there is no leverage.
Does not require collateral.
The easiest way to learn crypto trade techniques.
Choose from 50+ spot market pairs.
What Is A Spot Market?
A spot market is a place where crypto can be traded for money. Spot markets are basically an index of different crypto assets available for trade. Crypto spot transactions are carried out on centralized exchanges (CEXs) such as Phemex and decentralized exchanges (DEXs) such as Uniswap (UNI).

Using centralized crypto exchanges, traders can get the full spot value for their money. A trader selling 0.5 BTC at $37,000/BTC on Phemex would get $18,500 in USDT. The USDT pairs are tradable 24/7 unlike traditional stock markets where users can only trade Mon-Fri.
The difference between spot markets and futures markets is that traders own the crypto on spot markets and they own contracts on futures markets. Spot markets allow users to trade amongst each other or with the exchange directly.
Still confused about Spot Trading and Futures Trading?
Read Spot Market vs. Derivatives Market on Phemex Blog
How Does Spot Trading Work?
The following is a chart of the current BTC/USDT spot price on Phemex:
The BTC/USDT spot trading chart on Phemex.
The current spot price for BTC is approximately $37,000. Traders place buy and sell orders for crypto based on the spot price. This price will reflect the price on all other digital exchanges and crypto stores.
At the current spot price of $37,000, a trader would need $3,700 in USDT to purchase 0.1 BTC or $18,500 USDT to purchase 0.5 BTC. They could also sell their BTC in exchange for USDT based on the spot price. The Bitcoin is immediately deposited to the user's wallet. Phemex uses an automated system that executes spot transactions based on the individual holdings of traders, where they could buy and sell their Bitcoin or withdraw it to a hardware wallet such as a Ledger.
Spot trades can be executed instantly using a "market order" or delayed according to a trader's desired buy/sell price using a "limit order." Scroll below for a step-by-step guide on how to use the spot-trading functionalities available on Phemex.
What Are Spot Trading Strategies?
The goal of spot trading is to buy and sell crypto for a profit. There are short-term and long-term trading strategies.
If a trader purchases one Bitcoin at $45,000, they could sell it when it reaches $50,000 in the short-term. If they instead hold it for 2+ years and treat it as a long-term investment, they could potentially lock in significantly higher profits based on Bitcoin's historic performance.
Beginner traders can take advantage of trading indicators such as the RSI indicator or the Zig Zag indicator that display current trends in the price action of Bitcoin.
Indicator tools help users identify support and resistance levels for spot trades. Support levels are certain price areas in which a lot of people are buying and the price is unlikely to decrease further. Resistance levels are areas where people sell more and prices may stagnate or drop.
The spot trading investment process comes down to buying and selling at different intervals. There are thousands of potential ways to trade. To learn about long-term strategies read about HODLing and to learn short-term strategies such as how to swing trade, read our Swing Trading Guide.
How to Trade Spot on Phemex?
Learning how to day trade crypto might be easier than you think using the spot market tools available on Phemex. Follow this guide to learn how to trade crypto such as Bitcoin and other altcoins:
Buy/Deposit Crypto
To start trading on Phemex, register an account. Registration is free and you only need to verify your email to get started. New users can win up to $100 in welcome bonuses. Once you have an account, you can generate a crypto wallet address to deposit assets and start trading.
If you have crypto, you can deposit it for trading by heading to the "Assets" section. Press "Deposit" next to any crypto to generate a deposit address. Assets or funds are credited to your Phemex wallet when the transaction is confirmed.
The Spot Wallet shows all assets a user owns on Phemex.
If you don't own crypto, you can buy some using a credit/debit card or through bank transfer. Navigate to the top left section under "Buy Crypto" and choose based on your preference:
Buying crypto on Phemex is easy through debit/credit card or bank transfer.
We partner with popular fiat on-ramp services such as MoonPay and Simplex to deliver crypto for our customers easily. As one of the best places to buy crypto, Phemex offers a variety of options and service providers to ensure high flexibility.
We partner with the top fiat on-ramps in the industry to deliver crypto.
Once you input the amount you need, you will be redirected to a different page where you can fill out your card details and check-out.
Through our partner websites, you can buy crypto with no fees or very low fees. If the transaction is successful, the crypto will be deposited to your Phemex account automatically.
Choose a spot pair
Navigate to the top-left of the Phemex home page and select "Markets". This will redirect you to a page that lists all markets, including futures. Select "Spot" to make sure you're on the right page. This will bring up the 100+ spot markets Phemex has available for trade:
The Phemex markets home page.
From here, you can press on the "Trade" button next to any crypto listed on the spot page to be taken to the trade page where you can view charts and indicators or execute trades.
Make your first trade
If you have the funds available in your account, you can instantly make a spot trade and purchase the assets you need at the full spot value.
As an example, we will use the ETH/USDT pair.
ETH/USDT spot pair chart with the order box.
Ethereum is currently trading at $2,592. On the left-hand side of the screen, you will find the "Place Order" box: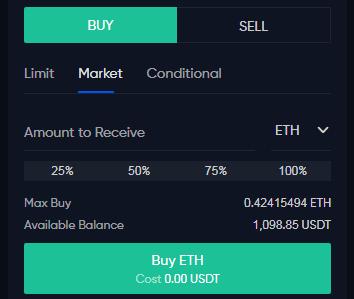 Phemex order box to buy and sell crypto.
There are "Buy" and "Sell" buttons that toggle inputs. The parameters below reflect the fact that you want to buy or sell crypto. Choose one according to your preference.
Below the order buttons, there are three optional order types:
Limit order: The crypto is bought or sold when it reaches a certain price.
Market order: The crypto is bought or sold instantly at the current price.
Conditional order: An advanced feature where multiple conditions have to be met for crypto to be bought or sold.
Market orders are recommended for beginners making their first trade. For this demonstration, we will purchase $1,000 worth of ETH using USDT. Press "Market" and then next to "Amount to Spend" choose "USDT" and input $1,000:
Buying Ethereum at the market price.
Press "Buy ETH" and a confirmation prompt will appear:
Press "Confirm" and the system will automatically purchase $1,000 worth of ETH. A confirmation pop-up will appear at the bottom-right letting you know the trade was executed:
The ETH will now be available in your wallet under the "Assets" section:
If you want to trade that Ethereum for Bitcoin, you can market-sell it for USDT and buy Bitcoin. Head back to the ETH/USDT pair, toggle "Sell" and "Market":
If you select "100%" from the slider, the trading system will market sell your entire Ethereum holdings for USDT:
Once the transaction is executed, the USDT will be deposited in your wallet:
Using the USDT, you can purchase Bitcoin on the BTC/USDT pair. By the same token, you could also exchange one of 50+ other assets available on the Phemex spot market.
Limit orders allow users to buy and sell crypto when it reaches a certain price. As Ethereum is trading at $2,592 at the moment, we could set a lower limit order such as at $2,000:
The "Limit Price USDT" is the spot price you want to buy/sell at for the limit order. The "Amount to Spend" is how much you want to spend at that time the order is executed.
Press "Buy ETH" and the limit trade will start. The status will appear below the chart under "Active Orders":
Note: The user won't be charged until Ethereum reaches that limit price and the order is filled. Cancel the limit order if you change your mind. If you want the limit order filled fast, select a limit price close to the current spot price.
Limit orders are useful for buying above or below spot price. As crypto traders are taught to "buy low and sell high," you want to set buy orders below the spot price and sell orders above the spot price.
Conclusion
Spot trading is a core skill to learn for our series on cryptocurrency trading for beginners. Most beginners want to buy/sell Bitcoin without the complexity of learning advanced trading strategies and tools.

Placing market trades by following the Ethereum example above will help you make your first trade. The same tools are available for all 100+ spot pairs and can be used with any of the other crypto available on Phemex.
All you need to get started is to register an account and make a deposit. Once you're familiar with the basics of spot trading, you can move on to more advanced types of trading such as futures trading. Nevertheless, it is always important to do your own research and compare crypto exchanges that matches your investment goals.
---
Phemex |
Break Through, Break Free
---
Everything you need to know
What is Bitcoin?
What is Blockchain?
What is A Crypto Wallet?