Summary
NEAR Protocol is a proof-of-stake (PoS) blockchain that has positioned itself as an Ethereum competitor by offering better scalability and usability.
Its Nightshade sharding technology is capable of processing over 100,000 transactions per second (tps), as compared to about 30tps for Ethereum currently.
NEAR seeks to prove that decentralized networks can be scalable, secure, and have a trustless consensus.
Smart contracts have opened up a new world for economic applications on blockchain-based platforms. Introduced and popularized by the Ethereum blockchain, smart contracts have become almost synonymous with blockchain applications, which allow network participants to deploy and run financial application code on decentralized infrastructures.
Since Ethereum's launch in 2015, there has been a steady inflow of new smart contract-based platforms. This is in part due to rising gas fees and congestion on the Ethereum blockchain. Even though Ethereum 2.0 has officially launched its beacon chain, scaling solutions like sharding and rollups are yet to be implemented.
What is the Near Protocol?
One of these platforms is Near Protocol, a Layer 1 blockchain that seeks to address the limitations of older systems such as Ethereum through its unique scaling solution known as "Nightshade" and a new powerful consensus mechanism.
Built on a Proof-of-Stake consensus algorithm for transaction verification and block production, the Near Protocol is open-sourced and smart contract-enabled in order to accelerate the development of decentralized applications (DApps.)
While most promising solutions have mostly been able to deliver on only one or two aspects of the blockchain trilemma, Near Protocol seeks to prove that decentralized networks can be scalable, secure, and have a trustless consensus.
Who Are Near Protocol's Founders?
Near Protocol was founded by former Google engineering manager Illia Polosukhin and former Microsoft software developer Alexander Skidanov in 2017. Both were part of the Y Combinator startup accelerator program, and their idea raised $50 million in two private funding deals in just four months.

What Makes The Near Protocol Network Special
Usability, scalability, simplicity, and sustainable decentralization are the four pillars that hold up NEAR's broader economic design. Every component of the NEAR system is made to be as intuitive and straightforward as possible, and its economy is highly optimized so both end-users and developers are guaranteed to have the smoothest experience. The platform also provides excellent network security and ecosystem development support.
Scalability is practically ensured through its sharding system, "Nightshade," where the chain is split into an unlimited number of sub-chains operating in parallel. Each parallel blockchain or "shard" is maintained by a network of allocated validator nodes.
This division of labor ensures a dynamic distribution of computation work, raising the network's processing capacity. Essentially, this makes NEAR exceptionally quick, with reports suggesting the blockchain is capable of processing over 100,000 transactions per second (tps), as compared to about 30tps for Ethereum currently.
At those speeds, NEAR enters the territory of what Ethereum 2.0 promises to bring. NEAR also believes it can achieve transaction fees 10,000 times cheaper than that of Ethereum, and with congestion regularly driving up costs on the latter, this seems to be a plausible aim.
NEAR's horizontal scaling approach, combined with its new "Doomslug" consensus mechanism makes this a compelling and versatile DApp development platform.
NEAR aims to make things as seamless as possible for developers, and thanks to its "common sense onboarding" is one of the most approachable networks in the blockchain space.
It offers not only a wide range of modular components to fast-track project development on the network, but also myriad additional features such as browser-based debugging, the use of more popular programming languages like AssemblyScript and Rust, and even contract rewards.
The Aurora Advantage on NEAR
As NEAR is built from the ground up, with its own unique sharding technology and Doomslug consensus mechanism, there is the issue of interoperability, especially with apps that were previously built on Ethereum. For developers who want to redeploy their Ethereum-based apps on NEAR in order to benefit from its speed and low fees, this presents a problem.
To address this, NEAR uses a subnet called Aurora, which is in fact an Ethereum Virtual Machine (EVM) smart contract platform that creates a bridge between Ethereum and NEAR. This means developers can redeploy their apps on NEAR within minutes, without having to make any significant changes. In addition, transaction fees on Aurora are around a thousandth of the fees on Ethereum.
The Bridge To NEAR Protocol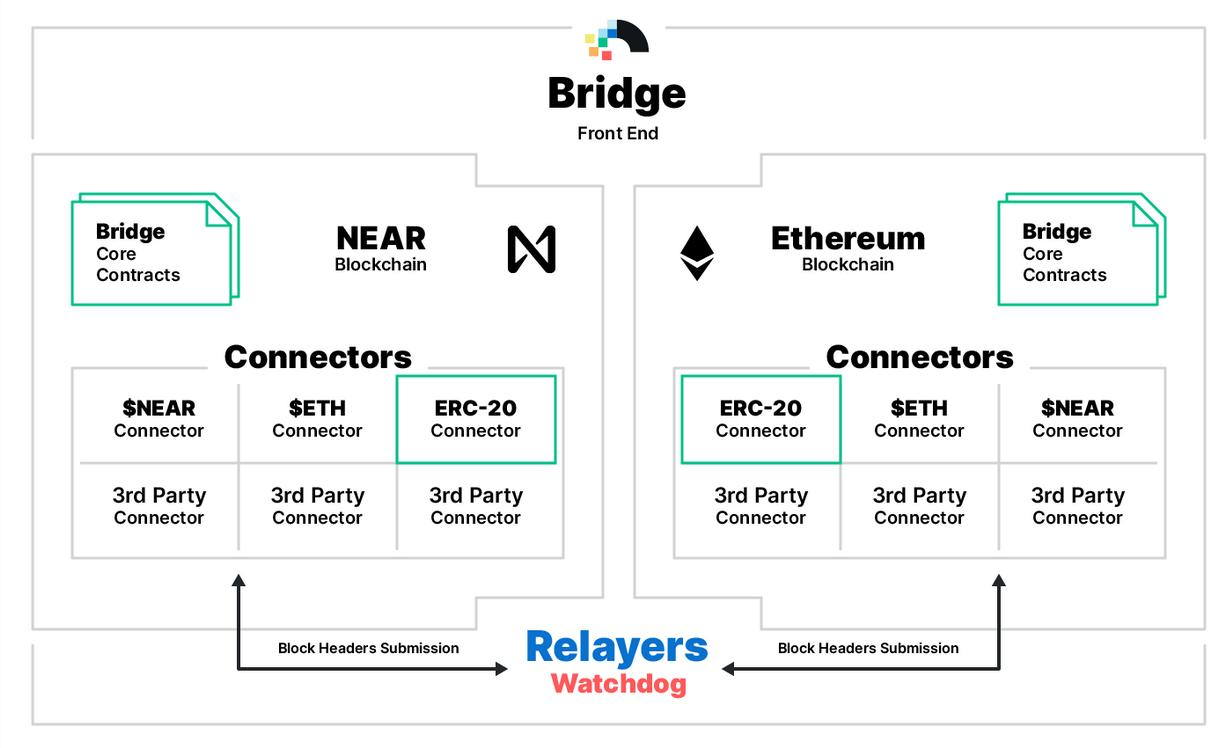 How NEAR's Rainbow Bridge enables trustless interoperability (Source: Near Protocol)
While the Aurora EVM enables developers to make use of the Near Protocol blockchain, NEAR's Rainbow Bridge is designed to facilitate the transfer of assets between both NEAR and Ethereum for a multi-chain Web3 user experience.
The Rainbow Bridge was the first completely trustless Ethereum-to-NEAR bridge in the industry, released in April 2021. It was a huge deal as it represented a step closer to blockchain interoperability. If anyone wants to move any Ethereum-based token like Tether on to the NEAR network to pay for usage of apps built on it, they can now do so via the Rainbow Bridge.

The Near Protocol X Octopus Appchain Network
A recent development that has created not a small amount of buzz is the launch of the Octopus Network, a NEAR-based multichain network for launching and running Web3.0 Web3.0 application-specific blockchains, otherwise known as appchains.
These appchains are independent blockchains used for a certain set of custom-designed applications, providing developers with a buffet of options for optimization in the design of their application chains, from governance frameworks to economic models. In addition to the high level of customization, developers benefit from a low-cost infrastructure for the deployment of user-friendly apps.
The Octopus Network seeks to differentiate itself from existing players such as Cosmos, Polkadot and Kusama, and Cosmos by lowering the barriers of entry to Web 3.0 for innovators.
According to its official website, the Octopus Network chose to build on the Near Protocol because of its market-leading scalability, in addition to other benefits such as cost efficiency and interoperability.
What are the NEAR Guilds?
In order to realise the vision of decentralization, the NEAR ecosystem uses DAO-based guilds. Guilds help decentralize NEAR's operations and growth by enabling small groups of developers to collaborate and come up with improvements to various aspects of the protocol.
Currently, there are more than 73 guilds in the NEAR ecosystem, each with a distinctive vision and mission. Some of these Guilds include a data guild, a legal guild and CleanNFTs, whose mission is to educate and raise awareness about energy-efficient blockchains and environmentally-friendly NFT platforms.
What is the Near Protocol Crypto Token?
The NEAR token ($NEAR) is the platform's native currency. NEAR's economy is built around utility tokens and the NEAR token acts as the medium of exchange on the network.
The NEAR token is primarily used by two groups of people–application users who pay to use DApps, as well as validators who run nodes to provide computational resources and security.
Since Near Protocol is completely permissionless, anyone can validate transactions on the network to earn transaction fees. Besides accessing applications on the platform, token holders can also participate in network governance and even earn rewards by staking their tokens. Staking is where users lock tokens into a smart contract to earn interest, and the penalty for validators caught involved in malicious network activity is having their stake slashed.

Where to Stake Near Protocol Token?
Staking Near Protocol can be done using the NEAR official wallet. Here are the steps:
Go to the NEAR wallet page, and create an account.
Buy and transfer NEAR (see step-by-step instructions below) to the wallet.
Select "Stake My Tokens."
Under "Validator Account ID" type in, aurora.pool.near.
Select "Stake With Validator" and the amount to be staked.
Click "Submit Stake"
Staking rewards will be paid in $AURORA.
Near Protocol ($NEAR) Price History & Price Prediction
$NEAR price chart from 2020 to 2022. (Source: CoinMarketCap)
The NEAR token ICO took place on CoinList in August 2020, five months after it was launched, with one billion NEAR tokens having been created at genesis earlier in April. About 12% of these initial tokens raked in $33 million before the final phase of NEAR's mainnet rollout later in October.
This could have been due to Dragonfly Capital's involvement in the NEAR Validator Advisory Board. Dragonfly Capital is a global investment firm which focuses on blockchain and has an active presence across the US and Asian markets.
The NEEAR token was trading under $2 for much of the rest of 2020 before it started climbing upward, hitting a high of $16.27 toward the end of 2021 in December. Among others, this spike might have been powered by NEAR's $800 million in funding initiatives targeted at accelerating growth in October 2021, with $350 million of the fund provided by Proximity Labs for the purpose of building on the momentum in the NEAR ecosystem in 2021.
Other factors include partnerships with Opera, the Wharton Business School, as well as crypto payment provider MoonPay which enabled $NEAR's accessibility across 150 countries worldwide. There was also the launch of the Simple Nightshade, the phase 0 of its roadmap towards a fully sharded blockchain.
The bullish sentiment persisted, leading to $NEAR's all-time high of $20.42 on January 16, 2022. While its price declined, possibly due to the sell-off by traders and holders, its price action remained promising. $NEAR skyrocketed again in April, bucking the broader crypto market trend during the time. For April, $NEAR was up 24.1%, whereas Bitcoin dropped by 11.9%, with Solana down 15.9%. While numerous factors served as the near-term support, $NEAR's total value locked (TVL) was the key to the rising price action.
According to Defi Llama, $NEAR's TVL surged to a new all-time high at that time of $374.14 million on April 13, as compared to $136.61 million in December. On a year-to-date basis, the April TVL posted a 174% gain, in contrast to $NEAR's more modest price gain of 24.1%.
Other positive contributing factors were the launch of the NEAR Foundation and acceleration in NEAR addresses. A report by FX Empire covered the launch of the Foundation to lead the development of network projects, and new address numbers–the number of NEAR protocol users rose by 139% to 5.3 million in the first quarter of 2022.
These are still impressive statistics to bear in mind, even as $NEAR is currently trading at $3.15 amid a sharp downturn in the overall crypto market, almost 80% of what it was trading at just a month earlier at $18. It ranks #27 on the cryptocurrency market capitalization leaderboard of CoinMarketCap.
How to Buy $NEAR Coin on Phemex
To buy $NEAR coin, Phemex offers a clear and simple platform to do so:
Go to phemex.com and select "Buy Crypto." You can select to pay using a credit card or bank transfer.
Sign up for a Phemex account. Please use a valid email address and password.
Deposit fiatcurrency (like USD, for example) or crypto into your account.
Search for your selected cryptocurrency. In this case $NEAR.
Refer to Phemex's live price chart (while this is not required, it is at least recommended).
Specify your maximum buy price, as well as how much $NEAR you want to buy.
Confirm your transaction.
Your $NEAR will appear in your Phemex wallet. Crypto settlements on Phemex usually appear within two hours.
---
Phemex |
Break Through, Break Free