Launched in 2014, Neo (NEO) is a smart contract platform that incorporates digital identity into assets and processes transactions more quickly and cheaply than Ethereum (ETH). NEO trades at $37.28 per token, with a capped supply of 100 million tokens, and a total market cap of $2.6 billion.
What Is Neo?
Neo is an open-source blockchain platform created in China. Neo enables smart contacts to automate digital asset transactions, similar to the Ethereum (ETH) Network.
Neo Blockchain
The Neo blockchain distinguishes itself by integrating digitized assets with digital identities. As a result, the platform and nodes only interact with and validate entities and digital assets that have a digital identity. Moreover, Neo blockchain supports popular programming languages such as Python and Java, allowing developers to code smart contracts easily with lower entry barriers.
Neo utilizes the delegated Byzantine fault-tolerant (dBFT) mechanism to maintain consensus. dBFT is lighter weight and cheaper than the proof of work (PoW) protocol that Ethereum uses. In addition, dBFT deals with one block at a time while the validators and nodes process the transaction. With dBFT, transactions can be executed instantly under the consensus protocol's fast transaction finality. Furthermore, cases of transaction reversal are rare because nodes are fairly centralized.
In short, transactions are confirmed accurately and quickly. However, the dBFT algorithm has some weaknesses. A recent paper analyzes its security and recommends improvements. In 2019, Neo's dBFT also postponed block creation for two hours, showcasing potential flaws in the protocol design.
Neo Tokens
Neo uses a dual token model consisting of NEO and neoGAS (GAS). Before the N3 upgrade on August 2, 2021, the NEO token was indivisible, with a fixed supply of 100 million tokens. Since the upgrade, the NEO token is now divisible, with the same fixed supply. The NEO token is mainly used for voting in blockchain governance. Additionally, it also facilitates functions related to consensus, network, and block creation.
Compared to the NEO tokens, which were all pre-mined during the genesis event, five GAS tokens are mined after each block is created. These GAS tokens are distributed to NEO token holders, the Neo Council, and voters. To receive GAS tokens by holding NEO tokens, users need to ensure that their wallet supports voting. Users can use GAS to trade for other cryptocurrencies, pay fees, and deploy smart contracts. The platform also charges GAS as the system and network fees to keep its network secure and maintain the smooth operation of the blockchain.
Users can now migrate their NEO and GAS tokens from Neo Legacy to N3. The platform offers a migration incentive program to reward users that perform token migration. This incentive program will last until October 31, 2021. Users will need to pay network fees in GAS tokens to successfully migrate their tokens.

What Does Neo Offer?
As previously mentioned, Neo uses dBFT as its consensus mechanism. The consensus protocol is designed such that the selected validators create blocks after a transaction is verified. The protocol can perform instantaneously without incurring a high cost. The high-speed performance contributes positively to its scalability efforts, with the platform's highest recorded transaction speed exceeding 2,400 TPS (transactions per second). For more context, both Ethereum and Bitcoin (BTC) have TPS of under 25, whereas Neo reportedly has a stable 1,000 TPS.
In addition to its consensus protocol, Neo's features include NeoVM, NeoQs, and NeoFS:
NeoVM: NeoVM is a virtual machine that can execute NEO smart contracts. Using its transpiler, NeoCompiler, it can compile code in various programming languages into its own bytecode. This type of feature does not exist in Ethereum, where developers often have to learn a new programming language to create smart contracts. Further, NeoVM has extensive functionalities to interact with other blockchains and services.
NeoQS: NeoQS is a system that enhances Neo's security against advanced quantum computing attacks that threaten the privacy of the blockchain transaction records.
NeoFS: NeoFS is a decentralizedstorage system for users to store Internet of Things (IoT) data in unstructured formats. Additionally, users can earn GAS for lending out storage space.
The vision of Neo is to enable cross-chain interoperability between public and private blockchains. In the future of crypto mass adoption, assets with a Neo digital identity will enable interconnection between decentralized, centralized, or unregulated blockchains. As such, Neo's technology is possibly one of the solutions that can provide a degree of compliance acceptable to both traditional regulators and crypto users.
Who Is Behind Neo?
Da Hong Fei is the co-founder of Neo. He is also the Chief Executive Officer (CEO) of blockchain-based company Onchain, which mainly serves private organizations. In the past, he worked in the consulting field for nine years. Da has a close relationship with the Chinese government, where local regulators have consulted with him regarding blockchain technology regulations. Moreover, he has received a degree in English and technology at the South China University of Technology.

Erik Zhang is the co-founder of Neo. In addition, he is the Chief Technology Officer (CTO) of Onchain. At Neo, he worked as a core developer. Zhang is the one who created the dBFT consensus mechanism that Neo currently uses as its consensus algorithm. He has also developed Distributed Networks Architecture (DNA) platform that facilitates blockchain services for Onchain. Moreover, he is a certified information system auditor (CISA). He is also the lead project manager for developing N3, which has been in the works since 2018. He majored in computer science at Shanghai University.
NEO Price History
Before 2021, NEO traded at under its opening price of $20. NEO's price grew upwards until it peaked at $118 in April 2021, following the bullish trend of the overall crypto market. However, NEO's price dropped to $79 for a short time, possibly due to news about the Turkey cryptocurrency ban. The price recovered within a few days and surged to $123 in May 2021 as NEO's price continued to ride the bullish trend. Nonetheless, NEO's price plummeted to $44 at the end of May 2021 following the China crypto exchange ban news. NEO prices have continued dropping to $26 since then. At the moment, NEO is trading between $56 and $60, having recovered along with the overall cryptocurrency market.
NEO is ranked #51 by market cap. The token's circulating supply is around 70.5 million tokens. The market cap is around $2.64 billion and the fully diluted market cap is at $3.74 billion. In addition, NEO tokens have been pre-mined with a maximum supply of one hundred million. Moreover, half of the tokens are under the Neo Council, and another half are sold at the initial coin offering (ICO).
What Is the Future of Neo?
Neo recently upgraded its protocol. This upgrade is called N3. N3 aims to provide a fully-fledged blockchain experience, with features such as oracles and native distributed storage. The flexibility that the new features provide includes access to external data, which would enable the development of more new decentralized services. Aside from the native assets and smart contracts, Neo now offers cross-chain interoperability, enabling the sharing of resources across other blockchains.
Furthermore, N3 enabled an enhanced economic and governance model by making the NEO token divisible. In addition, after the Neo N3 Mainnet launch, network fees were reduced immediately by 80%. The reduction of network fees may attract new users to its platform and allow them to participate in its ecosystem. The price difference between the previous version of Neo and N3 is shown in the figure below: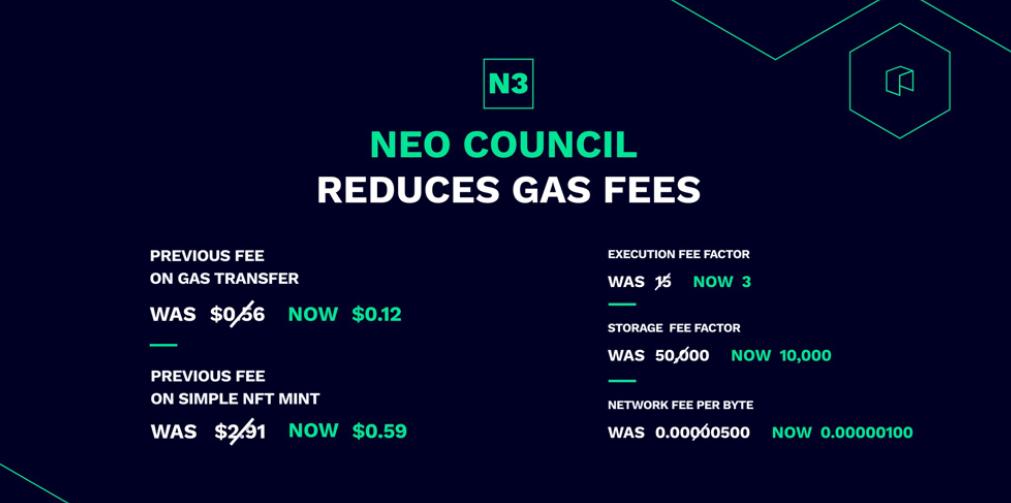 One considerable risk for Neo is that China has recently announced another ban on cryptocurrency trading. The reason for this new ban is the excessive electricity required for crypto operation, which undermines China's environmental efforts. The Chinese government is also wary of excessive speculation, due to the considerable effects a crypto crash may have on the Chinese economy. However, Neo has a higher chance of surviving in the Chinese crypto industry. This is because Neo has been developing in a more regulatory compliant and developer-friendly way, making the platform less susceptible to global changes in the crypto industry. Nonetheless, Neo could still be vulnerable to the political manipulation of the Chinese government, potentially affecting its technological directions.
Another issue is that Neo's governance is fairly centralized, with half of the tokens issued amongst members of the Neo Council. In addition, the Neo Council controls the nodes and selects validators for the network. This centralized approach plays a big role in contributing to the speed of the platform's transaction confirmation. This speedy performance on block transactions is appealing to most institutional investors. However, users that are looking for a more decentralized solution may choose to avoid Neo.

Conclusion
Neo supports many programming languages, making it easier for novice and experienced developers to develop smart contracts on its platform. Neo has also designed most of its features to provide more benefits for its users, such as NeoVM, NeoQS, and NeoFS. In addition, Neo has created a dBFT mechanism that is low-cost with fast execution speed. However, the Neo ecosystem is not decentralized enough to truly ensure the safety of the protocol, which may deter users from utilizing the platform.
Nonetheless, Neo recently released its Neo 3 upgrade, meaning that NEO tokens are now divisible. As a result, more users can participate in governance and more users can obtain NEO tokens. The network fees have also been reduced, which may attract new users to participate in the ecosystem. NEO still has some challenges ahead, such as developer adoption and future compatibility. Furthermore, Neo also needs to find a way of mitigating the risks from Chinese regulation as the country maintains its ban against cryptocurrency.
---
Phemex |
Break Through, Break Free