Perpetual Protocol (PERP) is a decentralized leverage trading platform for crypto such as Bitcoin (BTC) and Ethereum (ETH). The platform offers fully decentralized trading with up to 10x leverage. The PERP token is the platform's token, currently trading at $4.3 with a market cap of $320 million. The circulating supply is 75 million with a maximum supply of 150 million.
Perpetual Protocol's app is a decentralized application (DApp) that facilitates trading using smart contracts and decentralized wallets. Traders can deposit Ethereum or stablecoins and trade the largest cryptos by market cap using wallets such as MetaMask. Traders purchase perpetual contracts that never expire until the trade is closed – hence the name perpetual.
The home page of the Perpetual Protocol.
The assets tradable on Perpetual Protocol are not the underlying assets, i.e. Bitcoin contracts are not the same as owning Bitcoin. The trading is similar to Phemex contract trading, but as a centralized exchange Phemex provides the liquidity for its own users while funds are stored in community vaults on Perpetual Protocol.
Perpetual Protocol is not free and users pay 0.1% taker fees and 0.09% fees for every trade placed on the network in addition to Ethereum gas fees. The network fees are settled in ETH and stablecoins such as DAI and USD Coin (USDC).

Summary:
Perpetual Protocol is a contract trading platform. The platform uses smart contracts to facilitate trades. A smart contract is code that self-executes which means there is no human oversight.
Contract trading allows traders to trade with more money than they have. Users can trade with up to 10x leverage. This means if they trade $1,000 they would effectively be trading with $10,000.
Contracts are not the same as the assets – they are only tied to the price of those assets. If a person trades contracts, these contracts can be bought at a certain price (i.e. 10 contracts for $100 instead of 0.001 BTC for $100).
A perpetual contract is a contract with no expiry date. While most options expire at a certain point, perpetual contracts only expire if the trader is liquidated and/or if they close their trade.
Users can trade contracts for top crypto such as Bitcoin (BTC), Ethereum (ETH), Solana (SOL), Avalanche (AVAX), Fantom (FTM), Chainlink (LINK), and more.
The liquidity for trades on Perpetual Protocol is provided by users themselves. The protocol uses the "Virtual Automated Market Maker" (vAMM) model to provide liquidity for traders.
Perpetual Protocol runs on Ethereum's layer-2 solution called "Optimism" that decreases gas fees compared to the Ethereum mainnet.
Perpetual contracts carry risks. If the trader is incentivized with leverage, they face a higher chance of liquidation with a smaller percentage move against their trade.
PERP is an ERC-20 token and it is the governance token of the Perpetual Protocol platform.
What Are Perps In Crypto?
A perpetual contract is a derivative contract used in futures trading. Regular contracts and call & put options have an expiry date, but a perpetual contract does not expire unless the trader chooses when it's supposed to expire themselves.
Let's say a trader purchases 100 call options on Bitcoin and they are in profit three months later. They could sell these contracts at a higher price or they could keep them indefinitely – as long as they make a profit. If the price moves against their trade, they could get liquidated and the contract would expire.
Perpetual futures are among the most traded assets in the world, with tens of trillions in daily trade volume. In the crypto space, they're a favorite and they recently surpassed spot assets in trade volume. The main reason perpetual contracts are preferred by traders is that they let traders multiply their profits with leverage and also retain them indefinitely.
What Is Perpetual Protocol?
Perpetual Protocol is a decentralized leverage trading exchange running on the Ethereum Optimism network. Perpetual Protocol uses DApps such as MetaMask to allow users to deposit funds and collateral in a trustless manner. Traders need Ethereum and stablecoins such as xDAI or USDC to post collateral for their leverage trades.
The protocol was launched in 2019 and went by the name "Strike Protocol" until the PERP token was released and the name was changed to Perpetual Protocol in the fall of 2020. The system relies on technology provided by Ethereum to execute trades using smart contracts and Uniswap (UNI) code to facilitate contract purchases in a trustless manner.
Perpetual Protocol only supports high market cap crypto such as Bitcoin, Ethereum, Solana, Fantom, Chainlink, and others in the top 20. This is part of their strategy to avoid exposing their user base to more volatile crypto and create a sense of security for users.
The protocol is trustless and transparent, with each transaction verifiable on the Ethereum blockchain using Etherscan. Users can see when someone posted a long or a short trade for any of the listed crypto pairs. The data can help them make a decision about the direction the market is going in.
How Does Perpetual Protocol Work?
Perpetual Protocol works similar to a centralized exchange (CEX). The main difference is instead of the exchange providing the liquidity for user's profits/losses, the money is collected in digital vaults that are ran by smart contracts and trigger every time a user wants to deposit and withdraw an asset.
The protocol has two main vaults: The clearing house vault and the collateral vault. All Ethereum assets that users deposit and withdraw are stored in the clearing house vault. In the collateral vault, the system collects collateral assets such as stablecoins (i.e. xDAI, USDC) that are taken from them if they're liquidated on the exchange.
Perpetual Protocol uses code created by Uniswap, an Automated Market Maker that uses two pair assets to facilitate the exchange of said assets. However, these are contracts people are trading which means they're not buying the underlying assets (i.e. Bitcoin) and their smart contracts are only designed to help with price discovery for contracts.
If more people are opening long trades on Ethereum, the contract price for an Ethereum long would go up. This would make it more valuable for traders who purchased contracts at an earlier date. It's why Perpetual Protocol's system is characterized as a "Virtual Automated Market Maker" (vAMM).

How to Trade On Perpetual Protocol?
Trading on Perpetual Protocol is simple once a trader has the basic tools set up. The first step is to download and install the MetaMask wallet, which is a browser extension that works on Google Chrome and Brave browser.
Once you've installed the MetaMask wallet, you need to buy Ethereum and send it to your address. If you don't have Ethereum, you can visit the "Buy Crypto" section on Phemex and buy Ethereum using a credit card or a bank transfer.
Head to the Perpetual Protocol homepage and press on "Trade". You will be redirected to the app:
The BTC perp hourly chart on the Perpetual Protocol app.
Choose the crypto you want to trade on the left-hand panel. The Bitcoin contract is selected by default.
Press on "Connect Wallet" at the bottom of the page and press on "MetaMask", and then connect your wallet by authenticating the connection. The system might ask you to switch to Ethereum Optimism and plug in the Ethereum for you.
Ethereum Optimism is the network Perpetual Protocol uses to decrease fees for users. To make your Ethereum valid on the network, you need to convert your mainnet Ethereum on metamask to Optimism Ethereum. To do this, head to the Optimism Gateway and transfer the assets: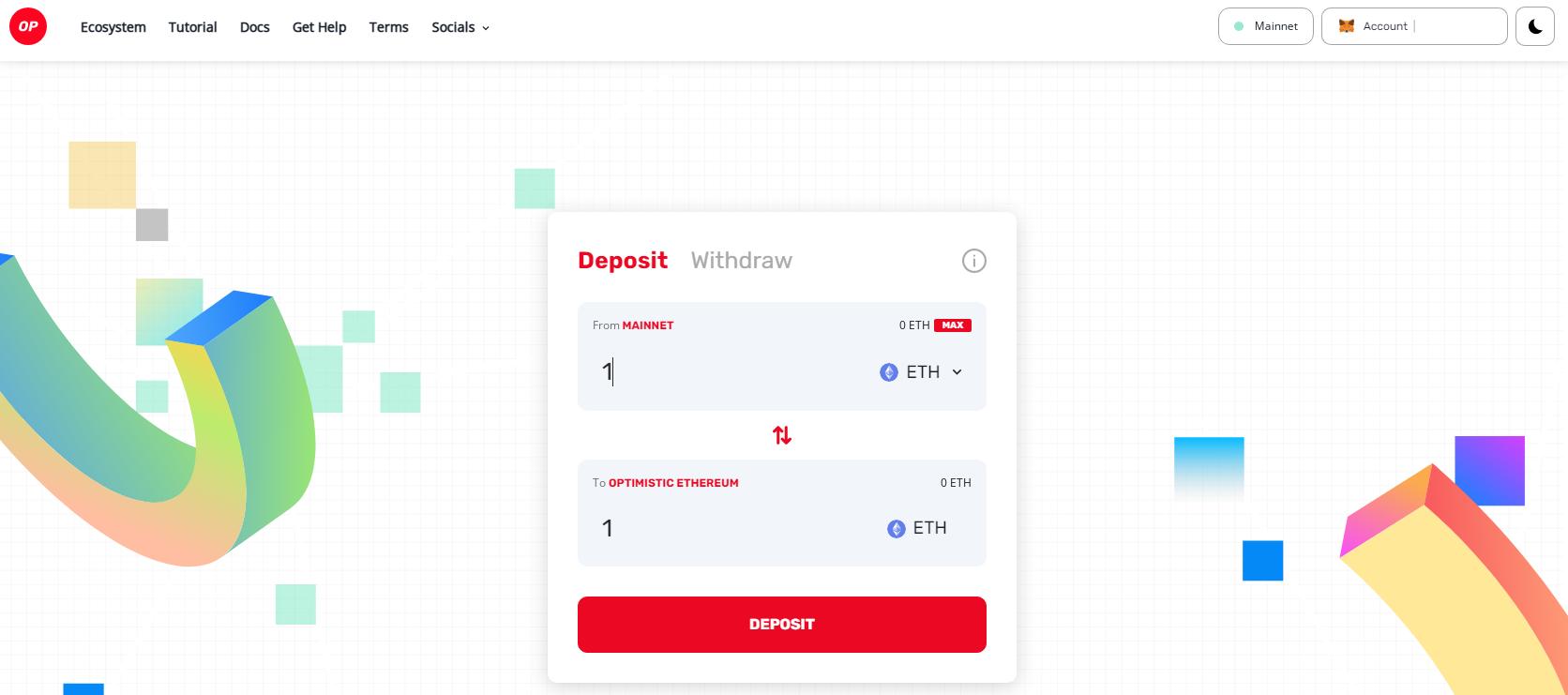 The Ethereum Optimism bridge to transfer L1 assets to L2.
Once the assets are in your Optimism wallet (same address as mainnet) and you're connected to the right network, you can instantly start trading on Perpetual Bitcoin chart. Press on "Long" or "Short" at the top right and use the slider to adjust your position, and then confirm your trade:
Place trades by using the "Long" & "Short" features on the right panel.
At the bottom-right, the system displays the latest perp crypto trades which should help you gauge out what other traders are doing:
The system keeps track of the last recorded trades.
We can see that the vast majority of traders are longing Bitcoin at the moment which indicates bullish sentiment. We could use this information to place a trade accordingly.
What Is The PERP Token?
The Perpetual Protocol token, PERP, is an ERC-20 token running on the Ethereum mainnet that serves as the governance token of the exchange. The PERP token is used for governance and voting on the network where holders can vote on new feature proposals in the future.
The Perpetual market cap is $320 million at the time of writing, making it among the largest decentralized exchanges. There is a circulating supply of 75 million out of a total supply of 150 million, indicating that 50% of all coins are in circulation.
The PERP token distribution is the following:
8%: Balancer liquidity.
19%: Private investors during the seed and strategic sale stages.
21%: The team and close advisors.
52%: Staking rewards.
Users can stake their PERP tokens to receive rewards. The staking rewards are paid out after a six month wait period. This is contrary to most other coins that offer short-term staking solutions, but the team claims it serves to reward long-term supporters.
The PERP/USD price chart on Phemex.
The PERP token has proven bullish over the last two years since its inception. It first started trading at $0.60 and appreciated to an all-time high of $24 within one year, giving a return of nearly 40x for early investors.
The token has since depreciated by -80% from its all-time high and is currently trading at $4.30. This is not a reflection of the platform itself gaining or losing users but the state of the crypto market as a whole. PERP was performing when Bitcoin was on the rise last year and depreciated when it dropped – similar to other altcoins.

DEX vs CEX Trading: Which Is Better?
A CEX such as Phemex only requires users to deposit assets such as Bitcoin or USDT to trade and post collateral. The fees are minimal and amount to cents on the dollar. A DEX (decentralized exchange) such as Perpetual Protocol requires a decentralized wallet and more money to cover Ethereum gas fees for every trade. This can get costly for beginner traders.
On Phemex, users trading perpetual contracts under the futures section can keep their contracts in their account for as long as they're in profit – just like on Perpetual Protocol. The main difference is that Phemex offers 100x leverage trading compared to 10x on Perpertual Protocol because we have a larger liquidity pool to draw from and can take on more risk.
Conclusion
Perpetual Protocol took existing futures trading methods that worked on centralized exchanges and implemented them in a trustless, decentralized manner. The protocol allows users to trade the most popular crypto and leverage their position according to the collateral they post on the network.
While Perpetual Protocol is not the first decentralized leverage trading platform, it's one of the most-used. The team behind the protocol made it easier on traders to bear the high Ethereum gas fees by switching to Ethereum Optimism – a layer-2 scaling solution. The trades are now a lot more affordable and the PERP token has had excellent performance over the last bull run.