What is Cosmos (ATOM)? Tendermint & The Internet of Blockchains
Cosmos is a decentralized ecosystem of separate blockchains that work together in an interoperable fashion — essentially creating an "Internet of Blockchains."
The Cosmos network uses an in-house staking coin called Atom — which carries the ticker ATOM on cryptocurrency exchanges — that is additionally used to tokenize transactions. The circulating supply of ATOM is currently over 210 million coins. The total supply, meanwhile, is nearly 270 million. There is no maximum supply.
In addition to ATOM, Cosmos also uses a token called Photon. These secondary tokens have more liquidity and speed than the primary token and are used to transact between independent blockchains on the Cosmos network. In general, photons are not dissimilar to ETH gas on the Ethereum network or GAS tokens on the NEO network.
Powered by Tendermint
The open-source base layer is called Tendermint, and it is the most crucial element of Cosmos' design.
Tendermint acts as a platform for blockchain development. It is meant to facilitate easier integrations between users' own decentralized networks. Tendermint accomplishes this by providing developers with the ability to easily build blockchains — without having to start from an empty slate — via a Cosmos software development kit (or "SDK"). This SDK greatly streamlines the blockchain development process while still allowing developers the freedom to create plugins for additional features.
Cosmos Hub and the Inter-Blockchain Communications Protocol
The secondary layer of Cosmos is the Inter-Blockchain Communications layer, which facilitates interconnectivity and allows individual chains to communicate with each other via a series of interconnected-but-independent zones.
Though the Cosmos network consists of multiple independent blockchains, the Cosmos Hub was the first to launch on the network — and, as such, it acts as the intermediary between all of the blockchains, or zones, in the Cosmos network.
Cosmos features multiple zones, each of which has the ability to function independently when authenticating accounts, creating new tokens, or implementing changes to its specific blockchain. The Cosmos Hub's main job is to account for each zone's state and keep each zone in communication with the rest — or, simply put, in sync.
BFT Proof-of-Stake
The Tendermint Core governance mechanism ensures that the distributed network of Cosmos Hub operators are in sync. Tendermint transactions are validated by hubs, which use a proof-of-stake (PoS) consensus algorithm called Tendermint Byzantine Fault Tolerance (BFT). This means that ATOM isn't mined. Instead, coins are awarded to validators who stake large amounts of ATOM to secure the network.
Though a validator must be one of the 100 largest ATOM stakeholders, smaller stakeholders may also delegate their coins — and, in turn, voting power — for partial rewards. This encourages validators to act honestly since individual users may easily lose faith in a particular validator and move their ATOM to another. Those with the most ATOM staked have the most voting power.
Who Created Cosmos?
The original idea for Cosmos came in 2014 from Jae Kwon, who teamed up with Ethan Buchman in 2015. Together, they created an SDK meant to make it easier than ever to develop with blockchain technology and allow individual chains to cross-communicate.
Kwon created the Cosmos whitepaper in June 2016 — though the project was called Gnuclear at the time. Gnuclear was rebranded to Cosmos in August of the same year.
Today, the Cosmos network is largely being built by All in Bits, a member of the Interchain Foundation (or "ICF"). The ICF's goal is to facilitate the creation of an Internet of Blockchains, which is also the primary purpose of Cosmos.
Cosmos ICO and Mainnet Launch
Cosmos was first financed via a private sale in January 2017, where 12 million ATOM tokens were sold for $0.025 per token — totaling $300,000. An additional private sale saw 160,293,050 tokens sold for $0.08 per token — totalling $1,329,472.
After the private sales, an initial coin offering (ICO) sold 160,293,050 ATOM tokens for $0.10 per token — totaling $16,029,305.
With the funding secured, Cosmos' Tendermint consensus mechanism was first tested in September 2017. The test uncovered a variety of flaws that significantly delayed further development by roughly one year.
Cosmos mainnet eventually launched in April 2019, when its genesis block was mined, and investors received their ATOM.
Conclusion
Cosmos is a unique and particularly interesting blockchain project that has been explicitly designed to connect independent blockchains and create an Internet of Blockchains. This level of interoperability is rare in the blockchain and cryptocurrency industry.
Cosmos has also tackled the problem of scalability — something that has plagued various leading blockchain projects — thanks to its use of Tendermint. Because more zones can always join the Cosmos network, it always has the ability to scale.
Though many blockchain projects are decentralized and use distributed ledgers, Cosmos takes decentralization a step further by allowing developers to test new cryptocurrency designs, upgrade existing projects, facilitate decentralized exchanges, or run scalable smart contracts. That said, the Cosmos Hub still acts as a sort of center of the entire Cosmos ecosystem.
The novel features of Cosmos and its underlying technology have made the project and its token — one of the hottest in the blockchain and cryptocurrency space today. The project is currently ranked among the Top 25 by market capitalization, thanks to a recent surge in the price of ATOM.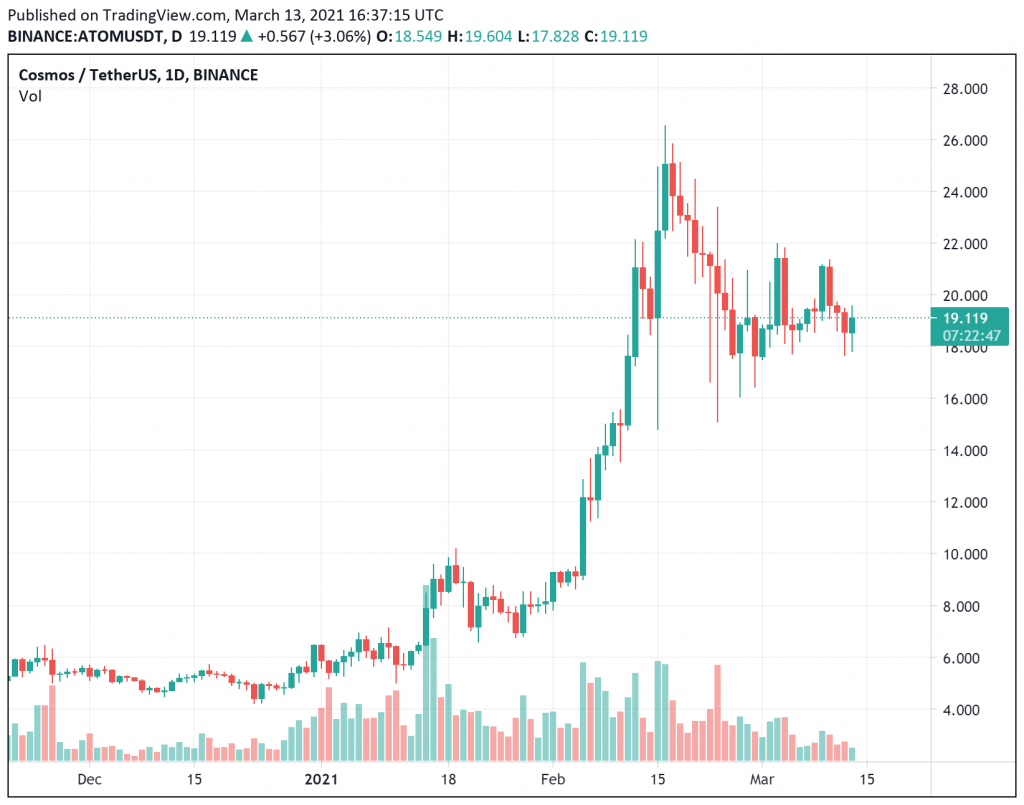 The price of ATOM has surged since the start of 2021. Source: TradingView
---
Follow our official
Twitter
account to stay updated on the latest news.