Launched in February 2021, Hoge Finance (HOGE) is a community-driven decentralized finance-based (DeFi) project that adopts a deflationary model for its ERC-20 meme token HOGE (formerly Hogecoin). HOGE trades at $0.00035643 per token with a circulating supply of around 400 billion, for a market cap of around $40 million.
What Is HOGE?
HOGE is a deflationary auto-staking token powered by DeFi. With auto-staking, a redistribution of rewards incentivizes HOGE holders. This redistribution is integrated with the project's token-burning mechanism, which redistributes 1% of each transaction amount to the holder's wallet and burns another 1% from the same amount. As such, 2% of each HOGE transaction is distributed and burned, which reduces the total supply after each transaction.
More transactions would mean more tokens are burned and distributed. As a result, the circulating supply decreases and users benefit from the increasing rewards. With the automated burning mechanism, the diminishing supply slowly increases demand. Like Bitcoin (BTC), HOGE may increase in value as it becomes scarcer.
All one trillion HOGE tokens were distributed through a fair launch, which means everyone had equal access to them from the beginning. Half of the tokens were permanently burned right away, and now the circulating supply stands at around 40% of the initially launched amount. Given the burning mechanism and the fact that no additional tokens will be mined, HOGE's circulating supply will only keep reducing over time.
Additionally, the whole team behind Hoge Finance is working toward their common vision of DeFi, which involves mass adoption. For that reason, the project positions HOGE as a community-driven token through its fair launch. Community members also have locked liquidity to guarantee the execution of transactions during the project's early days.
Seeking to increase public confidence, transparency, and awareness of HOGE, the community members commissioned an audit from crypto security company CertiK, and raised donations to secure exchange listings. Now, the token is offered on centralized and decentralized exchanges, offering ease of accessibility.
What Are the Hoge Team's Goals?
HOGE's purpose is to help holders profit from the tokens burned and distributed per transaction. Therefore, HOGE holders are incentivized to promote the token so that other users can trade with it. In addition, the Hoge team is actively creating use cases for the token so that holders can use the token across various services. As such, this meme token can bring more value and profits to the holders from its reduced supply and rewards distribution.
The project aims to promote the perks of DeFi in an entertaining and accessible way. For this purpose, the community also supports charity, creator content, cryptocurrency education, and animal welfare, attracting users to participate in the project. Key elements of Hoge include the following:
Hoge community: The Hoge community is the main force promoting the use of the HOGE token, and receives rewards in turn for the promotion. The community has grown, owing to their marketing approaches such as memes, educational videos, mobile apps, partnerships, and so on. Community members can trade tokens to access services provided by Hoge Finance.
Hoge space program (in development): This program involves incorporating crypto technology into outer space through CubeSat satellite technology. The Hoge team hopes this program can increase the project's technical value, which may boost HOGE's value in turn.
Hoge NFT Marketplace (in development): This non-fungible token (NFT) marketplace will mainly facilitate meme card trading — an activity that has attracted much attention from NFT collectors. In fact, the NFT sales volume soared up to $10 billion in the third quarter of 2021. Hoge plans to ride the NFT craze and create new use cases and attract partnerships for further adoption.
However, the project is not backed by any unique or novel technology. For instance, the HOGE token does not have a wallet and revenue structure built for itself. Instead, the goal is just to earn an income from people joining the community. For that reason, users who get in first are likely to enjoy a good short-term investment provided that they cash out at the right moment after HOGE becomes widely adopted.
For more details on HOGE's application concepts and programs, see Hoge Finance's whitepaper.
Who Is Behind HOGE?
The HOGE project is governed by its community, including the support of around a hundred developers. The developers were anonymous at first, but several revealed their identities through "self-doxxing" announcements earlier this year. They offer a wide range of experience and specialties, as exemplified by the first four who revealed themselves:
Joseph Niehaus is Hoge's Head of Technology and NFT Programs. He holds a Ph.D. in Atmospheric Science and is currently involved in researching the interaction between aerosol and clouds. In addition, he has 12 years of experience as a software developer.
Zach Issa Al-Kharusy is Hoge's Head of Talent and Culture. His work experience includes running a successful agricultural business, facilitating Salesforce implementation for a Fortune 500 enterprise, and establishing a diversity & equity council for another major enterprise.
Marc-Antoine Belairis is the co-founder of Hoge Foundation and Head of Operations. He has experience as both a developer and consultant, and co-founded a software startup to enhance efficiency for public works. He also established a learning platform for urban forestry professionals, and has experience leading first response teams during natural disasters.
Florin Podaru is the co-founder of Hoge Foundation and Head of Business. His educational background involves data analytics and mathematics, and his professional career involves project management and business development for multiple UK-based organizations.
HOGE Price History
HOGE price from March 1, 2021 to September 24, 2021 (Source: CoinMarketCap)
After its launch in March 2021, HOGE rose to its all-time high of $0.0008. This was around the time at which Bitcoin reached its record high of over $60,000. During the same month, news of India's crypto ban and penalties affected crypto prices in general, and HOGE's price dropped to $0.0001. In the middle of April, HOGE peaked again at $0.0004, and then plummeted to $0.0002. This decline aligned with the wider crypto trend following major announcements from Elon Musk and the Chinese government. Since then, HOGE's price has been fluctuating between $0.00007 USD and $0.0001.
What Is the Future for HOGE?
As mentioned above, the Hoge team will be implementing a DAO platform. Because the traditional DAO is not regulated or recognized by law, Hoge registered a Swiss association for themselves as part of establishing a "Hybrid DAO." As a globally recognized legal non-profit organization, this so-called "Hoge Association" will be able to accept deals that reflect the community's vision in a wider range of jurisdictions. The legal status may also encourage trust, further helping to expand the community.
The DAO platform will utilize voting mechanisms and membership to convey the Hoge community's intentions. Thanks to the DAO's hybrid nature, Hoge will be able to feature not just transparency and decentralization, but also other benefits such as legal recognition. Furthermore, the Hoge DAO will use HOGE as the utility token, which may encourage adoption and boost the token's value. The Hoge DAO is currently at phase two, with details depicted in the figure below: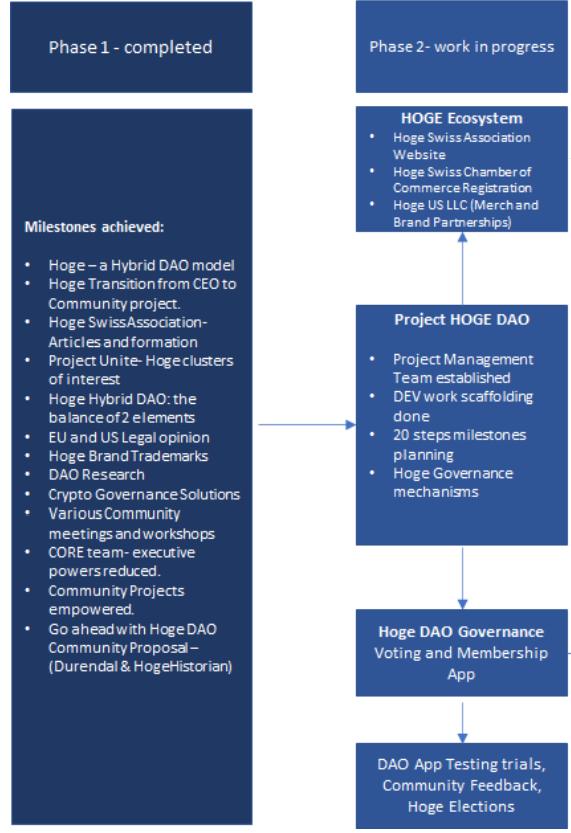 Phase Two of the Hoge DAO Roadmap (Source: Hoge Nation)
In addition, the community actively involves itself in charity work. Currently, the community has accumulated funds of over $60,000 for non-governmental organizations (NGOs) such as St. Jude Children's Research Hospital. Their non-profit association in Switzerland, also known as the Hoge Association, will be joining partnerships as agreed by the community. In addition to obvious social benefits, such initiatives may also help boost Hoge's legitimacy and public image.
As previously mentioned, the Hoge NFT marketplace is still under development. When Hoge Finance is more established, NFTs may be the main revenue source for HOGE holders. In addition to NFTs, Hoge will further diversify its community by producing community-built games that may attract gaming fans to the platform. Hoge also has plans for a fundraising campaign to raise funds for the development of a gaming platform and a gaming studio.
Meanwhile, Hoge Finance is also developing Hoge University, a free crypto and DeFi education platform for community members. Course content will be based on the knowledge and experience of leaders actively involved in the crypto industry. Hoge University will earn revenue from the platform's articles and videos through third-party advertisements. Profits will be used to incentivize developers and fund the platform, with the remaining profit allocated to the DAO war chest.
Additionally, Hoge Finance will be developing aerospace products under the Hoge Aerospace Institute (HAI) program. HAI will also offer innovative solutions to contribute to the NFT marketplace. Most of Hoge's use cases are still ongoing, and the status is updated weekly on its forum.
Conclusion
Hoge Finance is expanding ambitiously through partnerships, community growth, and various programs, such as its NFT marketplace and space program. The community's projects represent diverse areas of interest, including arts, e-gaming, education, and memes. In addition, the HOGE token's deflationary model may appeal to many investors, and its availability on multiple exchanges will provide more opportunities for usage. That said, the Hoge community is very young and most of its major projects are still under development. As such, the future value of the token is largely uncertain.
---
Phemex |
Break Through, Break Free