Badger DAO was launched in December 2020 by well-known blockchain enthusiast Chris Spadafora. This decentralized autonomous organization (DAO) was a response to the growing demand for fair launches and community-owned products, as well as the maturing of smart contract infrastructure and the rise of decentralized finance (DeFi). Badger DAO serves as a community-run platform for the creation of new protocols and infrastructure. It also links the world's largest DeFi blockchain (Ethereum) to the world's most popular cryptocurrency — Bitcoin (BTC). Currently, Badger DAO's market cap stands at over $82 million.
Why Was Badger DAO Built?
Badger DAO aims to bring value in three ways:
Bringing BTC to DeFi: So far it is challenging to use Bitcoin (BTC) on different blockchains. However, DeFi's growth from $675 million to $15 billion in 2020 alone revealed the need for a decentralized way to use BTC across different blockchains. Wrapped Bitcoins (WBTC), where BTC is wrapped in Ethereum-based digital tokens that imitate the same value, were already available. But the WBTC system uses centralized platforms, which means that trust is an issue. Badger DAO seeks to decentralize this process, including the previously centralized functions of minting and storing coins. Thus, it seeks to offer trustless BTC usage in the DeFi space.
Full decentralization from the beginning: Responding to market needs, the Badger DAO team aims to be fully transparent by maintaining involvement in the project, but in a non-domineering way. They keep 10% of the total 21 million Badger tokens as a founders' reward, while the rest are concentrated in the community. Transparency reports are also published to verify the authenticity of the team's actions. Community members discuss and debate new products, and then vote to decide on what, how, and when they are created. Additionally, community members vote on the subsequent distribution of the assets (tokens) generated from the project.
Collaboration, not competition: Through the fair and decentralized distribution of tokens, developers from across the DeFi landscape are incentivized to collaborate and align their interests to create new products. Combined with the shared ownership of these products, this is designed to attract the coders, content creators, liquidity providers, and users necessary for Badger DAO's success. Since generated revenues stay in-house, Badger DAO community members then have a stake in this success.
How Is Badger DAO Structured?
Fully decentralized and run by governance, Badger DAO is structured to ensure profitability for all its members:
Fair initial distribution of Badger tokens (BADGER): This ensures governance and incentives for project developments.
Badger builders: These are individuals, groups, and companies that apply their expertise to work together on the platform.
Community-created and community-owned products: This means that builders continue to gain revenue for previous efforts. This incentivizes collaboration and attracts more expertise and users, in turn promoting even more collaboration and success.
Dedicated Badger operations team: This team supports product marketing and operations, helping the platform gain the necessary ground to increase BADGER's value.
All open-sourced code: Anyone can experiment and put forward new ideas in the Badger community. This encourages innovation through creative independence.
Security: Badger DAO has been audited by security audit companies Zokyo (which gave a score of 98/100) and Haechi Audit (which found 3 minor issues, but no major or critical issues). Additionally, Badger DAO has established its own security advisory committee and plans to launch a bug bounty program to incentivize public peer reviewers.
What Is the Badger Token (BADGER)?
Badger DAO's token, BADGER, is not a store of value, but rather a utility token used within the platform. As it is predominantly used to distribute rewards to community builders and build products, the token keeps income within the Badger community itself, and so it further incentivizes the builders. The BADGER token has a fixed supply that matches BTC's, meaning that only 21 million BADGER will ever be in circulation. This limited supply is expected to drive its value, as demand surpasses supply.
What Programs Has Badger DAO Created?
Badger DAO's programs are all community-owned and are built to focus on implementing BTC in DeFi by using incentives for builders and maintaining a fair, efficient, decentralized platform. So far, in addition to its BADGER token, Badger DAO has developed the following programs:
Sett vaults: Sett works in a similar way to a bank, but for the benefit of its users. Sett vaults receive investments in the form of tokenized BTC assets, which are then put to work across various DeFi protocols through smart contracts. This investment then returns yields to the investors in the form of BADGER and DIGG tokens. It was particularly inspired by the Finance yield farming protocol.
DIGG: DIGG is Badger DAO's answer to WBTC, allowing for BTC to be used across blockchains. It maintains a fully decentralized process (i.e., not using any centralized exchanges) and is trustless as it is controlled through smart contracts as opposed to individuals. In addition, DIGG constantly monitors the USD value of DIGG vs. BTC and adjusts the tokens in the holder's wallet accordingly. If DIGG is worth more than BTC, the DIGG balance increases, and vice versa. This increases users' yield and encourages change. When the supply increases (DIGG is higher than BTC), the token holder will look to sell (as they have more tokens and the price is higher). The opposite is of course true for driving demand.
CLAWS: Launched in February 2021, CLAWS is a yield coin that allows a user to stake their assets in exchange for a fixed-term loan (CLAWS tokens). If the value of CLAWS increases during the loan period, the user makes money. If it decreases, the user has a loan at a very low interest rate. However, after the loan term, CLAWS will only be redeemable at $1. Therefore, just as with any investment, it is important to watch the trends. CLAWS stands out by allowing staking with two types of tokens (bBadger and WBTC/ETH SLP tokens), thus maximizing the potential for returns on investment.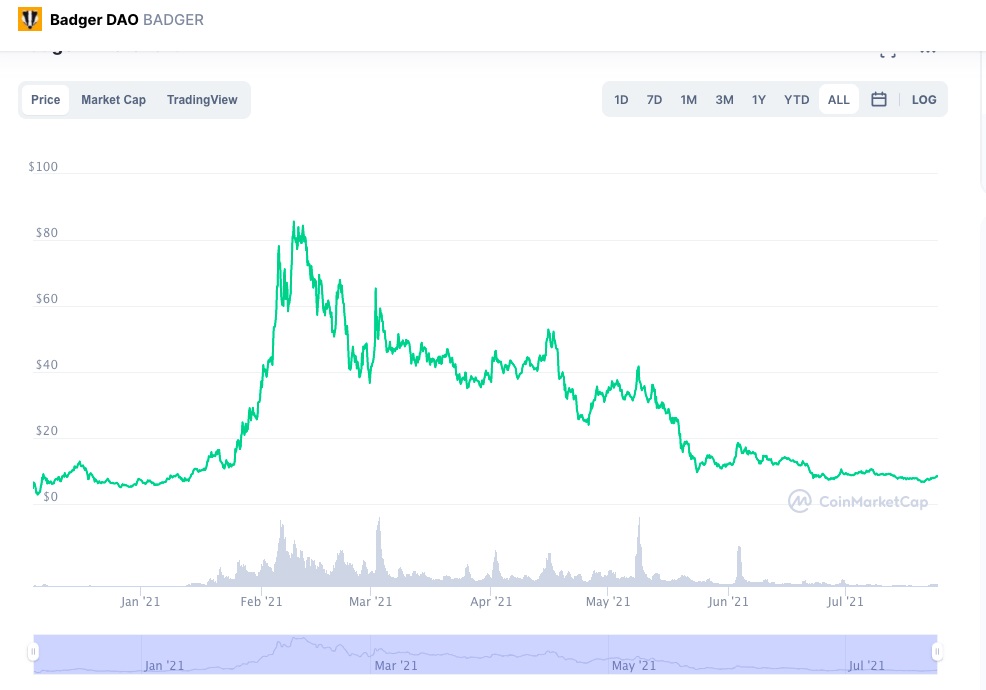 On an initial strong bull run, BADGER rose from $6.45 to $88.74 in just one month (Jan 1st to February 9th, 2021). Additionally, the platform saw a total value locked (TVL) of $1.3 billion and generated a return on investment (ROI) of over 350%. DAOs are very promising for the future of blockchain, with their business models deemed to be the most cost-effective and fair conceived to date. Thus, the launch of BADGER as a DAO token, as well as the system addressing so many aforementioned market needs, would have certainly encouraged initial interest. Moreover, DIGG and CLAWS were both launched during this initial period, which undoubtedly increased interest in the platform.
Following that high, however, BADGER took a downturn that has continued until very recently, with a market dominance of only 0.01% and a value of $8.33. This downward trend with occasional spikes is reflective of the general cryptocurrency market, but also means that the new programs have not yet received the expected interest.
That said, Badger DAO is still in its early stages and is addressing a huge need — BTC in DeFi. BTC is the biggest cryptocurrency out there, while DeFi has exploded, with the TVL across DeFi protocols going from $1 billion in January 2020 to $49 billion by March 2021. Despite current valuations, then, Badger DAO's growth potential is still very good.
Badger DAO's total supply cap of 21 million tokens is another factor that could help its value. If it rises by the time the total supply is in circulation, the demand will further drive the cost upward. Additionally, Badger DAO's total market cap to TVL ratio is below 1, which means it's considered undervalued. There are still many more products in the pipeline for the platform, and even more to be explored. Its current low value should not be underestimated either, as its initial bull run shows that new developments can cause its value to soar.
Conclusion
Badger DAO has addressed some core issues in blockchain technology. By bringing BTC to the DeFi space in a fully decentralized way, it has opened up limitless potential in the field, and much greater earnings. Its community-led approach enables it to work as a digital construction site, with users raising issues they encounter, and the community working together to create protocols and infrastructure in response. Furthermore, Badger DAO's DIGG and Sett vaults allow the world's most popular cryptocurrency, BTC, to be used across blockchains as collateral, or to facilitate new projects. By using the widely-adopted BTC, Badger DAO has set itself up to facilitate the future of blockchain for the long run, and to attract as many users as possible. Its downward trend is something to watch, but Badger DAO looks to be playing the long game, incorporating the best talent (Badger builders) and the most popular coin to create new and valuable uses for blockchain technology. Investing now might mean waiting for a long time, but it could pay off.
---
Phemex |
Break Through, Break Free