SuperFarm was launched on the Ethereum network in February 2021, and it aims to bring video games and crypto together to create a new gaming economy. Through SuperFarm's customizable NFT farms, users are rewarded with exclusive NFTs in return for staking their crypto. However, this DeFi-inspired farming is only one part of what SuperFarm plans to offer.
SUPER is the native token that was initially launched via Polkastarter in February 2021. It has a market cap of $169 million and a price of $0.78, but is currently down from its all-time high of $4.44 in March.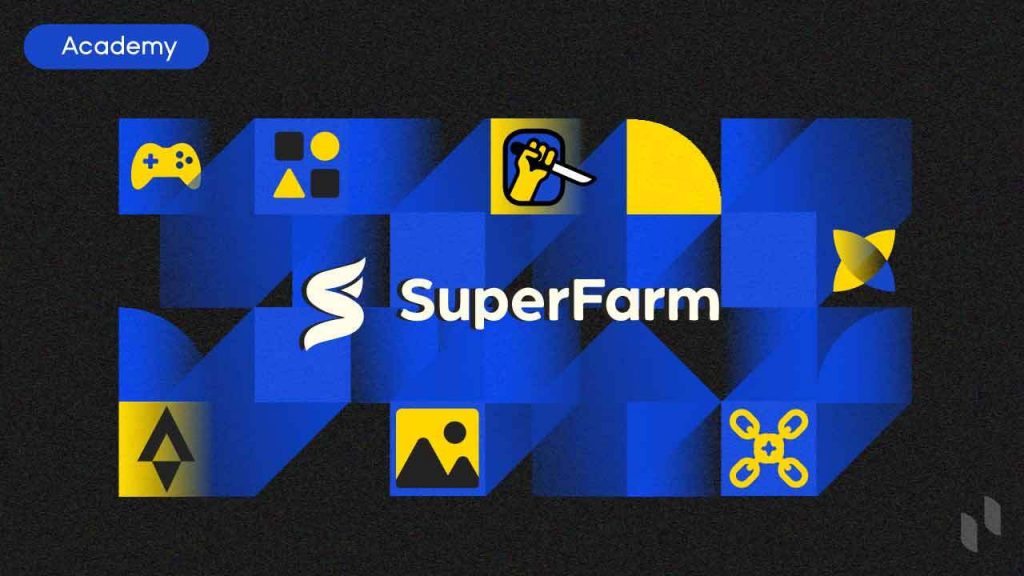 SuperFarm's Beginnings
The NFT mania in early 2021 surprised a lot of people, but for SuperFarm founder and CEO, Elliot Wainman, it was the culmination of years of hard work in the NFT space. Elliot Wainman was able to learn from NFT marketplace pioneers such as OpenSea, Nifty Gateway, and SuperRare.
The SuperFarm project has been able to take ideas from the bigger players in the space, as well as look for features and opportunities that are still unexplored. In the future, SuperFarm will have a functioning marketplace, as well as the ability for users to create and mint their own ERC-20 NFTs. For the time being though, it is the NFT farming that is the main selling point that separates SuperFarm from other platforms in the industry. SuperFarm provides a way of investing, provided your NFTs are perceived to have value — an idea taken from the yield farming that is commonly done on DeFi protocols.
Was SuperFram the first platform to offer NFT Farming?
SuperFarm was not the first platform to offer NFT farming. In August 2020, the Meme protocol was the first to adopt the idea and set up NFT farming. Meme enabled the locking up of MEME tokens and rewarded those who did so with one pineapple point per day. Once they had collected enough pineapple points, users could then choose to mint an NFT from Meme's Genesis Collection. Today, those Genesis NFTs cost tens of thousands of dollars as rare collectibles from early digital history. SuperFarm is producing their own NFTs — notably their own Genesis Collection, which are given to SUPER holders and stakers who farm the Genesis NFTs.
SuperFarm is now helping others to set up NFT farms on its platform so that the process is streamlined, and no coding time is necessary. There are incentives for projects to build farms on SuperFarm. Superfarm wants its holders to stake their coins, to create more scarcity and more utility for their coins. It also lowers the likelihood of people selling their coins.

SuperFarm's Main Features
It is worth noting that the SuperFarm project is in the first phase of its roadmap, and there are many features that are yet to come to the platform. At the moment, only the first three features on this list have been realized:
NFT Launchpad to launch limited edition NFTs on SuperFarm's Drop platform.
NFT Farming so users earn exclusive NFTs by staking SUPER tokens on SuperFarm.
Superstarter, which is SuperFarm's launchpad for Initial Decentralized Exchange Offerings (IDOs).
NFT Creation, which gives tools for creating NFTs.
Marketplace where users can browse, buy, and sell NFTs.
Direct trading, which includes direct swaps with other collectors.
What Is the SUPER Token?
With the ticker symbol SUPER, the native token plays an important role in the SuperFarm ecosystem. Unlike other blockchain platforms, where the native token sometimes lacks a necessary utility, SUPER gives holders a whole range of uses in the SuperFarm "superverse." For example:
Governance, where SUPER holders can vote on proposals to make changes on the SuperFarm network. SuperFarm's roadmap shows they eventually want the platform to achieve decentralization.
Staking Rewards, where users can stake SUPER to earn SUPER. Staking the SUPER token will let users earn platform fee rewards.
Exclusive Drops, where token holders will be given exclusive access to new NFT drops issued by SuperFarm's many partners.
Fees & Purchases:SUPER is required to use most features of the platform.
NFT Farming, where SUPER can be staked to earn exclusive NFT rewards in the platform's To create a farm, users are required to stake 100,000 SUPER.
Who Is Behind SuperFarm?
Elliot Wainman is SuperFarm's founder and CEO. He was a crypto influencer for years prior to the launch of his own cryptocurrency. His YouTube channel, Ellio Trades, where he covers NFT content and small-cap altcoins, has 346,000 subscribers. He has said in 2017 that "he saw potential in the marriage between the gaming world and crypto."
Since then, he and his team have been developing several games that they hope will be popular and eventually reach the level of gaming that people want to play on the merits of the game alone, regardless of the NFT item economy. Wainman believes once there is a game of that level running on the blockchain, the in-game economy will truly take off.
Wainman regularly posts on Medium and Twitter regarding tokenomics and developments for investors to follow. The first private funding round, led by Bitcoin.com, Animoca Brands, and Solidity Ventures, secured $1.1 million in funding for the SuperFarm project. In total, SuperFarm has now raised $2.81 million in several rounds.

SUPER Tokenomics
SUPER launched in February 2021 and is now available on major exchanges. It has a maximum supply of 1 billion tokens, with a current circulating supply of 100, 500,000. There will be a distribution of 100 million SUPER for founders and advisors, with a vesting process. The diagram below shows how SUPER will be distributed. For more detailed information, see SuperFarm's Transparency Report.
Who Are SuperFarm's Crypto Partners?
Another important strength for SuperFarm is the number of partnerships the team has pulled off in such a short time. Animoca Brands is perhaps the most popular, which is a leader in branded blockchain gaming and digital entertainment — exactly who SuperFarm wants to attract. Animoca has a broad portfolio of products, including the REVV token from blockchain's Formula One game, DeltaTime, and the OpenWorld blockchain game, Sandbox. Animoca also has a partnership with Quidd, which specializes in digital trading cards for franchises like Rick and Morty, Hello Kitty, Dr. Seuss, and Adventure Time. This may provide SuperFarm's "Superverse" with even more opportunities to grow into mainstream markets.
In terms of solutions to Ethereum gas fees, SuperFarm has two partnerships. Immutable X, which has been instrumental in the NFT space by creating a Layer-2 solution for NFTs by using ZK-rollup technology. ZK-rollup technology enables users to pay zero gas fees for peer-to-peer trading without being a centralized sidechain. There is no custodial risk, as users keep their private keys.
By working with Immutable X, SuperFarm is able to offer the same service for users to its platform. SuperFarm has also gone live on Polygon (MATIC). This is a cross-chain solution to the problem with gas fees because it allows NFT minting and farming within the Polygon system, and serves those who might be priced out by the Ethereum gas prices.
What Is the Future of SuperFarm?
The SuperFarm project is only just getting started and is currently only in the first phase of its three-phase roadmap. Future plans include multi-chain compatibility, a number of video games developed by the SuperFarm team, and a software development kit (SDK) for gaming.
SuperFarm intends to continue to build partnerships with gaming companies, artists, and creators, both inside and outside the crypto space. Since SuperFarm was launched in February 2021 at the height of the NFT hype, SUPER's dramatic rise and fall made for a bumpy ride. It is also a reality that blockchain projects usually have a lot of development problems, and ambitious projects like SuperFarm could take a long time to pay off. In a burgeoning industry like NFTs, there are factors such as network effects that are hard to anticipate. On the other hand, if SuperFarm were to create a hit game, adoption could be very fast, as witnessed by Axie Infinity's recent surge in popularity.

Conclusion
The price of SUPER is still low compared to its March highs. Although NFTs may continue to rise and fall in the public consciousness, the SuperFarm project has some unique selling points, solid partnerships, and a token with many use cases.
---
Phemex |
Break Through, Break Free