The NFT, or non-fungible token, is one of the most popular concepts arising from blockchain technology. One of the premier marketplaces for collecting and trading NFTs is Nifty Gateway.
What is Nifty Gateway?
Nifty Gateway is a premier NFT marketplace platform that was founded by twin brothers Duncan Cock Foster and Griffin Cock Foster. Its mission is "to make Nifties accessible to everyone." Their ambitious vision states that they "will not rest until 1 billion people are collecting Nifties."
"Nifties" is a play on the acronym "NFT", which stands for non-fungible token.
What is an NFT?
An NFT represents digital assets such as art, collectibles, and other media. It is encrypted with a unique signature, similar to how cryptocurrency coins have unique identities on the blockchain. This unique code makes it possible to authenticate the ownership of a digital asset, thereby increasing its rarity and scarcity.
Most NFTs are built on the Ethereum blockchain, based on the ERC-721 tokenization standard. They are supported by Ethereum smart contracts which enable the transfer of ownership.

Nifty Gateway was founded in 2018. Between May 2020 and April 2021, Nifty Gateway saw total sales of USD $303.8 million across both its primary and secondary marketplaces. The platform reportedly launched 2,960 new NFTs from 263 artists during the same period.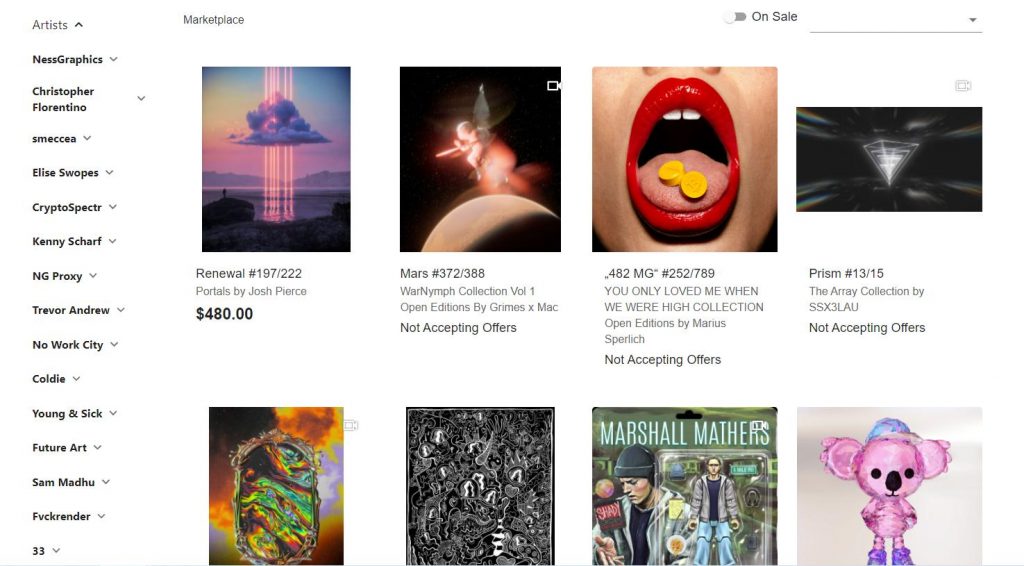 The Nifty Gateway marketplace (source)
How does Nifty Gateway Operate?
Nifty Gateway collaborates with artists and brands to create limited-edition digital art collections exclusive to the platform.
Nifty Gateway takes a high degree of responsibility in curating which NFTs get issued on the platform. Artists must pass an application process and interview before being allowed to mint and issue NFTs. This ensures that all artwork collections are of high quality and helps to uphold the platform's premium reputation.
Market hype is generated for these rare digital art collections by releasing them through scheduled "drops" and are only available for a limited time period. To provide updates on upcoming NFT drops, Nifty Gateway publishes its own digital newsletter. For drops by well-known artists, collectors might choose to pre-register because popular NFTs often sell out the moment they are released.
How do I Buy or Sell a Nifty (NFT)?
The first step is to create a free Nifty Gateway account.
Sales are done through four main methods: online silent auctions, global offers, open editions, and drawings.
Online Silent Auctions: Bidders place blind bids and are only informed whether they obtained the item after the auction.
Global Offers: Collectors submit an offer for an NFT. Owners of that NFT receive a notification and are able to sell at the proposed price if they are willing to do so.
Open Editions: The quantity of a specific NFT is made infinite for a short period of time, such as 5 to 15 minutes. Interested collectors are then able to get their hands on the artwork more easily.
Drawings: Interested collectors enter a lottery for the right to purchase a specific NFT at a set price. This purchase option was introduced recently in response to some unethical users running bots to snatch up all NFT pieces.
Once a buyer receives an NFT, they can hold it as part of their collection or resell it on the peer-to-peer aftermarket.
Example of Nifty Gateway's drop schedule (source)
What Differentiates Nifty Gateway from Other Platforms?
Nifty Gateway is a Centralized NFT Marketplace for Curated Selections
Nifty Gateway is a centralized NFT marketplace. This is a deliberate decision by the management team in order to position the platform as a curated marketplace only featuring high-quality art. Therefore, NFT minting and issuance is controlled by a central authority.
On the other hand, some other NFT marketplaces like OpenSea are decentralized and allow for peer-to-peer trading of digital assets. Users do not have to undergo an intensive application process to mint NFTs.
Exclusive Drops
Nifty Gateway has agreements with top brands and artists so that some collections can only be found on the platform. This ensures the NFT's rarity and adds to Nifty Gateway's brand of exclusivity.
In return, the artists benefit from being able to sell their digital artworks on a well-known NFT marketplace. All technical aspects of the sales and transactions are managed by Nifty Gateway, so artists only have to focus on their craft.
Perpetual Artist Royalties
Artists gain a percentage of the proceeds everytime their artwork is sold on Nifty Gateway. Such a feature is only possible on NFT marketplaces and is a major selling point for many artists. Nifty Gateway allows each artist to choose their royalty percentage.
Meanwhile, the platform takes 5% of the sale price to cover operational costs such as credit card processing fees and maintenance costs.
Fiat Accessibility
Unlike many other NFT marketplaces, Nifty Gateway does not require users to own cryptocurrency like Ethereum (ETH) to make a transaction. Purchases can be made with regular debit and credit cards.
Nifty Gateway also supports USD fiat currency, so users with US bank accounts can withdraw funds directly.
By providing a wide range of transaction options, Nifty Gateway hopes to increase the accessibility of NFTs for the masses.

Market Data
In 2020, Nifty Gateway launched additional features for platform users. This included a price graph for collectors to assess an asset's historic price performance. Users can also see a ranking page to get a quick overview of the top NFTs being traded in terms of secondary market sales.
Nifty Gateway has also been upgraded with features typically available at stock and cryptocurrency exchanges. Collectors are now able to set price alerts for specific NFTs that they are eyeing. They will receive a notification once the NFT price falls within their desired price range, prompting them to make the purchase.
NFT sales have increased significantly in Q1 and Q2 of 2021 (source)
Other NFT Platforms You May Be Interested In
There are many other NFT marketplace platforms apart from Nifty Gateway. These platforms often do not only sell digital artworks, but other media such as in-game collectibles, music, avatars and icons.
Nifty Gateway vs. OpenSea
OpenSea is one of the most popular NFT marketplaces online. Unlike Nifty Gateway, OpenSea is a decentralized, peer-to-peer marketplace where anyone can sell their NFTs. Some of the top grossing NFTs sold on the platform include the CryptoPunks series, Art Blocks Curated, and Bored Ape Yacht Club.
Nifty Gateway vs. SuperRare and Foundation
SuperRare and Foundation are other peer-to-peer NFT marketplaces that offer digital artworks. Foundation in particular is unique in that it takes a creator-first, community-led approach by letting artists invite other artists to join the platform.
Conclusion
The NFT movement has gained momentum as more and more traders witness the attractive profit potential of the NFT market. However, it is crucial to do your due diligence before making any purchases. Nifty Gateway offers a curated selection of high quality NFT art, but sacrifices the decentralized aspect of a completely open marketplace. Like in any other market, investing in NFTs requires that you build up intuition and stay updated on the latest trends.
---
Phemex |
Break Through, Break Free