Summary
XRP is an open-source, layer-1, cryptocurrency designed by the company, Ripple, to compete with the SWIFT network by enabling low-fee, instant international money transfers.
XRP is one of the few ISO-20022 approved cryptos, currently used by some of the world's leading banks including Santander Bank, Standard Chartered Bank and SEB.
The company became the target of a high-profile lawsuit by the SEC in 2020 that is still on-going.
What Is XRP and Ripple?
XRP is a cryptocurrency developed by the company Ripple (previously known as Ripple Labs) to facilitate cheap, efficient transfer of money internationally. It has existed since 2012 as one of the oldest altcoins.
XRP is the actual token that can be bought and traded on the Ripple networks. Similar to how Bitcoin is the network and BTC is its coin. However, XRP was not designed as a method of payment in the way that Bitcoin was. Instead, as mentioned it is used to facilitate transfers between different currencies with RippleNet.

How many XRP are there?
Unlike BTC where new coins can be mined into circulation, 100 billion XRP tokens were created back in 2012 and no new tokens will be created. Ripple releases 1 billion XRP from escrow into circulation each month to control the supply.
XRP is currently trading at $0.32 with a market cap of $15 billion and 48 billion coins in circulation. It has consistently ranked in the top 10 cryptocurrencies by market cap, even as it found itself the subject of many controversies–the most notable being the on-going SEC lawsuit, filed against it in Dec 2020.
What Does Ripple (XRP) Do?
Sending money internationally is a costly and cumbersome affair–there are multiple costs involved such as intermediary bank service fees and currency conversion fees, and settlement can take anything from three to five days. Ripple aims to solve this huge pain point with fast and cheap processing of cross-border payments and currency transfers.
Let's say we want to transfer money from the US to the UK. We would need to engage a SWIFT transfer that takes 24 hours, use a direct exchange rate between the currencies, then pay transaction fees including an exchange rate from USD to GBP. A bank would have to take currency A, in this case USD, and convert it to currency B, which is GBP, or vice versa. The customer would pay the transaction fee for a SWIFT wire transfer (up to $50 on average) and 1 to 3% of the total sum to cover the currency-conversion rate.
Contrast this with XRP, which is able to settle transactions in 3 to 5 seconds at a cost of $0.0002 per transaction on average. This transaction fee is charged as an anti-spam measure and is not paid to any party but instead is irrevocably destroyed via a process called burning. In addition, the XRP network is operational 24/7 which makes it a superior alternative to banks that are open only from Monday to Friday.
RippleNet powers global XRP transfers (Source: Ripple)
According to its website, the XRP Ledger (RippleNet) consistently handles 1,500 transactions per second (TPS) whereas Bitcoin has a TPS of 3 to 7, Ethereum 15 to 25, and Visa, 1,700.
The idea behind RippleNet is that instead of transferring fiat currency or having to convert from USD to GBP, Bank A can deposit the USD amount in XRP into Bank B's Ripple wallet. The value of the XRP in GBP remains the same for Bank B. By preserving its value in every currency (for example, $2 worth of XRP would amount to €1.8 EUR at the current exchange rate), the recipient bank can keep the XRP without converting it, until they spend it again. Using this method, the currency conversion fees are 100% eliminated. RippleNet can facilitate the transfer of XRP for USD, EUR, GBP, or any other currency.
Bitcoin vs. XRP
Now, let's compare XRP to Bitcoin. Bitcoin uses blockchain technology to store BTC transaction data and Ripple uses the XRP Ledger. Both the Bitcoin blockchain and XRP Ledger are types of distributed ledgers, but how they validate transactions differs. BTC uses a Proof of Work system whereby miners compete to be the first to solve mathematical problems in order to hash a block and mine new BTC tokens. XRP uses a more eco-friendly trust-based consensus algorithm to confirm transactions and add them to the XRP Ledger creating a new ledger version. This means that the transaction settlement time for XRP is roughly 4 seconds compared to 1 hour for BTC.
Another difference between the two is the data that each distributed ledger stores. On the Bitcoin blockchain, each block contains only the history of transactions that have happened within a given time period and a reference (block header hash) to previous blocks. On the XRP ledger, however, a lot more information is stored. Account information such as balances, transactions, and objects stored in the ledger are all viewable. Each ledger version is essentially a point in time snapshot of all the balances held by all the addresses. Each time new transactions are verified on the ledger, the new ledger version contains all the previous information plus the new transactions, increasing the blocks "height".

In Brief: The Technology Behind XRP
XRP is a Layer 1 coin, which means it runs on its own network. However, XRP does not run on a Proof-of-Work consensus mechanism, which is what Bitcoin runs on. It is powered by its Ripple Transaction Protocol (RTXP) which standardizes communication rules, thus enabling payment facilitators and global banks in its RippleNet network to send and receive payments seamlessly.
XRP was designed with maximum scalability in mind, meaning low-cost, highly efficient currency transfers and conversion. This provides banks with an alternative to SWIFT transfers via a blockchain.
XRP is one of the few ISO 20022-approved cryptocurrencies that stand a chance at being integrated by banks worldwide after the new standard is implemented. XRP also features support for smart contracts and is developing a DeFi ecosystem on top of its network.
Who Is Behind XRP?
XRP was founded by Jed McCaleb, an American blockchain pioneer who built the first crypto exchange in the world, Mt. Gox. Mt. Gox was the largest Bitcoin exchange for many years–trading up to 150,000 Bitcoins ($6 billion in current value) per day, until it became the subject of a hack in 2013 in which 850,000 Bitcoins were lost. McCaleb had sold Mt. Gox to a French developer Mark Karpelès in 2011, who was then living in Japan, before he went on to focus on Ripple.
Jed McCaleb, one of the most iconic crypto pioneers.
He continued building the Ripple protocol while actively pitching to investors before leaving his active role with Ripple in July 2013 (purportedly due to a fallout with other co-founders) to start his next crypto venture, Stellar Lumens (XLM) in 2014. Stellar utilizes a similar ledger technology but targets undeveloped markets lacking in banking services, while XRP is designed for big players in the global banking and financial services sector.
David Schwartz, one of the most renewed blockchain programmers in the crypto space, is also part of the Ripple team, contributing significantly to its early development. The current CEO of Ripple is Brad Garlinghouse.
The XRP Lawsuit: Why Did the SEC Sue Ripple?
In 2018, a civil lawsuit was filed against Ripple, alleging that the founders were creating "billions of dollars worth of coins out of thin air and selling them on the open market" to retail investors.
In response, the US Securities and Exchange Commission (SEC) initiated what is now the most high-profile crypto lawsuit against Ripple executives in late 2020, claiming that XRP is an unregistered security. The SEC's position is that since Ripple uses centralized technology and controls more than 50% of the XRP in existence, the coin is considered a security and not a commodity, the way Bitcoin or Ethereum (ETH) are.
Since the news broke, XRP was delisted by all major centralized exchanges, and relisted soon after early court hearings indicated that the judgment could be in XRP's favor, when one of the judges observed that XRP "also has a utility and that utility distinguished it [XRP] from Bitcoin and Ether."

Is Ripple XRP A Good Investment? Price Analysis & Outlook
Having existed before Ethereum and many other altcoins, XRP has withstood the test of time to a notable degree, ranking among the top 10 cryptocurrencies by market cap even as it continues to battle an SEC lawsuit that could well drag into the year 2023 according to some estimates.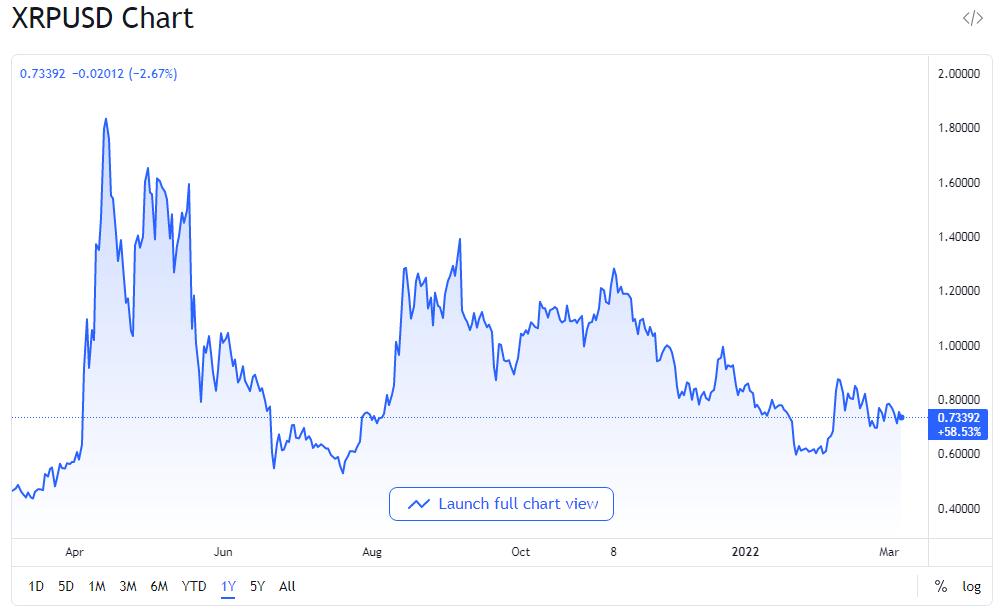 XRP price history from March 2021 to March 2022.
XRP is currently down -80% from its all-time-high in January 2018 when it reached $2 and wicked to $3+ on some exchanges, with a market cap above $100 billion. Its downtrend during the 2021 bull run can be attributed to the SEC lawsuit. Despite that, XRP still retains a market cap above $35 billion.
The biggest risk of holding XRP is that 100 billion XRP tokens were created back in 2012 and over 50% are still not released in circulation. These tokens are fully in control of Ripple and the company gradually sells them on the market.
This means that even if XRP recovers to its previous all-time-high, it would have a hard time preserving the price tag as the team could sell off a huge portion of the supply and suppress the price.
At the same time, XRP has enjoyed recognition from powerful institutions. Among others, it is a member of the World Economic Forum. Ripple also partnered with the International Organization of Standardization (ISO) to integrate blockchain technology in traditional financial institutions–many large financial institutions such as Santander, Fidor, the Commonwealth Bank of Australia, and over 60 Japanese banks have used RippleNet on a trial basis.
While there is no certainty as to what the future of Ripple XRP will be, it is likely that the price will recover if there is a favorable ruling on the SEC lawsuit.
Despite its on-going legal battle, XRP is still available for spot trading on many exchanges including Phemex (see below for step-by-step instructions on buying XRP.)
How to Buy XRP?
Phemex offers both spot and contract trading for investors to choose from. However, for beginning crypto buyers, spot trading is recommended. To buy XRP on Phemex, follow the instructions below.
The first step to buying cryptocurrency on Phemex is to go to the Phemex homepage, register for an account, and select Markets.
On the Markets tab enter XRP into the search bar on the top right, immediately after, the XRP/USDT trading pair will appear below – select Trade to move on to the next step.
You will then be redirected to the Phemex trading platform for the XRP/USDT pair. To do a simple spot trade we recommend doing a market order where you can buy XRP at the market price. To do so, select Market, enter the amount of USDT you want to buy of XRP, and click Buy XRP.

---
Phemex |
Break Through, Break Free