What is Solana: Open Infrastructure for Global Adoption
Launched in March 2020, Solana (SOL) is a single-chain proof-of-stake protocol that focuses on scalability. At the time of this writing, Solana is trading at $28.04 per token with a circulating supply of 270 million, for a total market cap of $7.6 billion.
What Is Solana?
The rise of decentralized applications has made the question of scalability more urgent within popular blockchain solutions. Slow verification speeds and high gas prices have sparked questions about whether traditional networks such as Ethereum (ETH) can scale with DApp development.
The scaling problem is especially important to the DeFi space, which has experienced significant growing pains. Given that many networks are struggling under the pressure of increased adoption, Solana aims to deliver a "fast, secure, and censorship-resistant blockchain required for global adoption."
Most blockchain projects designed for scalability are based on sharding or layer-2 solutions. In contrast, Solana claims that its network can support up to 65,000 transactions per second at 400 ms block times on a single global state. This is achieved through software algorithms that allow the proportional scaling of transaction throughput and network bandwidth with Moore's Law.
The key technology behind the Solana blockchain is proof-of-history (PoH), which functions as a decentralized timestamp that keeps track of the order of events. This allows Solana to maintain speed and security at high throughput, unlike more traditional blockchains that are often bottlenecked by consensus mechanisms. In addition to proof-of-history, Solana also claims a variety of other key innovations:
Tower BFT: A unique variant of Practical Byzantine Fault Tolerance, which optimizes speeds by taking advantage of the PoH-synchronized clock.
Turbine: A protocol that optimizes the transmission of blockchain nodes by breaking them into small packets, in a manner similar to torrenting software.
Gulf Stream: A transaction forwarding protocol that reduces validator memory requirements and block confirmation times, and enables the execution of transactions ahead of time.
Sealevel: A transaction processing engine designed to scale across GPUs and SSDs. Unlike other blockchains, which run on single threads, Solana supports the parallel execution of transactions in a single shard.
Pipeline: A mechanism that provides rapid validation and replication of transaction data across all nodes in the network. Pipeline achieves this by delegating input data across a variety of hardware layers.
Cloudbreak: An accounts database that supports the horizontal scaling of memory. Cloudbreak can deliver many more transactions per second than conventional blockchain database engines such as LevelDB.
Archivers: A network of nodes that handle data storage in place of validators. Archivers do not participate in consensus, and may occasionally be required to prove data is being stored correctly. This system is called proof of replication and is heavily based on Filecoin (FIL).
What Does Solana Do?
Solana's rapid processing times and commitment to low and stable fees have drawn in developers looking to build DApps and other projects requiring highly scalable infrastructure. Solana has primarily seen interest from DeFi and Web3 applications.
Source: Solana 2020 Year in Review
One of the most successful applications on the Solana ecosystem is Serum, a non-custodial DEX (decentralized exchange). Developed by FTX and Alameda Research, Serum provides cross-chain asset swaps, decentralized access to stablecoins, and a variety of wrapped tokens, all enabled by Solana infrastructure.
Serum claims to solve the centralized vulnerabilities within other DeFi services while retaining the same trustless and permissionless nature. Despite being built on the Solana network, Serum provides full interoperability with both Ethereum and Bitcoin – a major advantage over other DEXs such as Uniswap. The DEX also features an on-chain central limit orderbook that updates at Solana speed and costs.

Serum aims to entice professional traders into DeFi by serving as more than just a yield farming platform. Instead, it aims to offer a complete DEX ecosystem designed to "decentralize the entire DeFi stack" from the ground up.
One service that runs on the Serum ecosystem is Metamarket, which integrates non-fungible token (NFT) minting, listing, and interoperability incentives. Another is Raydium, an automated market maker (AMM) that leverages Serum's central order book to provide ecosystem-wide liquidity.
What is Oxygen?
Another application built on Solana is Oxygen. This DeFi prime brokerage protocol aims to "democratize borrowing, lending, and trading with leverage" and enable users to make the most of their capital by delivering services that have been traditionally limited to investment banks and hedge funds. According to Oxygen, its service is permissionless, cheap, and scalable to hundreds of millions of users.
Oxygen allows digital asset holders to use the same collateral multiple times, meaning that users can generate yield by lending their assets and borrowing other assets at the same time. Oxygen's support for cross-collateralization and Serum's order book also lowers liquidation risks and improves rates for borrowing and lending. The protocol has attracted significant attention from institutions, raising over $40 million in an investment round led by Alameda Research in February 2021.
Source: Oxygen.org Website
Who Is Behind Solana?
Solana originated from a whitepaper about proof-of-history published by Qualcomm veteran Anatoly Yakovenko. Recognizing that scalability was a challenge for conventional blockchains such as Bitcoin and Ethereum, Yakovenko set to work on what would eventually become Solana.
Qualcomm colleague Greg Fitzgerald joined the project soon after, and began prototyping the first open-source implementation of Yakovenko's whitepaper in early 2018. Shortly after the prototype's first release on Feb 28, 2018, Stephen Akridge, also from Qualcomm, started contributing as well.
Yakovenko, Fitzgerald, and Akridge co-founded Solana Labs in March of the same year. The Solana team has since expanded to many other veterans, from both Qualcomm and other tech industry giants. The Solana Labs team is based in San Francisco, while the open-source Solana Foundation is based in Geneva, Switzerland.
The Solana project has attracted a number of institutional investors. The project raised $20 million in a Series A funding round led by Multicoin Capital in July 2019. Other investors include Slow Ventures, Foundation Capital, 500 Startups, and Abstract Ventures. On March 25, 2021, Cointelegraph reported that the Solana ecosystem as a whole has attracted over $40 million in strategic investments from several major exchanges.
Solana (SOL) Price History
Solana has been on an impressive run, breaking its all-time high several times in 2021. The token went from $3.29 on January 13 to $28.04 on April 13, for an approximate rise of 660% over 3 months. Following a continued surge over the past month, Solana's price has shown signs of stabilizing over the past few days.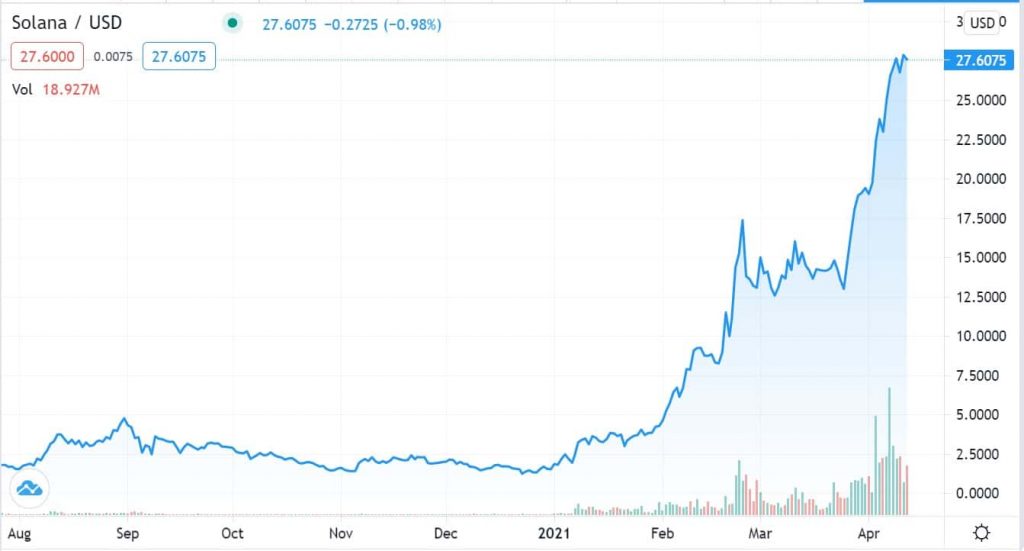 Source: TradingView
Solana's rise can be largely attributed to the token's strong performance in terms of both adoption and partnerships. DeFi Developers seem to have largely bought into Solana's value proposition, creating a variety of built-to-scale DApps on the network.
Solana is currently ranked #20 by market cap. According to the Solana Foundation, the token will have a maximum supply of 489 million SOL. Right now, roughly 270 million SOL is in circulation. Solana is currently running a public mainnet test, where validators can earn rewards by providing computing and storage resources. SOL holders can also contribute by staking their tokens on a validator node.
What Is the Future for Solana?
There are plenty of altcoins out there that claim to offer better scalability, higher speeds, and lower fees than Ethereum, yet few have seen much actual adoption. Solana differs from most of its competitors in that the token has seen an impressive number of applications. This ranges from DEXs and AMMs to payment processors such as Circle Pay and even Audius, a decentralized music streaming platform with over a million monthly active users.
Solana has built a strong ecosystem of partnerships, from coins such as Chainlink (LINK) and Tether (USDT) to platforms like Akash, the world's first decentralized cloud built for DeFi. The Solana team says it is "optimistic" about the continued growth of applications throughout 2021, and that it expects to see hundreds of new DApps launch on the network.
Conclusion
Solana achieved excellent results throughout 2020 and early 2021, and seems poised to continue this upward trend. The next major challenge for the team is undoubtedly getting its mainnet up and running. At the time of this writing, the beta network has produced 73.4 million blocks and has processed a total of 15.2 billion transactions.
Despite its relative youth, Solana has managed to back a suite of promising technologies with a clear set of applications, strong partnerships, and substantial institutional backing. The recent Solana x Serum DeFi Hackathon received over a hundred project submissions, indicating continued developer interest in the network.
Nevertheless, it should be noted that Solana's competition is fierce. There are plenty of coins out there that offer a solution to crypto's "scalability problem," meaning that Solana will have to fight harder than more niche coins to maintain its influence. While the Solana team has differentiated the token through its "shardless" nature, only time will tell if its unique technologies will remain up to par.
---
Phemex |
Break Through, Break Free