Summary
Kadena is a Proof-of-Work (PoW), layer-1 blockchain that fuses Bitcoin's time-tested Proof-of-Work consensus mechanism with the idea of multiple parallel blockchains to address issues of scalability.
This multi-chain architecture is called "Chainweb," a 20-chain network that uses sharding to process up to 480,000 transactions per second.
Among the Kadena leadership team is Dr Stuart Haber, the co-inventor of blockchain technology and the most cited author in the 2008 Bitcoin white paper by Satoshi Nakamoto.
It seems like every other day we hear news about blockchains getting hacked or breached. Bitcoin has never been hacked–a distinction that's all the more notable when one considers that it has been around for the longest period. This is attributable to its Proof-of-Work consensus mechanism, which is both fully decentralized and prohibitively difficult to hack. The only problem is that it is not scalable.
Low scalability manifests as slow processing times, high fees and poor user experience. This is the issue Ethereum is facing and trying to solve with its long-anticipated update.
Herein lies the biggest roadblock in blockchain adoption–achieving security, decentralization and scalability. This is known as the blockchain trilemma; where Bitcoin is decentralized and secure but not scalable, newer blockchains are much more scalable because there is a greater degree of centralization to drive efficiencies using the Proof-of-Stake mechanism (which Ethereum is trying to transition to.) However, with more centralization, security has to be compromised.
One project, however, is attempting to solve this trilemma, by combining the best of Bitcoin's original design–security and decentralization of the PoW mechanism, with the functionality of smart contracts for scalability.
What Is Kadena (KDA)?
Kadena is a layer-1 blockchain that runs on a Proof-of-Work (PoW) consensus just like Bitcoin (BTC). Where it differs from Bitcoin is that while Bitcoin runs on a single blockchain, Kadena combines multiple parallel blockchains to achieve PoW consensus, thus increasing throughput and in turn, addressing the scalability issue without compromising decentralization and security.

This multi-PoW chain architecture is called "Chainweb," which allows Kadena to scale up to 480,000 transactions-per-second (TPS) with 20 chains running simultaneously; if the network reaches capacity, new chains can start to expand the network, allowing it to scale to infinity. In contrast, Bitcoin can process 7 TPS, Ethereum 15 to 25 TPS, and Mastercard 5,000 TPS. At the heart of this architecture is smart contracts, which enables chains to "talk" to each other for cross-chain transfer of value.
Notably, using multiple PoW blockchains, Chainweb also enables the originally energy-intensive PoW system to be more energy-efficient–even as network demand increases, Kadena's energy use remains constant.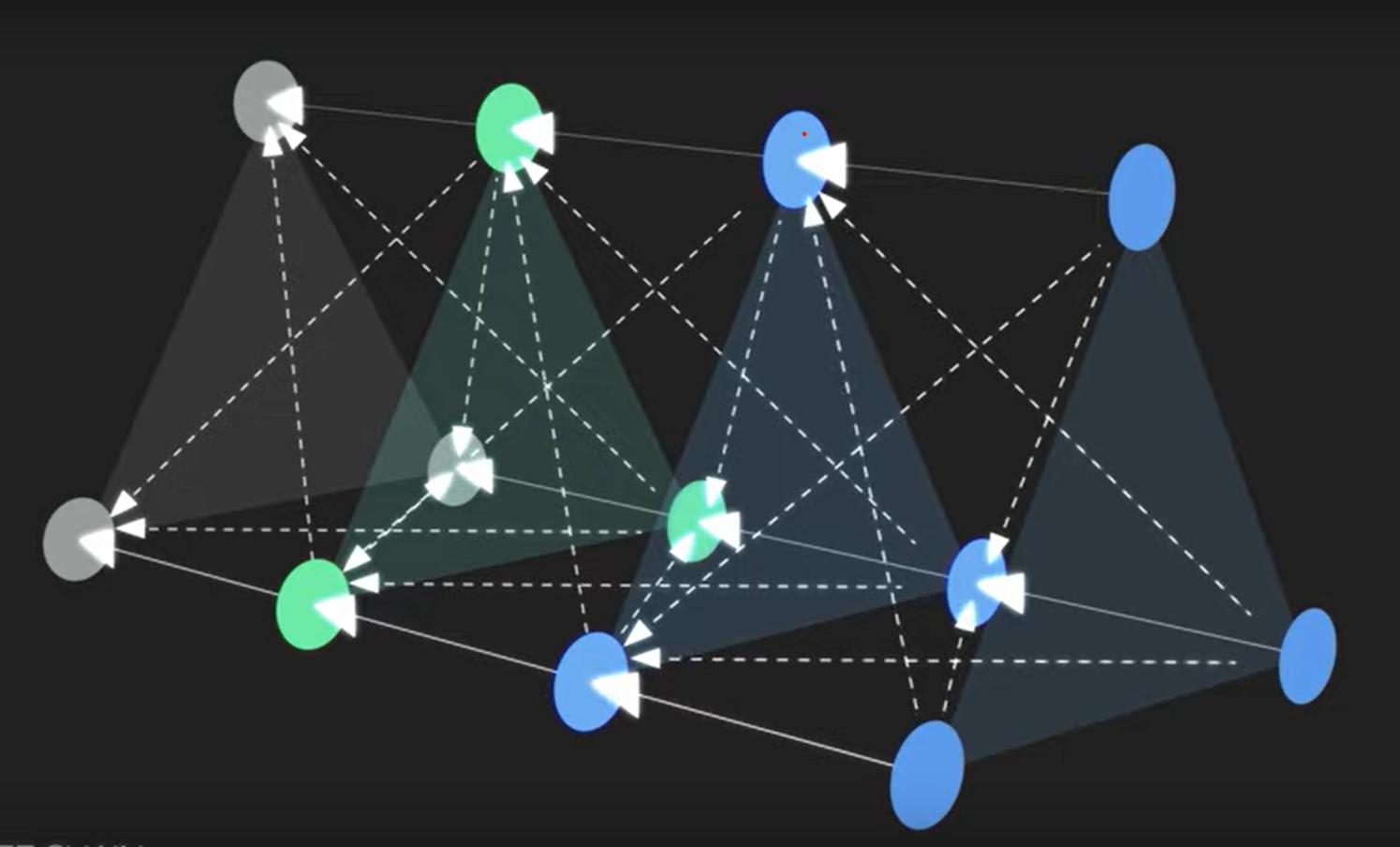 Kadena's multi-blockchain architecture, "Chainweb" runs on Proof-of-Work consensus mechanism without compromising scalability (Source: Kadena)
According to its founders, Kadena is in active partnership with various Fortune 100 companies and is currently testing out use cases across industries including finance and healthcare. For example, it has partnered with a US medtech firm Rymedi to optimize drug tracking to detect supply chain fraud and quality issues.
Who Is The Team Behind Kadena?
Kadena was founded in 2016 (the mainnet launched in October 2019) by Wall Street veterans Stuart Popejoy, who was leading the blockchain development group at JPMorgan in New York, and Will Martino, who was working for the Securities and Exchange Commission (SEC) in Washington D.C.
Stuart started the project initially and recruited Martino from his position at the SEC. The team was joined by Dr. Stuart Haber, the most cited person in the 2008 Satoshi whitepaper; his pioneering work in cryptography, among that of others, provided the foundation for what eventually became Bitcoin.
Kadena first received a $150,000 grant from the Cosmos Network's foundation, subsequently raising $15 million in two funding rounds prior to the release of the project. Will Martino's experience in the SEC was especially paramount, enabling the project to be fully compliant with laws and regulations imposed by the commission.
Kadena currently employs over 50 full-time employees with headquarters in New York, NY.
How Does Kadena Work? Top Features Explained
Kadena's architecture is powered by multiple layers and chains. It is a highly-complex design that enables them to combine the PoW mining model with dual public and privacy features. Here are the main technological concepts that make up the Kadena architecture.
Chainweb (Layer-1)
As mentioned earlier, the core component of Kadena's architecture is the "Chainweb" consensus: Chainweb is a network of 20 chains that interconnect with each other to power the Kadena chain. This is the foundation of the layer-1 network of Kadena.
Kadena's network architecture. (Source: EnterpriseTimes).
The chains run in parallel under a system known as "sharding". While congestion is a common problem with networks such as Ethereum that have only one chain (mainnet), Kadena deals with this issue by splitting the load among 20 different chains. Users can then set up an account on a less congested chain, where transaction costs are lower, and transfer their tokens across chains using a smart contract protocol known as "Simple Payment Verification (SPV)."
Chainweb is interconnected and public. The network has been stress-tested with 8,000 TPS to prove the efficiency and resiliency of the network. Under the current conditions, it can scale up to 480,000 TPS, but the number can be scaled vertically by adding new chains.
The code for the chain is written in Haskell–one of the most difficult and mathematically-heavy programming languages. Haskell is also used on blockchains such as Cardano (ADA). The smart contracts on the platform are also written in this language.
Kuro (Layer-2)
Kuro is the layer-2 solution for Kadena. In the initial release stages, it was known as ScalableBFT (BFT refers to "Byzantine Fault Tolerant" consensus.) The Kuro chain is designed for commercial use and brings smart contracts and privacy features to the chain.
For example, if a bank wants to use Kadena to send a private transaction (similar to Monero) without leaking customer's data on the blockchain, they can use the layer-2 on Kadena to pass the data privately. Kuro also allows DEXs to execute coin swaps on the Kadena network.
Transactions on the Kuro chain incur gas fees, similar to Ethereum. However, In 2020, Kadena released Gas Stations to cover user's swap fees and make zero-fee transactions.
Pact Smart Contracts
Pact is a new programming language developed by the Kadena team for the DeFi ecosystem on Kadena. Pact is the only Turing-complete smart contract language for blockchain.
A Turing-complete language means that all functions that are executable by computers are available in the language. For example, C and C++ are Turing-complete.
Smart contract languages such as Solidity on Ethereum are not Turing-complete, which leaves developers with a limited set of functions. Pact, while being Turing-complete, is written in Haskell which means only more experienced programmers can write Pact smart contracts.
The complexity of the Pact programming language is why DeFi activity on Kadena is still under development. The Kaddex project aims to change that by bringing coin swapping and trustless trading to the Kadena ecosystem.
Kadena Wallets
The two most popular wallets for Kadena are Chainweaver (developed by Kadena's team) and Zelcore (developed by Flux). As Kadena uses multiple chains, users have to be careful when sending KDA coins or risk losing funds.

What is Kadena Coin (KDA)?
The KDA coin is the native cryptocurrency of the Kadena ecosystem. The current Kadena price is $1.50 with a market cap of $275 million. The Kadena coin price appreciated significantly since its launch at $0.33 to an all-time high of $25 in November 2021. However, as with all altcoins, the KDA price is highly correlated to that of Bitcoin—it was trading at an all-time high when Bitcoin did, and then fell in value by more than 90% when Bitcoin started its downtrend from the first quarter of 2022 toward sub-$20,000, down 70% from its all-time high of $69,000 in 2021.
The Kadena token is used to transact on the network and in the future will be used for DeFi and NFT trading, similar to how Ethereum is used on Uniswap (UNI) and OpenSea.
There is a 1 billion supply cap for Kadena, which the team refers to as "emissions", to be released over the next 120 years since its launch in 2019. This means the Kadena coin supply won't be fully mined until 2139. At the time of writing, the Kadena supply is 184 million.
The distribution of Kadena coins is split into multiple categories: Miners (70%), reserve (20%), seed/investor (6%), and developer (3%). Miners receive the largest share of the supply and the future emissions, as they are in charge of security for the Kadena blockchain.
Kadena price performance over the last two years (Source: CoinMarketCap)
The Kadena price could potentially bounce back up with the introduction of the Kaddex trading platform, NFT marketplaces, and an improvement in the overall crypto market sentiment.
While Kadena staking is not yet available on Kadena's native built-in wallet Chainweaver, users can stake their coins on 3rd party platforms.
Is Kadena A Good Investment?
Kadena is arguably the only scalable PoW chain "capable of scaling to settle the 9+ million trades executed on the NYSE each day," according to its CEO Stuart Popejoy.
The unique combination of energy-efficient mining and sharding on multiple chains while staying true to "battle-tested" PoW principles introduced in the original Bitcoin whitepaper makes it a promising contender for high-volume enterprise adoption, particularly the global banking and financial services industry. The project also brought other technologies to the forefront such as the Pact programming language that is the first Turing-complete blockchain language.
In its innovation pipeline are Kaddex (KDX), a decentralized, zero-gas trading platform similar to Uniswap, and an NFT marketplace called "Marmalade," which aims to differentiate itself from OpenSea with automatically paid-out royalties for creators.
Coupled with the distinction of being the only platform offering a complete decentralized infrastructure for developers to achieve fast concept-to-launch, Kadena offers intriguing reasons for prospective investors to be optimistic about its future, especially if it can expand footprint and adoption among enterprise clients.
---
Phemex |
Break Through, Break Free