What is Tamadoge? TAMA Price Prediction

Intro
Tamadoge is a play-to-earn crypto gaming platform that recently launched NFT collections and is expected to release its first games very soon.
Tamadoge's TAMA token, delivered x15 returns to early investors at its all-time high.
Currently, the coin is hovering around $0.01 – $0.02, and it remains to be seen how the release of the Tamadoge games will affect TAMA's price.
What is Tamadoge Crypto?
Tamadoge is a Play-to-earn game inspired by Tamagotchi and the Doge meme culture. Tamagotchi was a popular Japanese pocket game at the end of the last century. In it, players "raised" virtual pets "living" in an electronic device the size of a matchbox. "Doge" is one of the most recognizable memes depicting a Shiba Inu dog. Doge has also become a widespread branding basis for many crypto projects, including the mega-successful Dogecoin and Shiba Inu (SHIB).
Tamadoge NFT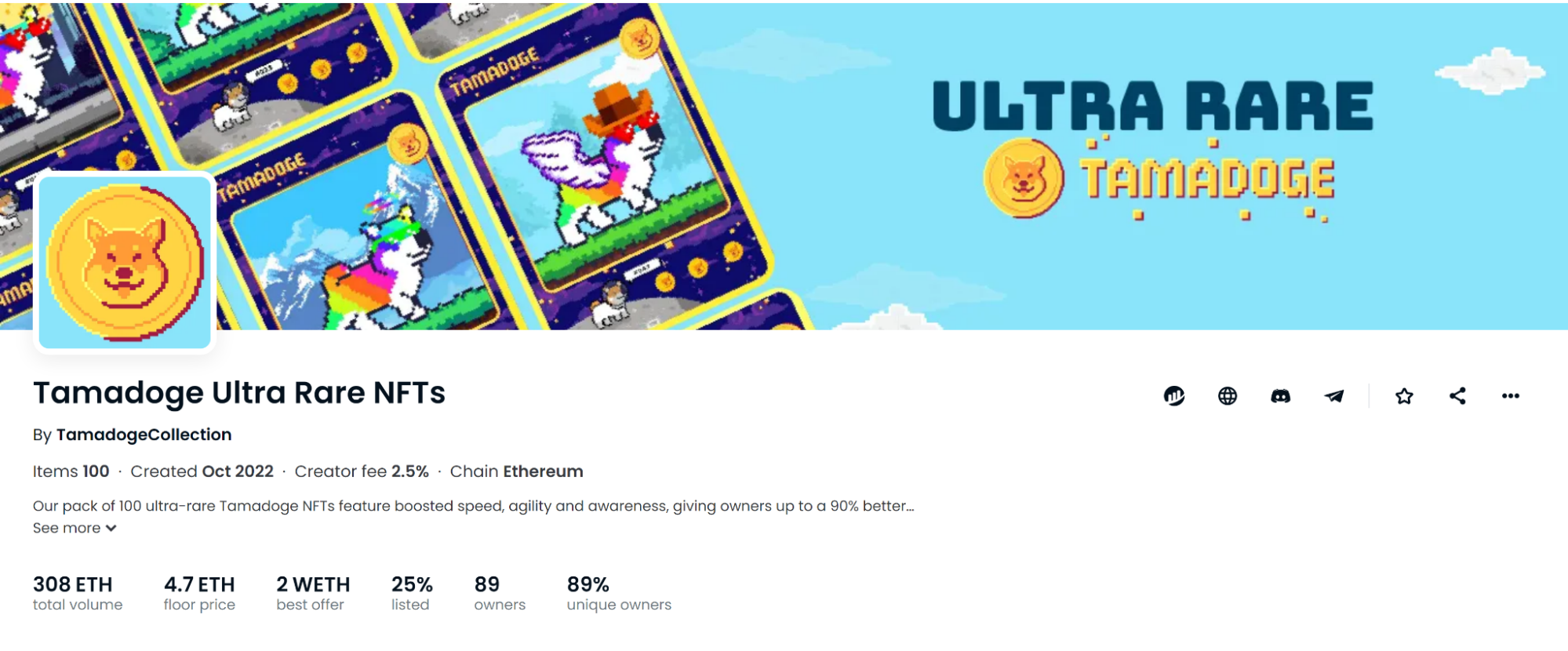 Header of Tamadoge's Ultra Rare NFT collection. (Source: opensea.io)
The Tamadoge games (yes, there'll be several) haven't been released yet, though some are supposed to come out anytime now. That's unlike the project's token—TAMA, which was already released for trading in October 2022.
At the end of the same month, Tamadoge also released its first NFT collections. They include 20,000 doge NFTs through which users can interact with the Tamadoge metaverse—Tamaverse. A limited supply of Rare and Ultra Rare Tamadoge NFTs is also available.
Is Tamadoge Legit?
A snapshot of Tamadoge's website when it still listed most of its core team members. (Source: tamadoge.io via WayBack Machine, taken 22/09/2022, 00:49 GMT)
Revealing the identity of each team member (it seems except for the "lead doge") happened sequentially over weeks during the TAMA token presale. Weirdly though, all this information disappeared from Tama's website, and no team member is currently listed there.
As for Tamadoge's white paper, the project is progressing according to plan, even significantly ahead considering the speedy completion of the presale.
Is Tamadoge Safe?
Tamadoge is KYC certified by Coinsniper, and Solid Proof audited. Validating project legitimacy by these two entities has become a standard in the crypto industry. Still, there are no guarantees that any organization's stamp of approval gives protection against fraud or rug pulls.
In view of the blockchain technology that Tamadoge uses, TAMA is an Ethereum ERC-20 token. Tamadoge's NFTs also are built on Ethereum's blockchain.
Tamadoge Coin [TAMA] Price
Tamadoge Presale
Tamadoge's first steps into the crypto world happened with the presale of the TAMA token. The presale lasted several months in as many as 9 phases, starting from $0.01. The price of TAMA tokens increased with each stage until it reached the ninth phase at $0.03.
The ultimate goal of the presale was to raise $19 million. This happened weeks before expected, and the presale sold out in about two months. At times, TAMA investors were impatient and dissatisfied due to the unusually large number of presale phases. The team, however, explained that they are needed to prevent liquidity issues after the token's release on exchanges.
TAMA Price
A snapshot of TAMA's price since its ICO. (Source: coinmarketcap.com)
During the first phase of the presale, TAMA traded for $0.01. After the end of the ninth phase, the token was released for public trading for $0.03. The price moved down for the first few days but reached a short-lived all-time high of $0.1957 mere days after its initial offering. This brought an x15 return to those investors who bought tokens during the first stage of Tamadoge's presale.
However, since then, the TAMA token has dropped significantly and, for the past 30 days, has been hovering around $0.02116 – $0.03865 levels. Its trading volume for the last 24 hours was about $1.73 mln., market cap is close to $35 mln., and its price is around the $0.025 mark, according to CoinMarketCap data.
TAMA Price Prediction
Due to several factors, it isn't easy to give a viable price prediction for the TAMA token.
First, the Tamadoge games and Tamaverse, which are the essence of the project, are yet to become public.
Also, the crypto market has been oscillating in a cool-down period for months, and crypto prices are far from the records set in autumn-winter 2021.
And last but not least, the recent bankruptcy of FTX has put the crypto circles in a difficult situation. Most crypto investors know that for all their benefits, cryptocurrencies also carry significant risks, evident from events like the one with FTX's liquidity-related bankruptcy. Still, this development is likely to have at least a temporary impact on the overall crypto market.
Is Tamadoge a Good Investment?
A snapshot of Tamadoge's website showing the project's offerings. (Source: tamadoge.io)
Here are a few of the main elements that predetermine Tamadoge's investment value.
Blockchain games
At its core, Tamadoge is a blockchain game, or as a team announcement made clear, a collection of games. Blockchain gaming is among the most popular uses of this technology today. Some of the more popular crypto projects like Decentraland, Illuvium, and Gods Unchained are precisely blockchain games. However, this raises the question of whether this niche will soon reach a correction level due to oversaturation.
Doge/Meme Universe
Tamadoge piggybacks on a viral internet trend—the doge meme. In fact, from a meme, "doge" has evolved into an entire culture. One of the most prominent representatives of the doge universe is Elon Musk with his public support for Dogecoin. In fact, Tama's team regularly tweets collages of the entrepreneur and Tamadoge in an attempt to attract his attention. These attempts seem to have failed so far, but Tamadoge can still count on the hype that keeps the "doge culture" going. But is this hype, however prevalent, sustainable? For example, Shiba Inu—the second most popular Doge meme coin, is already taking steps towards moving away from its status as a meme coin to become a value-based project.
Tamadoge's Utility
Speaking of value, investors should ask themselves what value Tamadoge and the TAMA token offer or would offer. Yes, the crypto space is full of examples of tokens that maintain a stable level without having any real value behind them—for example, Dogecoin. But this does not appear to be a sustainable approach either for the industry as a whole or for investors. Crypto markets are new, interesting, and subject to hype waves. But in time, this novelty effect will wear off, and only time will tell how well projects like Tamadoge will fare in the future.
Where to Buy Tamadoge?
TAMA is available on several centralized and DEX crypto exchanges. According to development plans, the token should list on more exchanges in the future. Those interested can now also trade Tamadoge NFTs, including the project's common, rare and super-rare non-fungible tokens.
When Does Tamadoge Go Live?
Iteration of the first Tamadoge game during its development phase. (Source: Tamadoge via Medium.com)
In mid-october Tamadoge's team started publishing updates on its Medium channel. According to the last post the release of the first games is imminent. In terms of their style, they are inspired by popular arcade and mobile titles. For example, the first game looks heavily influenced by Super Mario. The team has also developed a leaderboard for the game as well as a reward distribution system.
A snapshot of a level from Tamadoge's Super Mario-inspired game. (Source: Tamadoge via Medium.com)
Expectations for Tamadoge are high, not least because of the intensive information campaign that this project carries out. In the summer, before and during the presale, Tamadoge was a regular in crypto news streams. This is expected, considering Tamadoge's connection to one of the leading crypto media agencies out there—Block Media Labs. Tamadoge is also listed under the Our Brands section on Block Media Labs's webpage.
Conclusion
Play-to-earn crypto game Tamadoge has been a hot topic in crypto news streams, even though the game itself has yet to be publicly released. According to information from the developers, this is imminent, and not one but several games will be released. Meanwhile, the TAMA token seems to be in a period of consolidation, hovering around its ICO value. Tamadoge is banking on the popularity of the doge meme universe, which may be paying off for now. Still, it's uncertain how sustainable this approach is. The plans to create a Tamadoge metaverse seem like something that would bring more utility to the project. Overall, Tamadoge is fighting for attention in a saturated sector. Nonetheless, it has the backing of a successful crypto media agency which will at least provide the project with wide crypto news coverage.
---
Phemex |
Break Through, Break Free