The file sharing and cloud storage industry is currently dominated by the likes of Amazon Web Services and Google Cloud. While this monopoly allows them to scale and be efficient in their offerings, such centralization of internet infrastructure increases the vulnerabilities of single points of failure. Projects like Filecoin aim to bring more diversity into the industry by creating a decentralized storage system based on the InterPlanetary File System (IPFS). Its creators state that the system aims to "store humanity's most important information". Filecoin (FIL) price currently sits at $5.29 per coin with a circulating supply of about 220 million FIL, for a total market cap of around $1.17 billion.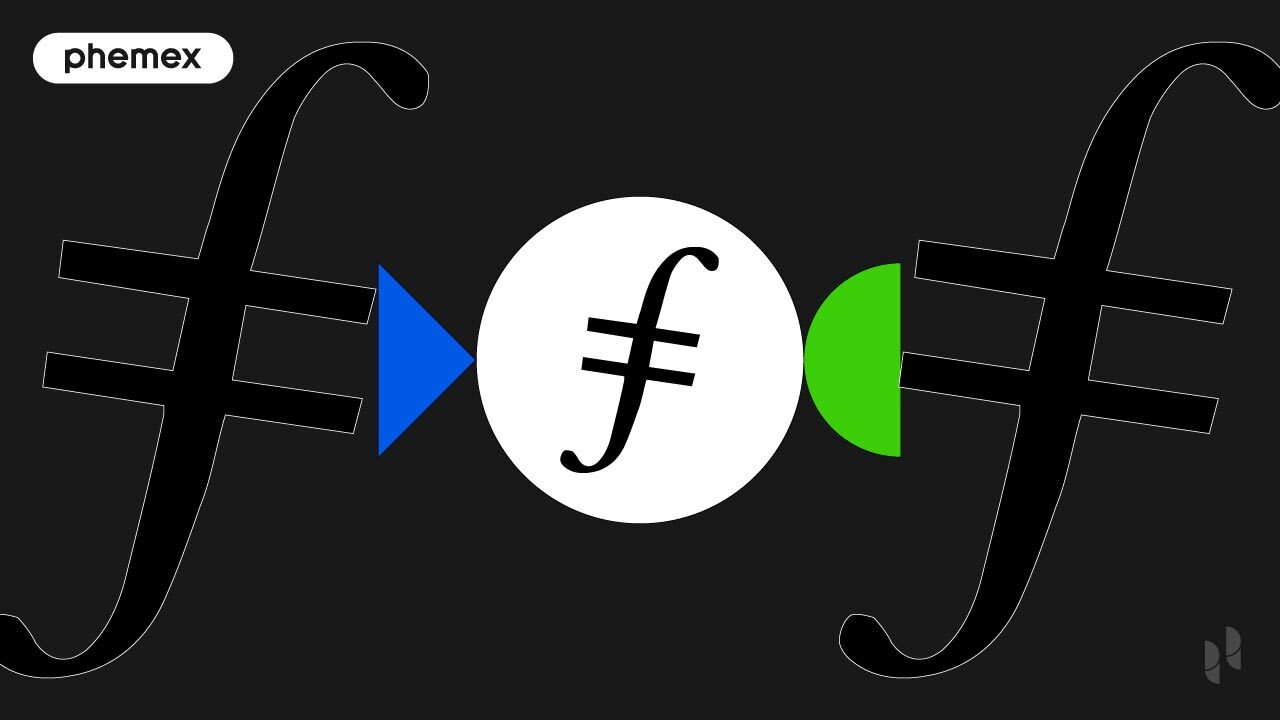 What is Filecoin?
Launched in 2017, Filecoin is a peer-to-peer network used for decentralized cloud storage of files. One of Filecoin's core claims is that it returns control over data back to the user. By maintaining a low barrier to entry for storage providers, Filecoin aims to deliver publicly verifiable storage and retrieval solutions in an open and highly competitive market.
Filecoin Applications
In addition to its primary purpose as a decentralized storage network, Filecoin also offers other applications, such as a data exchange and time-stamping solution. Other standard use cases include its function as a payment system and an inflation-resistant store of value.
Examples of Filecoin applications include Powergate (an API-driven solution for multi-tiered storage across Filecoin and InterPlanetary File System IPFS) and Textile Hub (a toolkit for the development and scaling of decentralized apps).
Filecoin describes itself as a market in which storage owners "rent out" space to clients. The FIL coin is designed to be traded by developers, clients, miners, holders, and ecosystem partners across storage, retrieval, and token trading markets.

How Does Filecoin Work?
Filecoin blockchain runs on a novel proof mechanism, Proof-of-Spacetime. In this protocol, blocks are generated by miners who store files for users. It uses blockchain technology to create a Cloud file storage system similar to Amazon Web Services, Google Cloud and Dropbox, but completely decentralized through a peer-to-peer network.
Put another way, the Filecoin protocol provides a data storage and retrieval service via a network of independent storage providers that does not rely on a single coordinator, where clients pay to store and retrieve data, storage miners earn tokens by offering storage, and retrieval miners earn tokens by serving data.
It does this by taking a file that is stored on the network and distributing it, in many different pieces, to computers all over the world. Each computer works as a storage center and receives "rent" in the form of rewards for renting out the space to Filecoin. One issue from this method, however, is that in order to retrieve a file, Filecoin must gather the pieces from all the computers and then put it back together–which can take a little time.
How Does Filecoin Differ from Bitcoin?
Unlike Bitcoin (BTC), Filecoin's blockchain is secured through proof-of-replication and proof-of-spacetime mechanism. This means that coins are mined not by solving arbitrary math problems, but rather by providing cloud storage and retrieval services.
While Bitcoin can also be used to store data, it is rarely used as a storage solution, owing to the high costs involved. Filecoin offers much cheaper data storage at scale and has been heralded as a much more environmentally friendly protocol with more clearly defined use cases.
Bitcoin is a transactional token, meaning its primary use case is as an exchange for goods and services, or as a store of value. Filecoin, on the other hand, is a utility token, designed for the use and provision of services across the Filecoin network.
Source: Filecoin.io
What Is Filecoin Token?
FIL is Filecoin's native cryptocurrency. By buying or trading FIL, investors can invest in the network, as well as pay the fees needed to store media, files, and other data on its blockchain database (all of which are paid using FIL). FIL is also the cryptocurrency used to pay mining rewards to the Filecoin miners that keep the whole network running.
How Does Filecoin Mining Work?
Filecoin is mined by performing storage, retrieval, and repair services. One of the network's core concepts is that the mining process should create value and reward participants, from large-scale data centers to local providers covering the last mile.
When a client wishes to store data on the Filecoin network, they are provided a complete and open overview of all available storage miners and their market prices. Miners compete to win storage contracts, ensuring prices are fair and storage is efficient.
To create a trust incentive, miners are required to stake a certain amount of Filecoin before being allowed to offer storage. Once the client selects a winning miner, a deal is made on the Filecoin network and the client transfers their data to the miner for storage.
To earn Filecoin, miners must prove that they are storing the data properly through cryptographic proofs. Miners submit their proofs as new blocks and verify blocks sent by other miners on the network. The protocol incentivizes proper storage by only generating the storage fee (in FIL) for blocks that are accepted by the network.
Unlike traditional storage services such as Amazon S3 or Google Cloud Storage, clients are automatically refunded with a proportionate amount of the miner's collateral if files are lost. The network also includes a completely automated fault handling system that executes without any human intervention.
When a user wishes to download a file, they can look up a complete list of any retrieval miners that offer that file. The client can then select the fastest and most affordable miner, pay them a fee, and finish the download.
When a file becomes more popular and the requests increase, other miners can opt to rehost it on their own servers. As miners will opt to rehost files in regions with the most demand, this creates an ecosystem in which access speed and cost are optimized worldwide.
Polygon and Filecoin Partnership
Filecoin's storage capacities have meant increased attention not only from investors, but also from other platforms and developers. Most recently, Filecoin joined with Polygon to expand into the rising Metaverse, NFT, and gaming spheres.
Polygon's scalability, security, and decentralization, has meant that many DApps have chosen it as their home over Ethereum. At the same time, IPFS and Filecoin, have attracted many play-to-earn gaming DApps working on Polygon, thanks to their ability to store metadata and media in a secure and decentralized way.
It was thus a natural fit for Polygon and Filecoin to collaborate, in order to create secure, decentralized, and expansive storage solutions with high scalability and low fees.

What New DApps Are Being Built on the Filecoin/IPFS Network?
The Filecoin network is one of the biggest decentralized networks in the world. Thanks to its secure and expansive storage solutions, as well as its vision to put data control in the hands of the owner, many developers have chosen it as a preferred network.
Additionally, Filecoin encourages budding (but money-strapped) developers to build on their network through grants and partnerships, and it looks like momentum is building. To date, Filecoin has awarded over $1.5 million to these developers, with some of the most promising start-ups being:
Bailport: A multi-currency wallet that uses the Filecoin network to offer low fee, secure, and fast payments to Africa.
Ecko: A platform enabling musical artists to collaborate with each other and engage with their fans to create music-based NFT collections.
Function Land: The first instance of hardware functioning as a blockchain-attached storage solution.
Haiphen: A completely trustless threat-detection software to enhance cybersecurity for enterprises.
The variety of solutions is a demonstration of Filecoin's versatility and gives an insight into its potential.
Who Is Behind Filecoin?
Filecoin was developed by Stanford graduate Juan Benet and is maintained through his company, Protocol Labs. The American programmer was previously best known for creating IPFS, the open-source, peer-to-peer, decentralized web protocol for which Filecoin serves as an incentive mechanism.
Since its initial round of funding from Y-Combinator in 2014, Filecoin has received plenty of attention from institutional investors, including notable firms such as Andreessen Horowitz and Winklevoss Capital. The coin raised roughly $257 million in its 2017 initial coin offering (ICO)–the biggest ICO in history at the time.
What Is the Future for Filecoin?
The decentralized storage technology that Filecoin is built on becomes more desirable each time a large centralized provider experiences a major failure.
As their name suggests, centralized storage providers tend to be concentrated in one or few locations. This means that last-mile delivery can be very slow in regions with poor coverage. It also means that storage is highly brittle, as a single point of failure could affect millions.
Why does storage continue to be centralized if it presents such risks? Well, centralized centers are easier and cheaper to build, and companies such as Amazon and Google are large enough to bulldoze the competition and set their own terms. This is an understandable move when considering the size of the market—the U.S. cloud computing market alone was valued at $369 billion in 2021, with an expected compound annual growth rate of 15.7% from 2022 to 2030.
Source: grandviewresearch
Developers seem unfazed by the corporate titans they are up against, however, and are seeking to claw back a perceived loss of control through alternative technologies. With its resilience and efficiency, a decentralized storage solution like Filecoin is a highly appealing option.
The potential benefits of Filecoin have not escaped the attention of other industry players in the hosting services space:
Fleek, a website hosting and storage service, announced that it would support automatic Filecoin-based archiving for all sites and storages created on its platform.
Protocol Labs has partnered with Consensys Mesh and Tachyon, two early-stage blockchain accelerators, to aggressively expand Filecoin applications through the Filecoin Launchpad, a network that provides developers with seed capital, consulting, and other tools.
This has birthed applications as Endowl, a toolkit that facilitates estate planning by using decentralized technology to create, update, and execute wills stored through Filecoin; and Huddle, a video conferencing service tailor-made for schools and universities.

How Has Filecoin's Price Changed Over Time?
Filecoin experienced explosive growth over 2021, rising by over 756% from $24.35 on Jan 1 to $191.16 on Apr 2. In addition to general upswings in the crypto market, this trend was being driven by increased adoption in the U.S. and the huge growth of Filecoin mining in China.
On March 17, crypto investment giant Grayscale added Filecoin to its roster of crypto trusts, along with other coins such as Chainlink (LINK). Expectations are also high for IPFS, a core Filecoin technology. IPFS has experienced growth in business applications and may soon expand with further decentralized storage solutions for NFTs.
Looking to China, Filecoin was riding on an all-time high. Data from the country's largest exchange shows that activity in FIL/CNY exceeded that of Bitcoin (BTC) and Ethereum (ETH). Major firms were also getting involved. Most notably, Xinyuan Technology, a hardware company based in Shenzhen, spent a whopping $88 million on Filecoin miners in 2021 alone.
Filecoin's price has not been smooth sailing in 2021, however, with a major incident taking place in March. Miners discovered their Filecoin account on an exchange had been credited twice. While not a true double-spend, the incident seemed to reveal that Filecoin's network could be exploited to trick exchanges into accepting deposits twice.
Shortly after the flaw was discovered, major exchanges suspended all deposits of Filecoin, causing the coin's value to plummet by 4.5% in one day.
The Filecoin team's incident report noted that the "double deposit" was not due to an error in the network's code, but rather a misuse of its API. Services were quickly reinstated the next day, and Filecoin's team stated they would improve their API documentation to prevent such incidents in the future.
Despite this incident, and the subsequent volatility in its price, the network had a good year overall. By the end of 2021, the Filecoin network had over 14 exbibytes of storage (around 14 million times the storage found on a 1TB drive), 400 new applications, over 3,600 storage providers, and 7,000 developers spread out across the globe.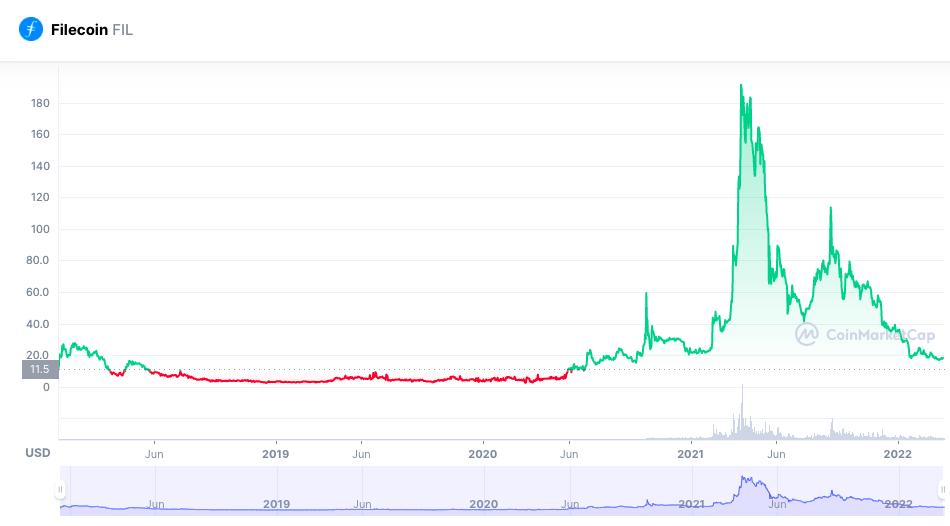 Filecoin's price history from 2018 till early 2022 (Source: CoinMarketCap)
The year 2022, however, has not been so kind to the FIL coin price. As with all crypto, FIL has taken a hit this bear market, dropping from highs of over $113 in September 2021 to only $5.12 today. This drop is a big one, but not one that was unexpected, as it has been experienced across the industry—with inflationary pressures and the threat of recession hanging over the global economy.
Filecoin and its IPFS offer valuable technology, however, as shown by the trust it has earnt from developers, as well as its industry partnerships. As it expands into new markets such as the Metaverse, NFTs, and play-to-earn gaming, Filecoin is expected to make a comeback.
Where to Buy Filecoin
Phemex offers both spot and contract trading for investors to choose from. However, for beginning crypto buyers, spot trading is recommended. To buy FIL on Phemex, follow the instructions below.
The first step to buying cryptocurrency on Phemex is to go to the Phemex homepage, register for an account, and select Markets.
On the Markets tab enter FIL into the search bar on the top right, immediately after, the FIL/USDT trading pair will appear below – select Trade to move on to the next step.
You will then be redirected to the Phemex trading platform for the FIL/USDT pair. To do a simple spot trade we recommend doing a market order where you can buy FIL at the market price. To do so, select Market, enter the amount of USDT you want to buy of FIL, and click Buy FIL.
Conclusion
Filecoin's purpose has been clear from the start: to provide decentralized, secure, and accessible storage solutions to all. The coin relies on two premises: firstly, that demand for data storage will keep growing, and secondly, that industries will soon see the need for decentralized storage.
The good news is that the first premise is unquestionably solid. The U.S. cloud computing market alone was valued at $369 billion in 2021, with an expected compound annual growth rate of 15.7% from 2022 to 2030. The rising need for remote workforces created by COVID-19 has led to increased demand for agile and distributed storage solutions across the world. Other factors include the continued growth of IoT, big data, and AI applications, all of which require Cloud data storage solutions.
At the same time, the case for the second premise is still up in the air. While Filecoin's decentralized storage solutions are impressive, only time will tell whether it will be able to wrestle monopoly from the incumbents namely Amazon and Google.
---
Phemex |
Break Through, Break Free