Launched in January 2014 by an anonymous founder known only as Mr. Watanabe, MonaCoin (MONA) is a crypto asset designed to replace fiat currencies for peer-to-peer (P2P) transactions. MONA's price is around $1.58 with a circulating supply of over 65 million, for a market cap of just over $103 million.
What Is MonaCoin?
As an early crypto project, MONA resembles many of its predecessors such as Bitcoin (BTC) and Litecoin (LTC) in that its primary purpose is to facilitate everyday P2P transactions, like a fiat currency. The MonaCoin Project derives its name from a Japanese meme-based ASCII cat character named Mona that became popular on the 2chan imageboard. This is also where the idea for the project was first posted in 2013 by the so-called Mr. Watanabe. In the original 2chan post introducing the MonaCoin project, Mr. Watanabe described the currency as similar to many proprietary currencies, like the ones that are common in video games.
MONA is a fork from the Litecoin (LTC) blockchain, and also uses a Proof-of-Work (PoW) system to confirm new blocks to its blockchain.
Many upgrades have since set MONA apart from its predecessors. For example, MONA has been continually developed to be ASIC-resistant. An ASIC (short for "application-specific integrated circuit") is a machine that uses specially-designed high-powered chips to mine a particular hashing algorithm. When these machines were created, GPU-mining rigs faced the risk of becoming obsolete, and ASIC miners had the potential to gain an unfair advantage. To prevent ASIC mining on its network, MONA was launched using the Scrypt algorithm, like Vertcoin (VTC) and its predecessor LTC. Scrypt's algorithm was eventually decrypted by ASIC developers, which would have allowed for ASIC mining of MONA. This forced MONA to switch to the Lyra2Rev2 hashing algorithm to maintain its ASIC resistance.
Confirmation times on MONA can be as quick as one minute and should remain fast since MONA has followed in its predecessors' steps by implementing SegWit addresses.
What is MonaCoin used for?
MONA became popular in Japan after the crash of the Japan-based Mt. Gox exchange in 2014. In related TV coverage, MONA was introduced as a safe alternative being developed in Japan by like-minded individuals, unlike Mt. Gox, which was founded by an American programmer. The TV program showed a man using MONA to purchase a Shinto shrine — a local religious connection that attracted many new Japanese users to the crypto.
Unlike many cryptocurrency projects that see a lot of government resistance, MONA has been approved by Japan's Financial Services Agency (FSA). The FSA is a Japanese government entity tasked with developing the policies for Japan's banking, insurance, and securities and exchange. This approval has given MONA considerable legitimacy, enabling it to be regularly used for transactions in many industries throughout Japan.
What is Monappy?
Users typically make transactions with MONA through third-party mobile applications. The primary application and platform for MONA use is Monappy, which allows users to store and exchange MONA. Users can purchase digital or physical items in the app, and can even use Monappy's website to tip streamers using MONA. There are also many ATMs in Japan that allow for the use of MONA. MONA is widely used in Japan, but has seen much less use elsewhere, and is largely unavailable on non-Japanese exchanges.

Attacks on MonaCoin
There have been several cases of MONA-related hacking in Japan. These cases have involved criminal investigations from the Tokyo police department's cybercrime division. One of the first hackers caught in 2019 had been illegally withdrawing MONA from the Monappy app. It is estimated that 97,000 MONA tokens from 7,700 Monappy users were illegally withdrawn. The stolen MONA was worth about $50,000 at the time of the theft, and about $134,000 by the time the thief was caught.
MONA has also experienced an attack on the blockchain level from May 13 to 15, 2018, resulting in about $90,000 in losses. This attack was a 51% attack in which a secret miner took control of the MonaCoin network. The miner was able to confirm blocks faster than all other miners combined, but kept that a secret. Once the attacker broadcasted their confirmed blocks, this caused a change in the official blockchain and made it possible for the attacker to make invalidated trades.
This happens because a mining network determines the official blockchain based on the length of confirmed blocks. Once the secret blocks were broadcasted, any blocks mined off this secret blockchain were instantly orphaned. Since this secret miner had been ahead of other miners for three days, more blocks were orphaned than is typical when this occurs inadvertently.
Miners can also choose which transactions to confirm onto each block. This secret miner could purposely ignore any personal transactions, and those transactions would still get confirmed on the other blockchain. This would allow the secret miner to make transactions to gain assets for themselves, knowing that this other blockchain was going to be orphaned. Those transactions would effectively be free for the secret miner.
This attack was possible because initially, MonaCoin had an issue in which an easy difficulty was set for new blocks, leaving them vulnerable to the attacker. MONA's developers have since patched out this bug.

Who Is Behind MonaCoin?
It remains unclear who Mr. Watanabe is and whether he is still involved with MONA. However, this has not stopped a team of anonymous volunteers and enthusiasts from continuing with MONA's development. Shortly after the project's founding, in an effort to consolidate some of MONA's development, the MonaCoin Foundation was created to facilitate information sharing and create a supportive environment.
Although anonymous founders or development teams are often a red flag for a crypto scam, MONA has proven its legitimacy and its anonymous team has continued with development.
Mona's Price History
MONA's price stayed around $1.30 from September 2020 to January 2021. Its price is generally less likely to fluctuate based on its own development since it aims to be a non-speculative asset. There were some major gains starting in February 2021 that saw MONA's price hit about $2.82. This continued to fluctuate before hitting a high for the year at about $4.02 on April 16, 2021. The price fluctuated over the following months but followed a general downward trend until mid-June. Much of MONA's price movements coincide with the general price trend of crypto during this period. The high price points that MONA reached can be similarly seen for Bitcoin's (BTC) price history during the same period.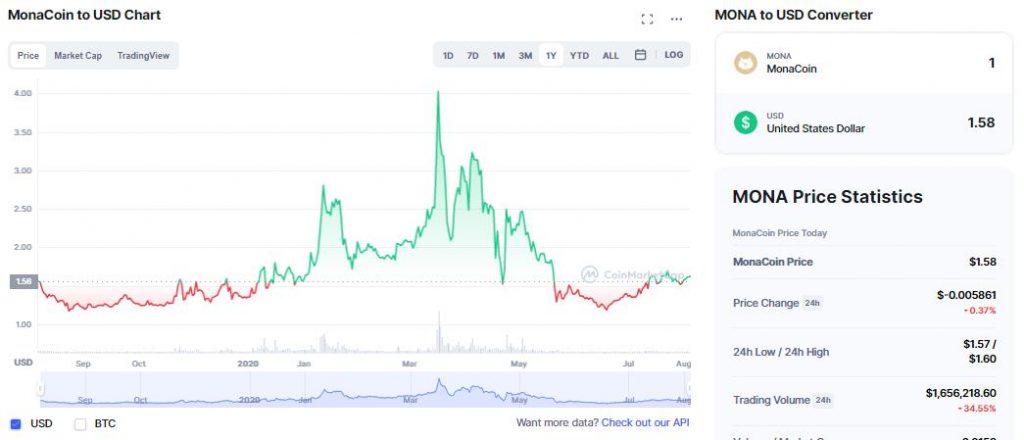 MONA is ranked #383 by market cap. Like many of its predecessors, MONA is a limited-supply crypto with a max supply of 105.12 million tokens. Almost 66 million tokens have been mined, representing around 62% of the total. Since no tokens were pre-mined before MONA's launch, this means the entire supply that has been mined is circulating in the public. The block reward for mining MONA halves every 1.051 million blocks, with the last halving having occurred on September 9, 2020. The next halving is estimated to occur on September 26, 2023.
What Is MonaCoin's Future?
The MonaCoin team presents MONA as a non-speculative asset, which creates some more legitimacy for MONA's intended purpose of being used for everyday transactions. However, like most crypto projects, MONA has shown how difficult it is to avoid the effects of price speculation. Also like other cryptos, MONA's price has typically fluctuated during crypto bull runs before stabilizing when the market cools down. These fluctuations are good for those who see MONA as a long-term investment but can be bad for the many Japanese who use MONA for everyday transactions.
MONA does stand out from many other crypto projects through its Japanese government approval and boasts much higher adoption at the consumer level in Japan. As a result, MONA is relatively robust for the Japanese market.
MONA's lacking popularity outside Japan is good for its goal of replacing fiat currency in Japan. Worldwide adoption of MONA could significantly affect those price fluctuations. This would also likely bring in many more speculative traders. Widespread MONA adoption outside of Japan could create issues with its price since the cost of goods varies by region. The initial transition for this type of adoption would likely cause MONA's price to fluctuate as users in another country adapt to this currency conversion.
Beyond some speculative trading, MONA's price is likely to continue being relatively stable since it is already integrated into the Japanese economy. This is the best-case scenario for the current Japanese userbase.

Conclusion
Many projects seek to replace fiat for everyday transactions. Few, if any, have achieved as much adoption as MONA at both a government and consumer level. As long as the Japanese market continues to embrace MONA, it will likely continue forward as a relatively stable crypto asset. However as MONA's future unfolds, it demonstrates the potential of a crypto asset developed by a group that understands its intended users' culture.
---
Phemex |
Break Through, Break Free