Summary
Loot Project is an open-source NFT project that harnesses a collaborative ecosystem of creators including artists, gamers, developers and writers to create a web of multimedia content.
Its Loot for Adventurers is the first-ever NFT collection that only has text; the aesthetics/visuals are open to interpretation by the community, as is the use case.
Built on Ethereum, the Loot Project gives creators an opportunity to contribute to the creation of a metaverse through a crowd-sourced manner powered by blockchain technology.
What is Loot NFT?
Loot is an open-source non-fungible tokens (NFT) project that is collectively owned by its community, which means that it has no single owner or group of owners or company. It is an unaudited project with no team and no roadmap; rather, it develops from the crowdsourced creativity and collaboration of its users.
When you think of NFTs, the first thing that may come to mind is a collection of visual files with similar aesthetics but several differentiating features that make each piece unique.
How can NFTs provide more flexibility for creativity while retaining the vital features of NFTs such as rarity and aesthetics? What if NFT traders had more options in deciding how their NFTs looked? Can NFTs that are sold as "blank canvas" create a sustainable revenue model for NFT holders and grow a close-knit community? This is the possibility the Loot NFT project is exploring.

What is Loot for Adventurers?
Loot for Adventurers is the first NFT collection offered on the Loot platform. It is a collection of 8,000 Loot bags of randomized adventurer gear with no stats or images.
These Loot NFTs are not what you would imagine a typical NFT to resemble–no pixelated artwork, no childish doodles and what not. Instead, they come in black squares, each containing eight lines of text describing a set of adventurer gear including:
a weapon,
body armor,
headgear,
gloves,
shoes,
belt,
ring,
necklace.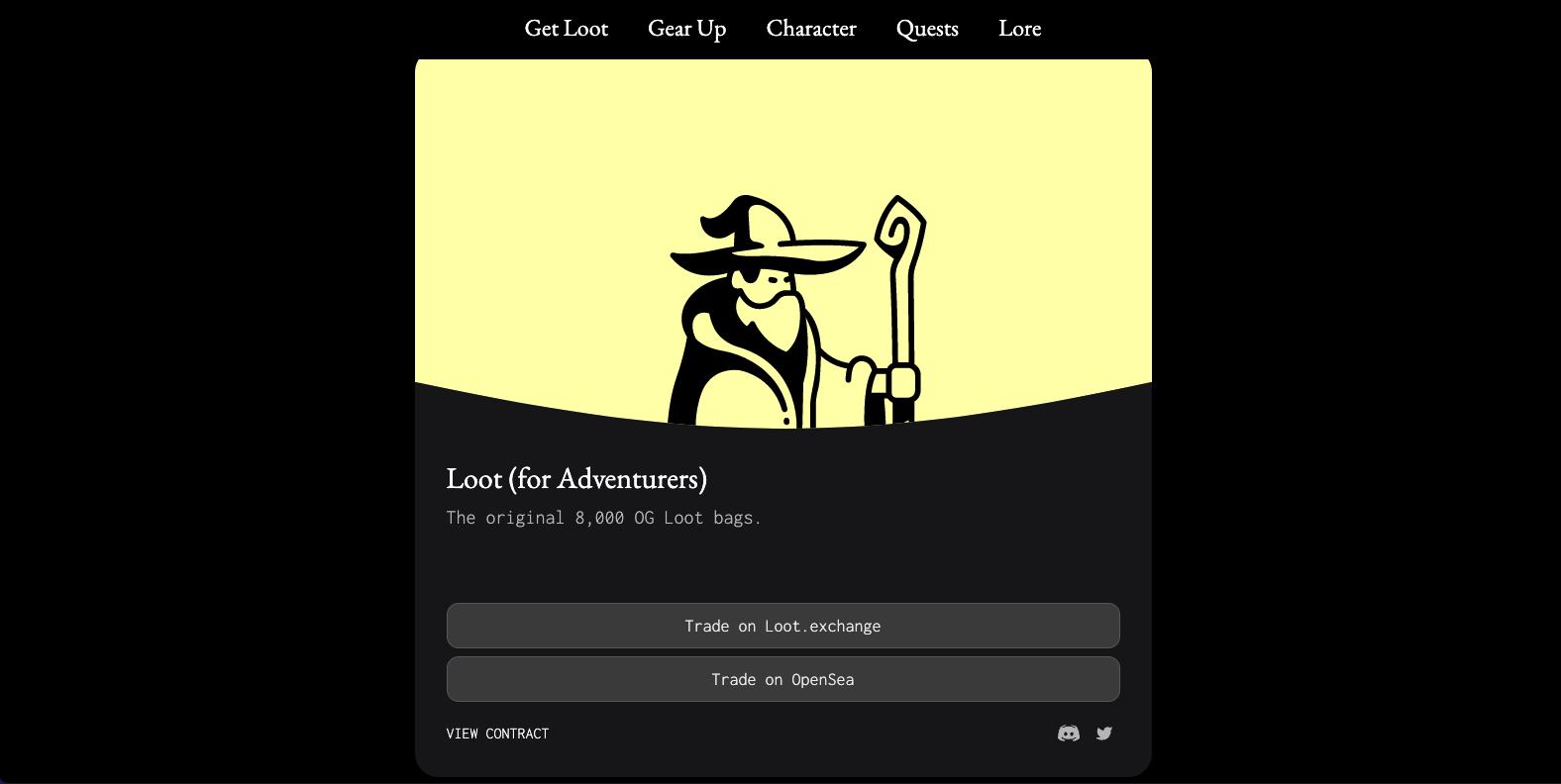 While NFTs are usually made for a specific game or application, there is no official use case for each Loot bag. Instead, the community decides what they want to do with those NFTs and how they can incorporate them into their platforms, games or creations.
At launch, the public received access to bags #1 to #7,777 for minting, while bags #7,778 to #8,000 were reserved for the project's founders. All 8,000 bags were claimed within four hours, with the minting of the Loot NFTs requiring only the payment of gas fees and no additional costs.
Loot NFTs started seeing significant rises in the value of their seemingly plain cards – even reaching thousands of dollars. On OpenSea, Loot currently shows a total volume of 74.7K and a floor price (the lowest price of an NFT in a collection) of 1.19 ETH for its NFTs.
The most expensive Loot bag, however, was sold for $1.4 million.

Bag #748 – last sold for 420.69 WETH ($1.4) on 3 Oct 2021 on OpenSea
Within a few weeks after its launch, the Loot Project started generating a growing collection of decentralized stories, games, NFT projects, and other types of multimedia, developed by a growing community of creatives from builders to artists, writers, and musicians.
This in turn resulted in more aesthetically attractive characters and NFTs developed on the platform. Each character type has a different aesthetic and minting cost, calculated in ETH.
Loot for Adventurers on Loot Exchange (Source: Loot.exchange)
What Can You Do with Loot NFTs? Possible Use Cases
On the Loot metaverse "Lootverse" platform, users can perform various activities, including trading, minting, or claiming NFTs and free items.
However, to be able to participate in the Lootverse fully, members need Loot bags, which enable them to do things like:
Building empires in the Lootverse
Using their Loot bag NFT characters in Lootverse games
Using Loot bags as an entrance key for the Crypt, a Lootverse game.
Distilling their Loot bags down for their Mana and attempting to unlock a Genesis Adventurer – a highly valuable Loot NFT.
There are four main NFT collections or loot bags that users can own, and they include:
Loot (for Adventurers) or OG Loot: This is the first collection of 8,000 Loot bags initially released.
Synthetic Loot (sLoot): This is the Loot bag that allows anyone with an Ethereum wallet to claim – these bags cannot be minted or sold. However, they can be synthetically used in games.
Genesis Loot: This is the additional collection of 2,540 loot bags owned by the most important and influential characters of the metaverse – the Genesis Adventurers. They are viewed as the most powerful Loot bags in the Lootverse.
More Loot (mLoot): This is an additional Loot collection consisting of 1.5M+ mintable mLoot bags added to the Lootverse. So far, only about 126k have been minted, with over 1 million left.
Different types of Loot bags (Source: Lootproject.com)
How Do Loot NFTs Work?
The Loot NFTs are built on:
Ethereum: Loot is an on-chain project that runs on the Ethereum blockchain and doesn't depend on external support or servers.
Smart contracts: These are computer programs that self-execute based on the specifications of their source codes and are often used to validate transactions between two anonymous users while ensuring safety. This is how transactions are made on the Lootverse. Loot's smart contracts contain the rules and essential principles of the Lootverse world, which are embedded in the smart contract codes that determine how characters are created on the Lootverse.
In the Loot Project, people can connect their wallets, mint or trade NFTs and retain ownership of their NFTs. Ownership information is stored on the Ethereum blockchain, which Loot is connected to, making every transaction secure.
Not only are the NFTs stored on the blockchain, the data of the contents of each Loot bag are also stored on-chain, making the platform composable. This means builders and developers can link this information to their applications and projects to build their own projects featuring those NFTs.
Smart contracts are also used to automatically verify and validate transactions without the interference of a third-party, making trades and other types of transactions on Loot seamless.

Why Is the Loot Project NFT Growing in Popularity?
With over 100,000 ETH in trading volume, it is only normal to wonder what makes the Loot Project so attractive to many people.
According to the Loot Project's white paper, Loot is "an on-chain ecosystem of interconnected stories, lore, games, art, and multimedia." This means there is no limit to what can be created on the Loot ecosystem, called the Lootverse. Unsurprisingly, there have been countless additions to the Lootverse in the forms of 3D art, codes, games, stories, and multimedia experiences.
The Lootverse aims to harness the creativity of its users and community into a collection or web of multimedia items encompassing multiple types of art. The ability for anyone to contribute and add to the Lootverse is what makes it unique, and the Lootverse is consistently being expanded as more projects are added to it.
Essentially, users can interpret their NFTs however they wish and as more content is added to the Lootverse, more varieties of Loot NFTs become available, driving the value further up as rarer pieces become available.
(Source: Lootproject.com)
Loot NFT Derivative Projects
Aside from the original NFTs, there are several other derivative items that can be minted, claimed, or traded on the Lootverse through the Loot Exchange or OpenSea.
These tradeable items range from NFTs to 3D art, play-to-earn (P2E) games and even game assets. These derivative projects make up an important part of the Loot ecosystem. Interestingly, NFTs are often used as payment for participation in these derivative projects.
(Source: Lootproject.com)
For example, one of Loot's derivative projects, Crypts and Caverns, is a collection of on-chain maps that are used within some games in the Loot ecosystem. These maps are traded on OpenSea.
Other examples of items that can be minted and traded on the Loot ecosystem are Banners (for Adventurers) which is the governance layer of Loot and Loot Realms (collection of explorable realms within games.)
The Official Loot Crypto: Adventure Gold (AGLD) Token
Adventure Gold is a decentralized autonomous organization (DAO) created for Loot bag owners. AGLD is its ERC-20 native governance token and the official Loot crypto. It is used to make transactions on the Loot ecosystem but can also be traded. Each Loot bag is valued at 10,000 AGLD tokens.
AGLD is currently priced at $0.40 per token with a market cap of $28,583,808 and a circulating supply of 70,170,001 AGLD. The total supply of AGLD is 100,000,000.
AGLD was released on 2 September 2021, a few days after the launch of the Loot for Adventurers NFT, at a price of $0.74. Within 24 hours, it had jumped to a price of $6.13.
AGLD all-time price history (Source: CoinMarketCap)
Is Loot NFT a Good Investment?
Although Loot NFT has been seeing a decline in value, this is in tandem with the downtrend in the overall crypto market.
The bright spot is that there remains a strong community with several community members actively funding the Loot NFT project through Gitcoin. As the number of projects on the Lootverse grows, the challenge of coordination is inevitable as with most Web 3.0 projects.
To solve this, Loot has put some measures in place to tackle this such as the implementation of Loot.Foundation which documents all the necessary information needed for creators and storytellers to cohesively make content.

Who Is Behind Loot NFT Project?
Loot was launched in August 2021 by Dom Hofmann, the co-founder of American short-form video hosting services Vine and Byte. Hofmann also founded the mobile-app based social network Peach. The Loot NFT Project is owned by the community with no specific investors but the active members of the platform.
The AGLD token was founded by Will Papper, the co-founder of Sydicate DAO and a graduate of Stanford University. The AGLD token generated up to $750K through ICOs and private funding rounds.
---
Phemex |
Break Through, Break Free