There is no shortage of altcoins on the market at any given moment, with more created every day. In this context, what a company does to stand out can be as interesting as its actual products — whether through technological innovation, financial decentralization, or characteristic branding. Gitcoin (GTC) is a crypto project that stands out by investing a large portion of its time and money into open-source projects. GTC currently trades at $8.87 with a circulating supply of 14.2 million, for a market cap of $125 million.
What Is Gitcoin and What Is Open-Source Technology?
Founded in November 2017, Gitcoin is a decentralized autonomous organization (DAO) platform that incentivizes developers to work on open-source projects. The project's founders recognized that many software startups end up abandoned, suffering from a lack of financing and (above all) developmental work post-release. Open-source technology solves these issues by allowing any customer to freely use and modify pre-existing software, and even distribute their home-made variations.
Gitcoin logo (source: Gitcoin)
This technology allows developing companies to tap into elegant and innovative solutions for issues that may otherwise be difficult to address due to manpower or time constraints. It also permits said companies to better understand the needs of their customers. In fact, Gitcoin provides several ways to interact with and promote the work of talented software developers to encourage open-source usage:
Open-source Usage in Gitcoin
Hackathons: Hackathons are events — in this case organized by Gitcoin — where programmers get together to attempt to create a functioning software project from scratch within a limited timeframe. These events can be simply for practice, or they can be competitions designed as a motivational or trust-building exercise for the sake of professional interest.
Bounties: Gitcoin bounties are monetary awards (prizes) handed out to a software developer or team for their work on a piece of open-source technology. This could be anything from a web browser to an office tool or media player — virtually any digital program can be open-source if it involves coding.

Developer grants: Developer grants are a form of investment, usually involving a company or government contributing money to a project it does not want to buy or influence directly in the usual sense. These grants are often given under the terms of an agreement and with certain conditions in place.
Quadratic funding: Essentially a highly democratized version of traditional funding, quadratic funding puts more stock in the number of contributors than it does the amount contributed. Quadratic funding is usually used to pay for public goods, which are defined as "both non-excludable and non-rivalrous" — essentially the definition of open-source software. This system is rather unusual, particularly in the crypto space, and makes Gitcoin stand out from its competitors in the industry.
Gitcoin has so far provided over $50 million in funding for open-source projects throughout the tech industry, helping around 50,000 funders reach out and assisting close to 250,000 developers. The platform is active and popular in the crypto community, with over 300,000 developers visiting Gitcoin's web domain on a monthly basis.
Additionally, the company supplies its own Ethereum-based currency called GTC, which provides security and allows Gitcoin to safeguard both minimum and maximum amounts of transferred GTC. These ERC-20 tokens are all handled on Gitcoin's platform and can be managed through the GTC native wallet.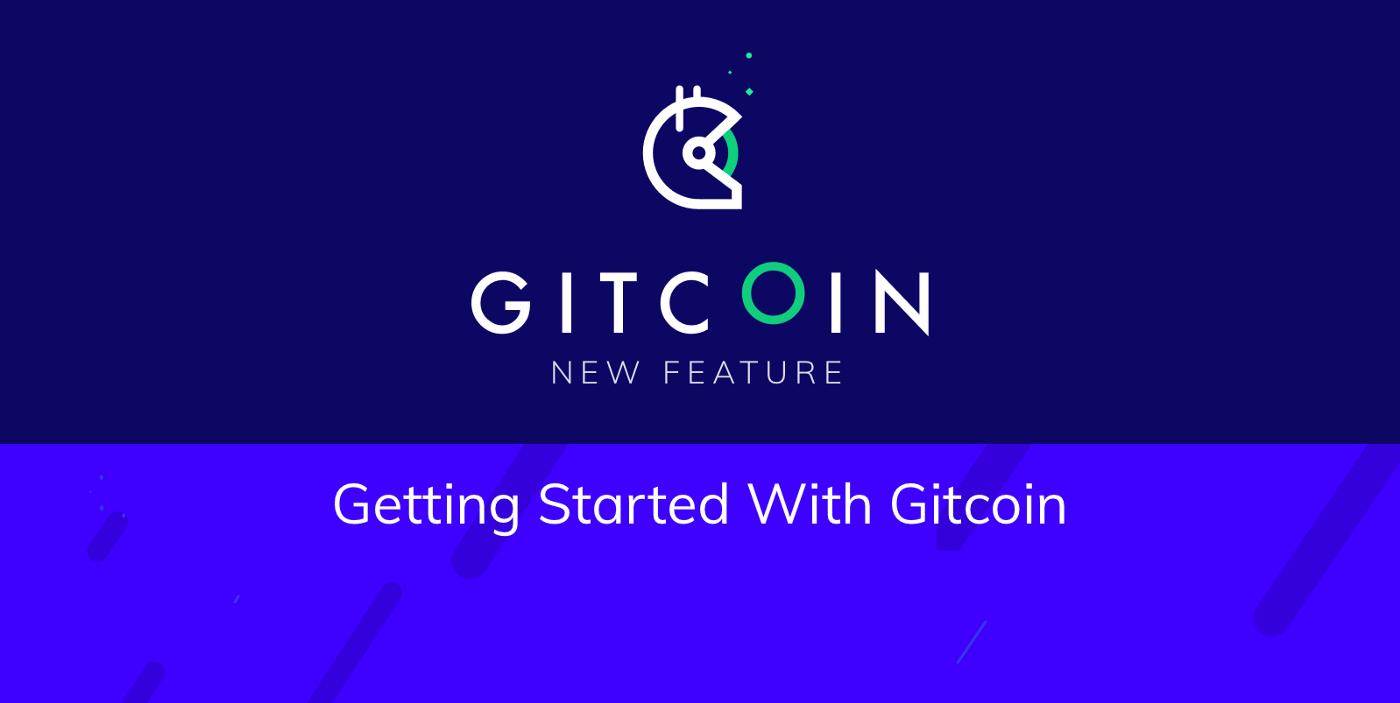 Getting started with Gitcoin (source: Medium)
How Does Gitcoin Work?
Gitcoin funds open-source projects democratically, finding ways to contribute to the digital space while adhering to the core values of decentralized finance (DeFi). The platform organically and practically fosters relationships between funders and developers, using the aforementioned techniques to provide financial contributions to those most deserving.
Gitcoin mostly performs these roles through Github, which was founded in 2008 and eventually became one of the Internet's primary hosting platforms for coding projects. In this case, however, Github acts as Gitcoin's core interface, providing a number of programs and projects that set out to achieve the cryptocurrency company's stated goals.
How Does The Gitcoin Bounty Program Work?
Using the Gitcoin Bounty Program, for example, the company provides a series of technological challenges, each with their own imposed difficulties, time limits, and financial rewards. Participating developers can pick and choose the bounties they wish to contribute to, with the understanding that projects with larger bounties will generally pay better hourly rates (around $25-$195), depending on the amount funded and the task difficulty. This makes this system a highly desirable and efficient method of crowdfunding support for open-source software-based issues, or even to develop new technology in its entirety.
Gitcoin also enables Web3 developers to create, build projects, and foster relationships with one another through its collaborative program, called the Kernel Fellowship. This generally involves an eight-week invite-only seminar to promote shared learning, offering those interested a free, open-source platform upon which to build a knowledge base in Web3 development.
Additionally, Gitcoin provides various educational resources, technologies, tools, and a community that focuses on building digital public infrastructure.
What Is A Gitcoin Faucet?
GTC can be purchased through traditional currencies, crypto trade (meaning GTC can be exchanged for Bitcoin, for example), or earned in small quantities through apps in exchange for tasks — which is called a Gitcoin faucet.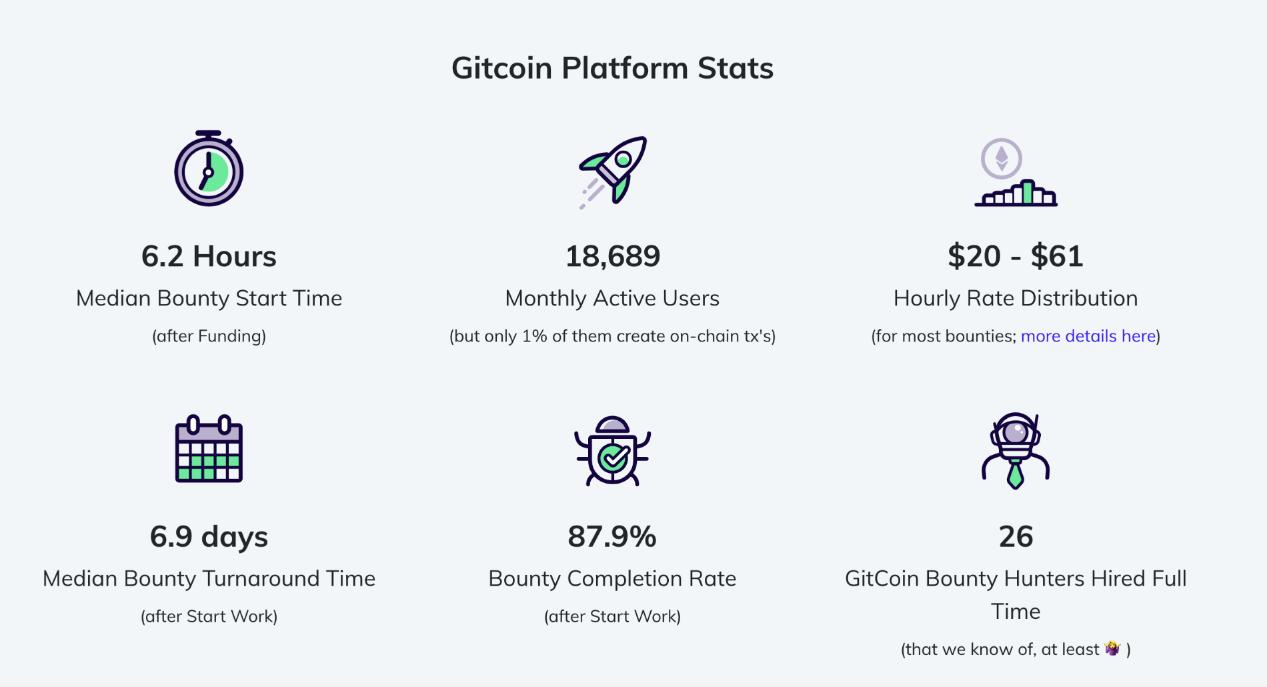 Gitcoin stats, showing platform averages (source: Gitcoin)
Who Is Behind Gitcoin?
Gitcoin is headquartered in Denver and was founded by Kevin Owocki and Scott Moore. Owocki had founded multiple open-source projects and worked as an engineer, while Moore had started out in blockchain finance, eventually developing a fascination with Ethereum in particular.
With lofty goals of open-source promotion and cryptocurrency development, Gitcoin's founders made use of their background in the tech industry, and rapidly procured allies within the digital space. Most notably, Vitalik Buterin — the young genius behind the Ethereum network — has come out several times in support of Gitcoin and its originators, even going so far as to donate $5 million in AKITA (a dog-themed memecoin) to the company. This money was distributed via crypto grants and bounties using Gitcoin's multi-signature community wallet.

Owocki and Moore believe strongly in the decentralization of finance and the importance of autonomous development, and they have spoken at various conferences on those very subjects. Their broader goal is to assist in the creation and maintenance of the internet of the future. By encouraging open-source usage, Owocki and Moore hope that Web3 techniques can be seamlessly integrated into pre-existing systems, simultaneously bolstering financial security through cryptocurrency.
GTC Price Analysis
Gitcoin price charts show a striking amount of green (positive value). GTC has never fallen below its original opening price of $3.30 since the coin's inception in June 2021. Rising sharply in value almost immediately to over $9.00, GTC provided fairly stable returns for investors over the next six months, maintaining an average price of around $7.75. However, huge fluctuations within the crypto industry began to affect GTC's price.
Gitcoin price performance since inception (source: Coinmarketcap)
At the end of November 2021, GTC's value truly skyrocketed. Over a period of just a few days (November 25 to 28) the token went from just over $9.00 to over $20.00, as the cryptocurrency market experienced highs across many different tokens and their associated platforms. Less than a week later, on December 4th, 2021, GTC was back down to little over $10.00.
Surprisingly, despite the difficulties the cryptocurrency market has experienced since its late-November/early-December highs, and subsequent mass sell-off, the price of GTC managed to stay fairly stable. In fact, the coin even experienced another spike in value at the end of December, actually recording a price of $18.52 on Christmas Day. However, GTC saw its prices plummet again in the new year. At the time of writing, GTC's price sits at around $7.25 — the lowest it has been since it was first minted and distributed.
What Is The Future of Gitcoin?
Because of the uncertainty surrounding crypto trade, Gitcoin's future, like that of many cryptocurrency start-ups, is currently rather uncertain. Huge fluctuations are taking place in the market, and with the advent of the Metaverse and other forms of Web3 implementation, it's hard to know whether any down or up-trends are likely to last.
Gitcoin Price Prediction
However, it's worth noting that GTC has maintained a far more stable trajectory than many of its contemporaries in the crypto space, and has never dipped below its initial coin offering (ICO) in value. So for those still adhering to a bullish approach, perhaps it's time to start paying more attention to GTC and the Gitcoin platform, and look into the multitude of benefits brought about by open-source technology investment.
Conclusion
Gitcoin takes a novel approach, utilizing open-source projects to achieve a company goal of full decentralization. However, Gitcoin and GTC's recent price performance, while not unusual in the crypto world, is still troubling. Perhaps investors and brokers should be cautious unless they have an underlying interest in Gitcoin's unique system.
From a broader perspective though, Gitcoin's approach has the potential to impact the world of cryptocurrency trade as a whole, and allows for experimentation with all kinds of interesting ideas. With the arrival of the Metaverse, innovative companies like Gitcoin may very well eventually propel the crypto world toward new prosperity.
---
Phemex |
Break Through, Break Free