Crypto lingo, finance talk, internet jargon must all be kept up with to stay modern in the conversion. So Phemex has compiled a list of the top 15 crypto acronyms on the market today.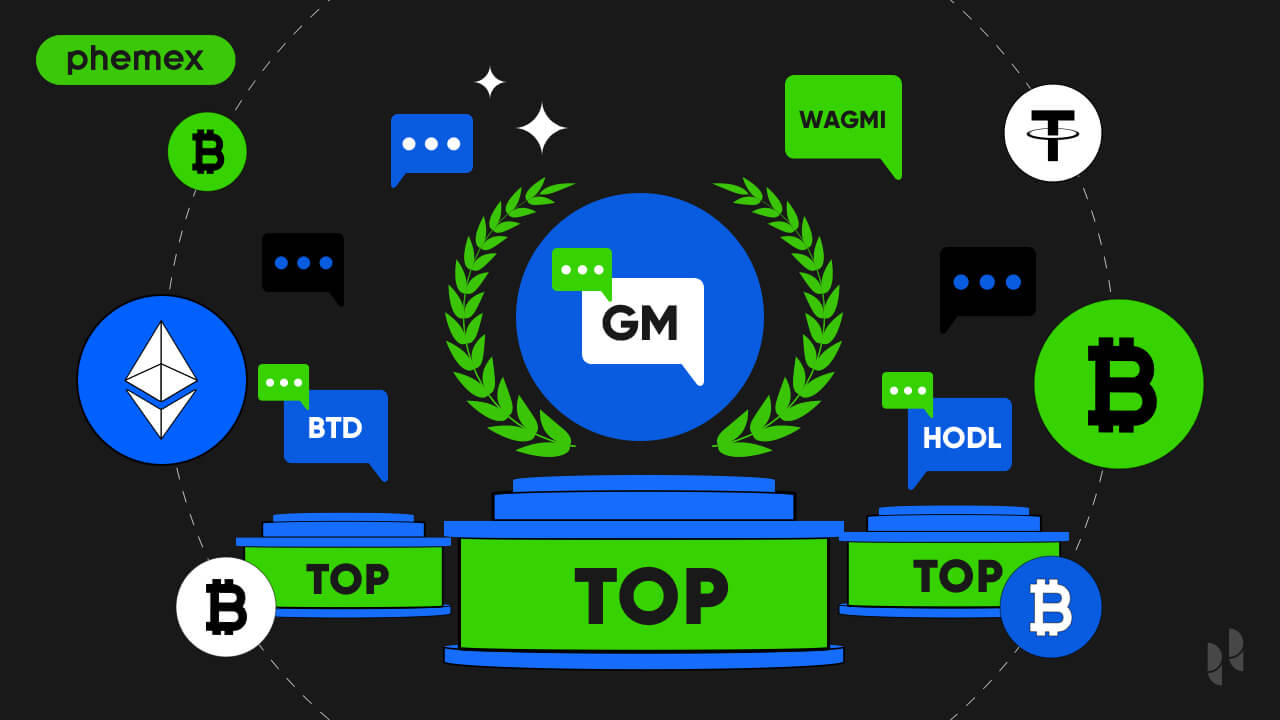 1 To The Moon – To the Moon, as the name implies, metaphorically describes a cryptocurrency such as Bitcoin seeing a significant price increase. Visually, it describes the price of Bitcoin going through the chart and going up all the way to the moon.
2 GM – GM, meaning good morning, is a crypto acronym that took off during the 2021 bull run when crypto investors and people on Twitter would start their days by saying "good morning" to their peers and followers. It represented the good vibes going on in the markets during those times, thus wanting to spread the love and wish everyone good morning to start their days.
3 GN – GN, meaning good night, similar to GM, is an acronym that crypto traders and crypto Twitter began using during the previous bull run to end their days on a positive note. You're supposed to say GN to the world before you go to bed.
4 WAGMI – WAGMI means "we are gonna make it." WAGMI is a motivational catchphrase that's supposed to encourage the industry and community that, despite ups and downs in the market, in the end, through hard work and perseverance, we are all going to make it and be alright. This phrase typically catches on more during the bear markets when there's a significant amount of FUD.
5 NGMI – NGMI means "not gonna make it." NGMI is a word that people use to tell others when they're making a dumb decision, when they've said something deemed outrageous and uninformed, generally towards financing and cryptocurrencies. The message it gets through is that because of this idea or approach, the person is not going to make it. For example, wanting to make a million dollars but not wanting to work hard. This is an NGMI mindset. Another example is still saying things such as Bitcoin has no value when it clearly has gained the attention of governments, millions of investors, Fortune 500 companies, and now big financial institutions.
6 FOMO – FOMO means "fear of missing out." FOMO is a situation investors and traders find themselves in when they're entering trades too late in a rally or when they've totally missed out on a coin that's going parabolic. This results in them FOMOing into the coin and not making as many profits, and even finding themselves at a loss when it sees a drop back to its market value.
7 FUD – FUD stands for "fear, uncertainty, doubt." FUD describes the sentiment going on surrounding crypto and crypto Twitter. During bear markets there's a significant amount of FUD going on with people selling out of emotion, panicking, saying crypto is going to zero, and repeating the old adage that cryptos are ponzis. However, it's important to ignore most of this as inexperienced traders and not sincere investors and students of the technology and financial instruments at hand.
8 HODL – HODL stands for "hold on for dear life." It's a phrase that resonates with investors and traders that are not good at timing the market and instead employ the trading strategy of buying a coin or Bitcoin on the spot market and holding it for multiple years. HOLD is a good investment strategy because it encourages ownership, and security, and helps traders avoid taxes and fees associated with constant buying and selling. It also is a strategy that reduces market volatility and bad months.
9 BUIDL – BUIDL is a misspelling of the word "build," which in the crypto context refers to the strategy of building great products and services that have real utility. It's also a motivation during bear markets to encourage investors, traders, and projects to focus on the building products aspect of crypto. Only by building great products can the Web3, blockchain, and crypto industries realize their true potential.
10 APE – APE is a word that represents the strategy or action of putting a huge amount of money into a particular cryptocurrency, or even going all in on a trade without much thought and research behind the trade or market dynamic itself. It's also supposed to capture the animal, gorilla or ape, in being big and strong and showing dominance and clout by going big into a certain crypto trade.
11 REKT – REKT is a misspelling of the word "wrecked," which happens when traders lose a large sum of money on a trade or during a recent market downtrend. For example, if you APE into a coin when it's dipping, and it keeps dipping, you're going to get REKT as a result and potentially lose a lot of money.
12 Nocoiner – Nocoiner is a term to describe people who don't own cryptocurrencies and who in fact strongly oppose trading them. Nocoiners typically don't see the value of cryptocurrencies, thus reinforcing their idea that they're worthless, and thus don't see the point of buying or trading them.
13 JOMO – JOMO means "joy of missing out," and it's essentially the opposite of FOMO and refers to when people are happy that they did not get into crypto or buy Bitcoin near its peak during the bull market.
14 NGU – NGU means "number go up," and it's a plea for cryptocurrency prices to rise during hard times. It's also an explanatory term to describe the state of crypto during intense bull runs. For example, "everything is NGU right now, you should buy while the trend is hot."
15 BTD – BTD means "buy the dip," and it's a trading and investing strategy to purchase cryptocurrencies and stocks while prices remain low and negative FUD sentiment is high. Advanced traders will generally buy the dip after intense price drops while the rest of the market is experiencing tremendous fear and FUD.
---
Phemex |
Break Through, Break Free