What Is Orion Protocol (ORN): Trade All Exchanges From One Wallet
Summary:
Orion Protocol aggregates the liquidity of various centralized and decentralized crypto exchanges into a decentralized platform.
This enables traders to trade the best rates across exchanges without even a single trading account but via their own private wallets.
Traders thus save on time and trading fees while getting the best buy/sell rates for their coins, without the risks that stem from storing their coins on a custodial, third-party exchanges.
Over the past decade, the blockchain space has grown as more people invest in the crypto market. This growing decentralized finance (DeFi) adoption rate has led to a rise in the number of crypto exchanges, both centralized and decentralized.
However, the availability of so many exchanges makes it increasingly difficult for crypto traders to find the best trading rates and lowest fees across exchanges. As a result, they have to resort to having trading accounts on multiple exchanges, exposing them to more risks.
What if they could enjoy the best rates across the entire market, from just one interface?
What Is Orion Protocol (ORN)?
Orion Protocol homepage (Source: https://www.orionprotocol.io/)
Established in 2018 and launched in 2020, Orion Protocol (ORN) is an open-source, decentralized blockchain platform which aggregates the liquidities of centralized exchanges, decentralized exchanges, and swap pools.
Its proprietary liquidity aggregator scans the various CEXes and DEXes for the best spot price, enabling Orion users to benefit from the best rates and fees while they trade directly from their wallet i.e. they don't even need a trading account.
The implication of this is obvious for sharp traders–they can now seize arbitrage opportunities without having to open accounts on multiple exchanges.
Bonus: Orion, which targets both novice and advanced retail traders as well as institutional investors, is integrated into a traditional exchange interface, supporting the most fiat currencies on the market.
As such, its value proposition of savings, convenience and security on a single platform, is an intriguing one.
This is especially so for users who conventionally have had to open multiple trading accounts on various exchanges to take advantage of best rates and lowest fees. This also means they have to give custody of their funds to multiple third parties, which, as we have seen in the aftermath of the FTX debacle, is not a good idea.
Read: FTX Gets REKT
Since Orion is a non-custodial platform, it doesn't use asset storage mechanisms, which means that user passwords, wallets, and keys remain controlled only by the user, and Orion has no access to them.
Says Orion's CEO and co-founder, Alexey Koloskov on its official website,
"Although it's clear the future should be decentralized (after all, it's what crypto is fundamentally built on), it's impossible to ignore the prominence of centralized entities. Orion was born out of the need for an intermediate solution that bridges the gap between the centralized and decentralized worlds of crypto."
What Problems Does Orion Protocol Solve?
Orion Protocol takes aim at 3 of the biggest pain points traders currently face, including:
Security: Orion enables users to connect their private wallet to execute orders across any major exchange, even those they do not have accounts with.
High trading fees: By aggregating every exchanges' order book, Orion provides the best prices and lowest fees in the market with almost zero spread and slippage.
Lack of liquidity: Existing decentralized liquidity aggregators pull from only DEXes. As the majority of trades happen on CEXs, this leaves out a huge source of liquidity. Orion's liquidity aggregator combines the liquidity of both DEXs and CEXes.
A survey titled "What are the biggest problems that cryptocurrency traders see in currently available exchanges?" conducted by Encrybit, published by Statista Research Department, Apr 26, 2022
Other Components of the Orion Ecosystem
Portfolio Management Application: Allows users to track trading activity, rebalance assets, access third-party research and analytics, and receive notifications about arbitrage opportunities.
Enterprise Trade: Widget that allows firms and non-blockchain companies to integrate crypto trades directly into their applications and websites
Liquidity Boost Plugin: Helps both centralized and decentralized exchanges increase the liquidity on their platforms.
DEX Kit: Allows other projects to launch their own decentralized exchanges.

How Does Orion Protocol Work?
Order Split and Smart Routing Process (Source: Orion Protocol whitepaper)
The Orion Protocol operates on an order-matching engine to ensure that trades are executed at the best price across several exchanges. Here is how:
When a user sends in a new order, the engine attempts to execute it on the internal order book.
If the internal order book does not provide the best price, the protocol uses data from the price discovery module to find exchanges to send the order to.
The order is then split up and submitted to several relevant exchanges.
After the order has been executed, the trades are consolidated, and the user is notified of his order completion.
Who Is Behind Orion Protocol?
The Orion protocol was founded by Alexey Koloskov (CEO) and Kal Ali (COO) in 2018. Alexey Koloskov, the CEO of Orion, and creator of the Waves DEX, has a wealth of experience in blockchain development as well as in the development and management of banking systems.
Kal Ali, the COO of Orion and a founding partner at Kanix, has extensive experience in partnerships, business development, and blockchain strategic advising. Ali also holds a finance degree from Rutgers Business School, a business school in New Jersey, United States.
Other members of the Orion team include Yanush Ali (Chief Strategy Officer), Andrew Kirk (Chief Marketing Officer), Eduardo Moreira (Head of Development), Nail Fakhrutdinov (Lead Backend Developer), Eduard Zaydel (Lead Frontend Developer), Brad Townsend (Advisor).

ORN Coin
The Orion platform is powered by its Ethereum-based native utility token (ORN). It will be used for:
Trading fees
Receive staking rewards
Voting for brokerages
Paying for premium services such as margin trading
ORN Price History and Analysis
The ORN coin launched in July 2020 at a price of $0.71 and soon began to see an increase in its value, which continued on a bullish trend. After the launch of its Orion Bridge V2, aimed at improving platform compatibility, the ORN crypto price soared, reaching an all-time high of $27.87 on 22 March 2022. Since then, the Orion coin price has fallen alongside the rest of the crypto market.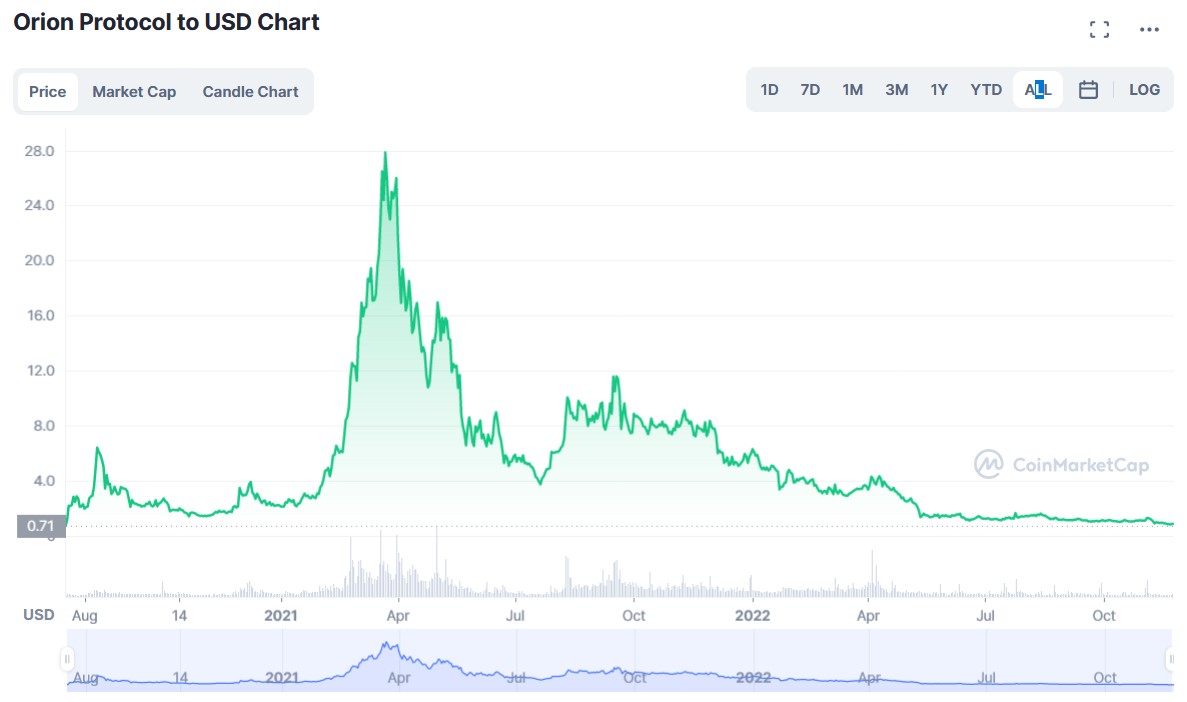 ORN all-time price history from July 2020 to October 2022 (Source: CoinMarketCap)
At the time of writing, ORN is trading at $1.20, with a circulating supply of 34.1 million ORN for a market cap of $39.7 million.
Orion Latest Developments
Most recently, Orion announced the launch of Orion Bridge V2, a solution that allows Orion Protocol's DApps to be used on several exchanges.
Orion also announced a partnership with blockchain platform Elrond to integrate its liquidity boost plugin, as well as play-to-earn gaming ecosystem Nakamoto Games to integrate the Orion swap widget into its platform.

Is Orion Protocol a Good Investment? A Balanced View
Without a doubt, the idea behind the Orion Protocol is a good one. A platform that provides the best rates and simultaneously minimizes trader risk is something that every trader wants.
The Orion Protocol is a platform that aims to bring together all exchanges and provide the best liquidity, execution, and settlement for traders. With a growing team and community, Orion Protocol is solving serious pain points with what seems to be a working solution.
It remains to be seen if Orion is a profitable long-term investment, as this will depend on, first and foremost, the growth in trading volume. At time of writing, its 24-hour trading volume is $411,231.24.
How to Buy Orion Protocol?
Phemex offers both spot and contract trading for investors to choose from. However, for beginning crypto buyers, spot trading is recommended. To buy ORN on Phemex, follow the instructions below.
The first step to buying cryptocurrency on Phemex is to go to the Phemex homepage, register for an account, and select Markets.

On the Markets tab enter ORN into the search bar on the top right, immediately after, the ORN/USDT trading pair will appear below – select Trade to move on to the next step.
You will then be redirected to the Phemex trading platform for the ORN/USDT pair. To do a simple spot trade we recommend doing a market order where you can buy ORN at the market price. To do so, select Market, enter the amount of USDT you want to buy of ORN, and click Buy ORN.
---
Phemex |
Break Through, Break Free