May was a bad month for the crypto market, and June only seemed to continue the trend. Bitcoin (BTC) plunged to a five-month low of $28,600 before rallying to its resistance level. Ethereum (ETH) also stalled at $2,890 and subsequently dropped to the price last seen months ago. The price frictions of major cryptocurrencies are mostly attributed to the news of a regulatory clampdown in China and the hawkish sentiment at the U.S. Federal Reserve. However, like always, the crypto space is full of mixed emotions.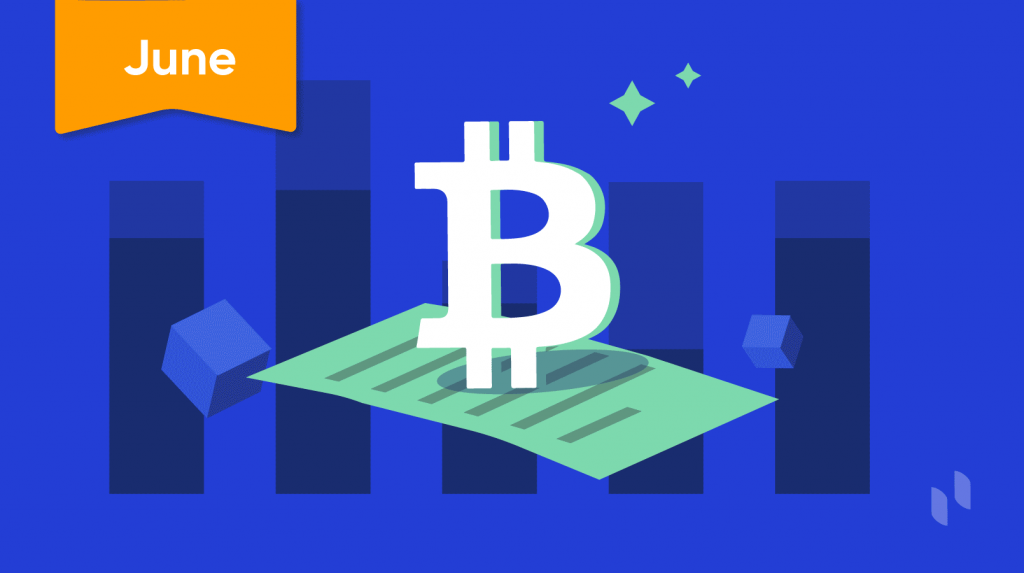 Bitcoin (BTC): The Price Rally is Delayed, Not Stopped
As Bitcoin continued a downward trend throughout June, it dropped below $30,000 for the first time since December 2020.
Source: Tradingview
On June 22, Bitcoin touched $28,808, erasing all of its 2021 gains and almost halving in value amid a slew of negative news. On the other hand, Bitcoin's hash rate dropped by nearly 50% following China's mining crackdown.
However, Bitcoin immediately recovered and turned positive for the day and surged back above the $34,000 mark. Three days later, it rallied to $35,517. Since Bitcoin has now rejected price to the downside on various occasions since May, it is probably creating a floor for price-action shortly.
Ethereum Down! High Hopes on Its Transition to PoS
Ethereum's downward price rally started in May, but it was only in June when the altcoin lost over 60% since last month's all-time high of $4,372, touching the $1700 mark on June 22. Even trading experts are viewing Ethereum's current chart as bearish.
Source: Tradingview
On the positive side, or what can be considered as bullish news, the cryptocurrency is transitioning from Proof-of-Work (PoW) to Proof-of-Stake (PoS) in its highly anticipated London upgrade. Since this fork will implement various Ethereum Improvement Proposals (EIPs) to make the network affordable and scalable, we can expect a price rally as it will attract more projects.
El Salvador Wins The Race Towards Bitcoin's Legalization: Who's Next?
El Salvador passed a bill to consider Bitcoin as a legal tender. As per the law, Bitcoin must be accepted by companies when offered as payments for any goods or services. Country citizens can also choose to pay taxes in Bitcoin.
Following suit, Paraguay may also consider regulating Bitcoin shortly. A pro-crypto congressman recently shared that he will present Bitcoin legalization in Congress next month. Even a Mexican lawmaker in the federal government shared in a tweet he would promote a legal framework for cryptocurrencies.
Nearby Panama is also planning to present a crypto-related bill in July. On the other side of the world, Tanzania's president urged the country's central bank to prepare for cryptos.
Crypto Crackdown Intensifies in Some Countries
Everyone knows the Chinese government has started cracking down on crypto mining activities. However, China isn't the only country restricting its citizens from using cryptocurrencies. The Iranian government recently banned a local blockchain association and the UK banned Binance Markets from any regulated business in the country. Additionally, Thailand banned non-fungible tokens, meme coins, and exchange tokens.
Furthermore, the renowned finance institution, the World Bank rejected El Salvador's request to help with the implementation of Bitcoin as a legal tender. Therefore, it was clearly a rough month for crypto-government relations.
Accumulative Efforts to Counter Bitcoin's Energy Concerns
Last month, Elon Musk raised concerns over Bitcoin's energy usage. While Bitcoin's PoW doesn't use as much energy as gold mining or our banking system, it still affects the environment. To counter this issue, crypto community members are doing their part to reduce the impact. For example, El Salvador's president Nayib Bukele presented the idea that the country's volcanoes could be used as a renewable source of geothermal energy to mine Bitcoin. Gemini's twin brothers also announced a long-term initiative to remove nearly 350,000 tons of Bitcoin-related CO2 from the atmosphere. However, the technical details and timeline for both these endeavors have a way to go before being implemented on the ground and being seen as realistic.
Mass Adoption of Cryptos On the Verge
While negative news kept hovering over the crypto space throughout June, Bitcoin stealthily made its way to many hearts. As of today, Bitcoin has roughly the same number of users as the Internet had in 1997, but is growing at a much faster pace.
Bitcoin is also gathering support from several institutions. For example, VanEck recently filed a prospectus for a new Bitcoin future mutual fund, and NYDIG partnered with Q2 to enable Bitcoin trading for 18 million US bank customers. Apple Pay and Google Pay also joined the league and are now linked with Coinbase's visa debit card. Moreover, Google has lifted its 2018's ban on crypto wallets and advertisements.
---
Phemex |
Break Through, Break Free