NFTs are becoming a bigger part of the way creators make money on social media. While sponsored posts and brand partnerships have always been popular, it seems creators are turning to blockchain and cryptocurrency to boost their online presence, earnings, and brand.
Recently, the world of social media experienced a shockwave when Instagram announced an update to support NFTs on the platform. During the announcement, Mark Zukerberg also stated that NFTs would soon be coming to Facebook and other Meta apps. Thus, Twitter and YouTube are still embracing Web3 technology.
But what does this latest change mean for NFT enthusiasts, how will NFTs work on Instagram, and how can you access this exciting new feature?
Instagram's Announcement Of NFTs
At the SXSW event, Mark Zuckerberg confirmed NFTs are indeed coming to Instagram. However, other than the possibility of integrated NFT minting functionality, no additional details were specifically revealed. Zuckerberg waved it off saying that "a bunch of technical things need to get worked out" before Instagram NFTs could really happen.
Currently, Meta's vision regarding NFT utility in the metaverse is unknown. The company has pivoted its development resources towards building the metaverse, laying emphasis on the aspects of cryptocurrencies and blockchain technology that serve the NFT industry.
How Will NFTs Work On Instagram?
With Instagram NFTs, Meta has stated that they're looking to create more monetization opportunities for creators by bringing NFTs to a wider audience. Currently, Instagram plans to test "Digital Collectibles" with a handful of creators, enabling them to share NFTs they've created or bought.

There are three important components to the Instagram NFT feature:
1. A digital wallet
Creators and collectors are required to connect digital wallets to their accounts. Once connected, they can choose which NFTs they'd like to share on Instagram from their wallet. While there are many different types of wallets, Meta has said that compatible third-party wallets will include Rainbow, MetaMask, Trust Wallet, Dapper, Phantom, etc.
2. Sharing NFTs as digital collections
(Source: Instagram)
If you're wondering "how can I post my NFT on Instagram," here's your answer. After a creator has shared a post of the digital collectible, it will have a 'shimmer' effect, displaying all publicly available information. These posts will also be visible from their profile, and there'll be no fees associated with posting or sharing a digital collectible on Instagram.
3. Automatic tagging of creator and collector
Depending on their privacy settings, credits to NFT creators and collectors can be automatically attributed from within the digital collectible post. Meta has stated that they'll only collect and organize public data from open blockchains such as Ethereum. This means they can only identify which collectibles belong to collectors and creators when they connect their third-party wallets to Instagram. At launch, supported blockchains include Ethereum and Polygon, with Flow and Solana coming soon
What Are The Biggest NFT Instagram Accounts?
Only a few creators in the US currently have access to the feature. So far, here are the creators that are included in this ongoing NFT instagram accounts trial:
Top NFT Instagram Accounts
Instagram has launched this feature in an intentionally small pilot to ensure they can build out more functionality over time with direct feedback from NFT creators.
AR Functionality For Digital Collectibles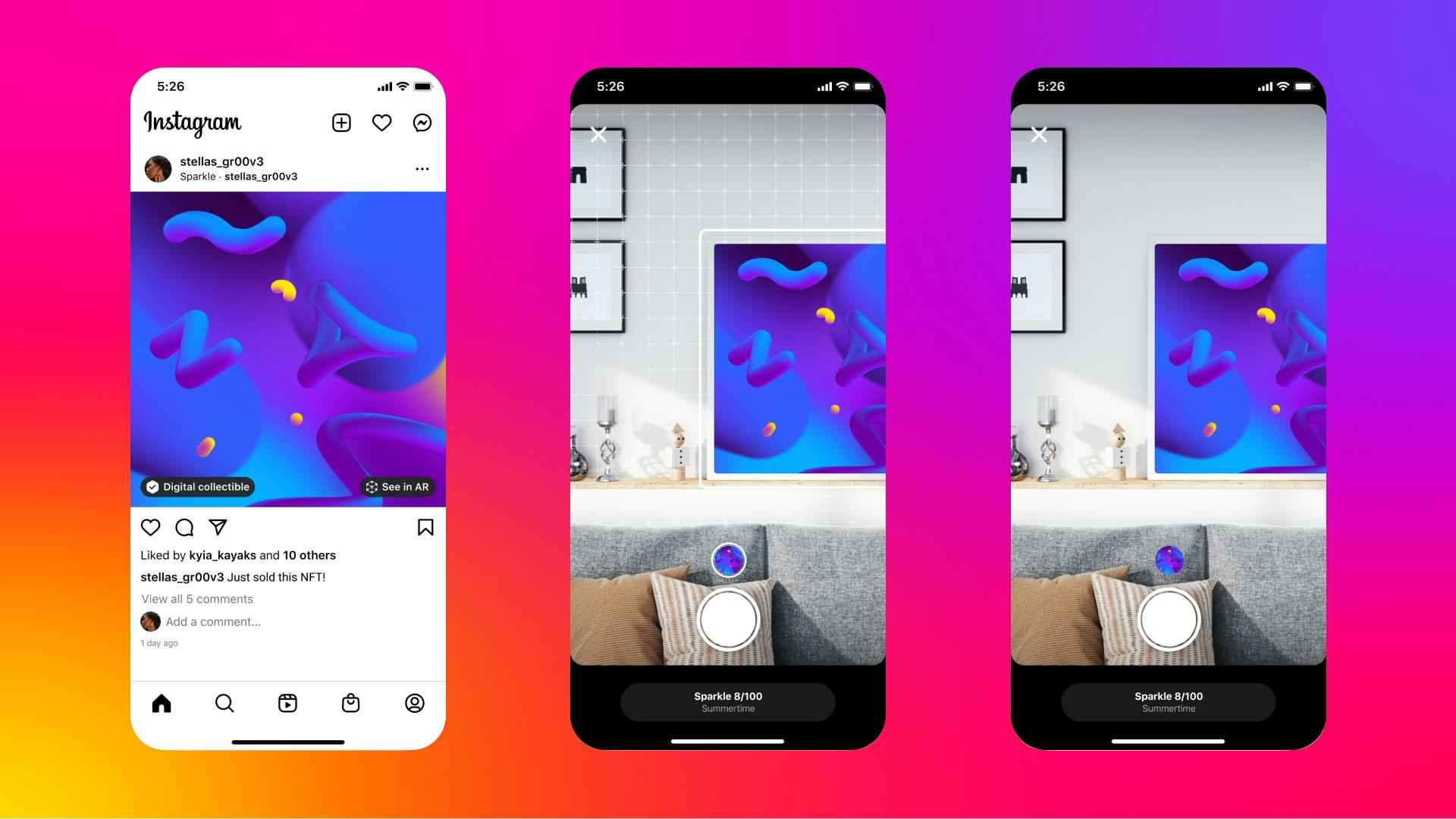 (Source: SSpark AR Team)
As a next step towards the Instagram NFT platform, a new and upcoming feature is the 'See in AR' functionality. This will enable creators to display or import their NFTs as 2D virtual objects into Instagram Stories. This will enable people to apply some context to artwork and other items, making them feel more tangible.
While this functionality is yet to be implemented, word is that talks are already happening about enabling fully AR and 3D-native immersive NFTs in the future, including virtual items, accessories, sculptures, clothing, and more.

What's Next For NFTs On Instagram?
With the successful launch of digital collectibles on Instagram, it's reasonable to expect more features and integrations in the near future. The 'See in AR' feature is an exciting development that will make NFTs feel even more tangible. As a wider range of creators start being given access to this feature and support for more blockchains are added, the metaverse/social NFTs narrative is certainly building steam.
---
Phemex |
Break Through, Break Free