Launched in 2017, Telcoin (TEL) is an Ethereum-based token developed with the goal of bringing instant international transactions to all mobile users. Telcoin trades at $0.025 per token with a circulating supply of 54 billion tokens, for a market cap of $1.3 billion.
What Is Telcoin?
Telcoin focuses on the remittance market, which Western Union and other large banks dominate. Long transaction times, high fees, and delays are routine when transferring money internationally. Telcoin offers a solution by partnering with telecommunications companies like GCash to bring mobile users high-speed, low-cost digital transfers to compatible money platforms and wallets in various countries such as Canada and the Philippines. It aims to expand its network by securing partnerships with telecom giants like Verizon and AT&T and establish global remittance channels. Telcoin also provides services to e-commerce websites looking to do business with international clients.
Telcoin runs on the Ethereum blockchain with the proof-of-stake (PoS) algorithm where Telcoin partners serve as validators on the network. The project currently relies on a "proof-of-concept (PoC)" model. Telcoin uses this model to determine whether a transaction has real-world feasibility before validating it. The PoC is not a consensus algorithm. Instead, startups use it often to test their project on the blockchain market before mass production. This helps to identify the project's advantages and weaknesses.
Telcoin also employs a multi-signature cryptosecurity (or multi-sig) consisting of three keys. One key usually goes to Telecoin, another to the operator, and the third to the user. Telcoin's multi-sig wallet requires at least two of the three encrypted private keys to sign and send a transaction for a transfer. Therefore, if one of the keys was stolen or lost, the funds in the wallet remain safe. Telcoin's system ensures that its users' wallets and transactions are protected even if their phone or SIM is compromised.

What is Telcoin Used For?
Telcoin aims to bring several DeFi features and services to its user base. However, only a handful are accessible on the app since the project is still in the proof-of-concept stage. The available features and services are as follows:
Efficient and cheap remittances: Traditional financial institutions charge a 7% fee to send international remittances. According to Telcoin, users that send remittances via its app only need to pay a 2% fee per transaction. Although transaction fees have increased with the rise of DeFi, it is still great for transactions exceeding $1000, as it is cheaper and faster than traditional remittance routes. The active remittance feature available after the rollout of Telcoin V2.3 allows recipients or beneficiaries to choose the location of inbound transfers. It is part of the "fully digital and socially distanced" campaign the company is pushing to preserve health and safety during the pandemic.
Multiple remittance corridors: With the rollout of Telcoin V2.3, Telcoin added15 new corridors and 23 mobile platforms to its network. In collaboration with the Philippines' most popular financial app, Gcash, Telcoin also opened a remittance channel between Canada and the Philippines. The increase in remittance corridors and supported platforms will help grow the network's user base and boost adoption.
ERC-20 wallet compatibility:TEL is an ERC-20 token that runs on the Ethereum network, making it compatible with any ERC-20 wallet. Thus, the holders with TEL in their Telcoin Wallet can transfer the tokens and store them in any other ERC-20 wallet like MetaMask and Ledger.
Physical cash outs: After receiving remittances, users can withdraw the money by going to specific physical cash-out locations. For example, through the partnership with Gcash, users can withdraw money via their Gcash account at supported ATMs.
The Telcoin Model (Source: Conswitch.com)
Telcoin intertwines its cryptocurrency (TEL) and its app to provide safe and speedy transactions. The TEL token is the vehicle of exchange, and token holders convert fiat money to TEL before sending it through another corresponding Telcoin account. A transfer on the network involves three parties – the Telcoin app user, the mobile network operators, and Telcoin:
Telcoin app users: The users have full access to their money via the Telcoin app or any other supported ERC-20 wallet. They send and receive money only after Telcoin or mobile operators validate their transactions. The users' phone numbers serve as their identifiers with the mobile operators.
Operators (mobile carriers and money platforms): During a transaction, operators order Telcoin to move TELs to and from a user's wallet. The operators and networks allow Telcoin to leverage their influence and connect with their subscriber base. They receive TEL as a reward where networks with more traffic and integration maturity receive more TEL than their younger counterparts. According to Telcoin, this incentive system encourages operators to keep remittance costs down.
Telcoin: Telcoin stores user's identifiers, public keys, and one of their three private keys. They handle the back-end of things by connecting Telcoin users or generating temporary addresses for non-Telcoin users (that are on supported operators) so that users receive their funds. During transfers, Telcoin charges a 2% fee for each transaction. This fee comes from the conversion cost of TEL to a major cryptocurrency, and then to fiat money like the US dollar.
Telcoin V3, which was rolled out in early July will introduce new exciting features (Source: telcoin.medium.com)
New Features with Telcoin 3.0
Several new features are coming to the Telcoin app with the new app version 3.0, which started rolling out in early July. They are set to change the current Telcoin ecosystem by shaking up and improving upon the systems that users are familiar with. In this new update, new remittance channels through Singapore, Australia, and the United States will join the Telcoin network. In addition, Mexico, Nepal, and Tanzania will also join the network sometime later.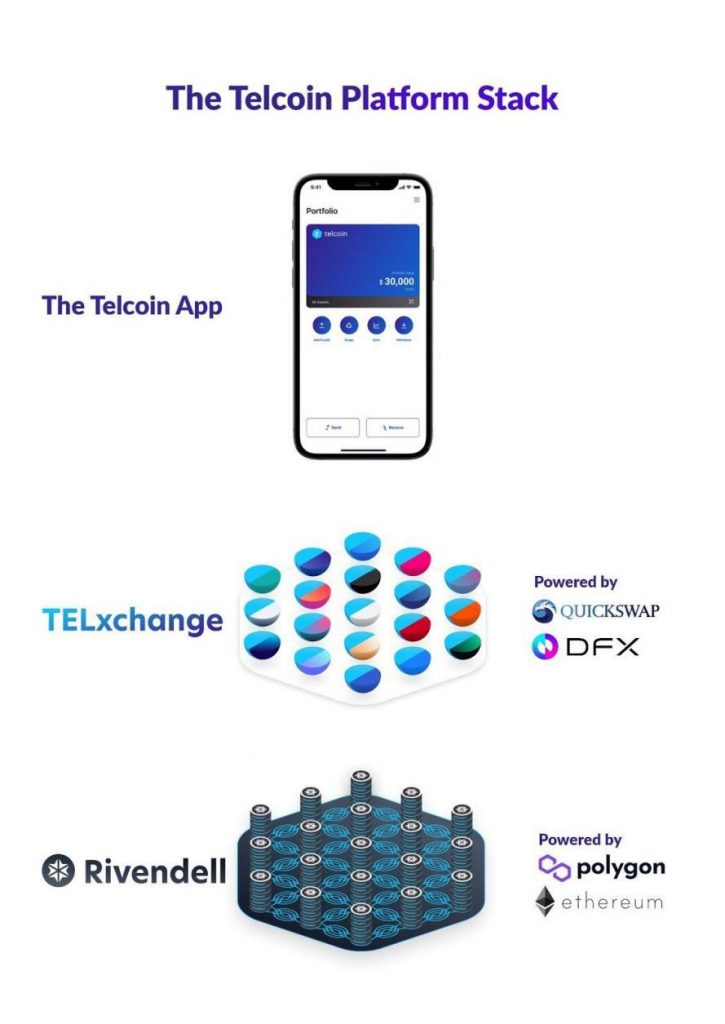 The Telcoin Platform stack outlining the new features rolling out with V3 (Source: telcoin.medium.com)
However, according to Telcoin, the new update will release on Polygon OS, instead of on the Ethereum network. Polygon is a low-cost service protocol and framework for connecting Ethereum-compatible networks. Partnering with them could lower transactions costs to less than 2%. Moreover, Telcoin plans to leverage Polygon OS to launch the Rivendell network, an open Ethereum side-chain for mobile network operators. The Rivendell network allows operators to offer blockchain-based financial services to their subscribers without going through banks.
V3 will also introduce TELx, Telcoin's liquidity network where users stake their TEL token in existing pools to provide liquidity to the network, thereby allowing fast transfers. Furthermore, users staking their TEL tokens also participate in liquidity mining and earn additional TEL as incentives.
Who Is Behind Telcoin?
Telcoin was developed by Telcoin Pte. Ltd., a telecom-focused company based out of Singapore, with physical offices in Los Angeles, Tokyo, and Dubai. Telcoin was co-founded by Claude Eguineta and Paul Neuner in 2017. Eugineta originally served as the CEO, and Neuner, the chairman, but only Paul remains as of July 2021. He currently serves in the joint role as CEO and Chairman of Telcoin.
An image of Claude Eguineta and Paul Neuner (Source: swapspace.co)
Paul Neuner spent more than 12 years in telecommunications before starting Telcoin. He started his career as a tech entrepreneur in the telecoms sector with his startup Mobius.
In the past year, Telcoin has brought on new talent in preparation for the V3 release and other future projects. Their team has grown substantially since 2017 and is expected to get larger as the TELx network scales.
TEL Price History
TEL trades at $0.025. It is nowhere near its all-time high of $0.064 in May 2021, but it is estimated it will bounce back with Telcoin V3's release.
The growth of TEL over the past year and a half. (Source: Coinmarketcap.com)
Telcoin has grown over 80,000% since its ICO in 2018, and though it has gone through some rough times, it has experienced a huge rise from its ICO token price of $0.0013 at launch.
In March 2020, it grew 4,000% in value, but it wasn't until February 2021 that the market started to take off. The rally was inspired by Telcoin 2.0 which fulfilled several of the promises made by Telcoin in their whitepaper. It experienced similar rises as versions 2.2 and 2.3 rolled out where supporters hoped the new update will drive the token's price even higher.
Is Telcoin a Good Investment?
Telcoin outlined their vision for their token in a release on July 1, meeting the deadlines they have set on their roadmap. They are very much still dedicated to the growth and mass adoption of Telcoin as a potential bridge between cryptocurrency and telecommunication.
Telcoin believes that its partnerships with telecom operators can help solve the three major issues faced by other cryptocurrency projects – trust, reach, and Know-Your-Customer (KYC) compliance. Through established telecom companies, Telcoin leverages the operators' existing trust level, user base, and KYC compliance to provide compliant money transfers to users worldwide. To confirm the identity of their app users, Telcoin partnered with Jumio, an AI authentication platform, and integrated the authentication technology into the Telcoin app.
However, there is still a long way to go for Telcoin. According to its website, Telcoin currently has under 20 partnerships. The limited number of telecom partners hinders the platform's growth and adoption. On a positive note, its V3 upgrade promises that more countries and platforms will be integrated into the Telcoin app.
Another issue is the Ethereum network's scalability issues. Slow transactions and high fees are common due to the blockchain giant's high transaction volumes, which has had a large impact on the speed and cost of transfers on the Telcoin network. As the new V3 update rolls out as promised, transaction fees could be lower than 2% and will be paid out to liquidity miners on the platform.
TEL is not listed on most major cryptocurrency exchanges. The trading pairs for TEL are also limited and TEL can only be traded for popular cryptocurrencies like BTC and ETH, but not fiat. Thus, traders cannot buy TEL directly and will need to hold other cryptocurrencies in their wallets to purchase TEL, which can be inconvenient.
Nonetheless, goals like cryptocurrency payment cards, network prepaid airtime top-up, international aid, and other items listed in their white paper seem far away. Many of their proposed features are still in development. Only time can tell if the Telcoin team can deliver their numerous updates and features as promised.
Conclusion
Telcoin was a little slow in adding remittance channels and operators, but their TEL token performed well in 2020, and better in early 2021. With TELx, Polygon, SMS, and other new features rolling out, it seems set to continue with this uptrend. The next major hurdle will be slowly introducing new technologies, protocols, and features to encourage mass adoption.
Telcoin is in its third year of service and is doing well despite the various government and economic constraints. In 2020, Tesla, Verizon, and large financial institutions expressed interest in incorporating cryptocurrencies as alternative payment methods. As a result, Telcoin and other cryptocurrencies are expected to flourish with mass adoption as popular demand forces policy change.
Unlike other cryptocurrencies, Telcoin is building upon the established infrastructure offered by its telecom partners. It is leveraging the trust level, user base, and KYC compliance of its partners to provide DeFi services too. It should see sustained growth if it introduces more services, adds new operators, and grows its customer base.
---
Phemex |
Break Through, Break Free