Foundation is an invite-only NFT marketplace for creators and collectors. Launched in February 2021, Foundation is one of the largest NFT marketplaces on the web. So far, Foundation has earned 39,000 ETH ($160 million) for its creators. The platform was host to notable NFT auctions such as Edward Snowden's first NFT and the Nyan Cat animation.
NFT creators must get an invite code to mint NFTs. Invites can only be sent by members who have already sold at least 1 NFT on the platform. Collectors can bid on auctions without restrictions. Foundation users need a Web 3.0 wallet such as MetaMask to transact on the platform. Foundation was built for the Ethereum (ETH) blockchain and all NFTs are hosted on Ethereum.
What Is Foundation?
Foundation is an Ethereum-based NFT marketplace that launched in 2021. It's a platform that aims to build a new creative economy where creators can use the Ethereum blockchain to value their work in entirely new ways and build stronger connections with their supporters.
Foundation currently has 260,000 registered members and over 100,000 NFTs for sale. All NFTs are sold using ETH and users must possess ETH in their wallets to bid on an auction. There are currently three types of NFTs offered on the Foundation platform: images, videos, and 3D artwork.
There are two types of NFT markets: primary and secondary. Primary markets are markets for NFTs that are being sold for the first time. Secondary markets are for NFTs that were already sold and are being re-sold. Collectors can bid on secondary market NFTs the same as primary market NFTs. Foundation charges a 15% service fee for all sales on the marketplace.

How do NFT Auctions work on Foundation?
Creators can start minting NFTs on the platform when they receive an invitation from an established member with at least 1 sold NFT. Their personal profile is tied to their MetaMask wallet and they need ETH to cover the gas fees for minting NFTs.
Collectors also need to have ETH in their wallets for bidding. When they bid on an auction, the gas fee is placed in a smart contract escrow. If they get outbid in the auction, the fee is returned to their wallet.
The most valuable NFT on Foundation was Edward Snowden's first and only NFT called "Stay Free." The NFT sold for 2,224 ETH ($5 million at the time). It is a signed image of a US court decision that declared the NSA's mass surveillance program illegal.
Other notable auctions include the Nyan Cat, a popular internet animation that was sold on Foundation by its original creator. The Nyan Cat NFT sold for 300 ETH ($1.2 million).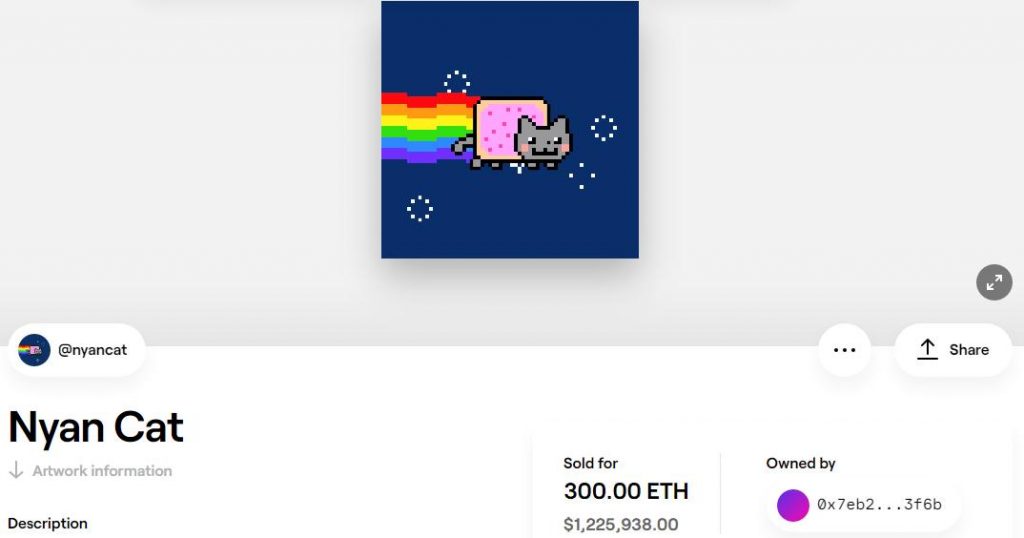 Creators can list their NFTs in an auction with a base "reserve price." This is the minimum bid price for each NFT. When someone places a bid for an NFT, an automatic 24-hour countdown begins. If the NFT is not sold within 24 hours, the auction closes.
If a collector places a bid within 15 minutes of an auction closing, the auction is extended by another 15 minutes. Collectors can indefinitely extend the time limit as long as the bids are placed within 15-minute intervals after the last bid.
Collectors who win auctions have their NFTs transferred to their wallets automatically. The NFTs also appear under the collector's profile. The collector can then display their NFT in their Foundation virtual gallery and share them on social media. They can also resell them on third party marketplaces.
Who is Behind Foundation?
Foundation was founded by Kayvon Tehranian, an entrepreneur based in San Francisco, CA. Kayvon is a serial entrepreneur who graduated from Princeton University. In a recent TED talk, he discussed the way NFTs are shaping the internet of the future.
Foundation.app Invitation System
The Foundation platform has an artist-centric focus and places importance on the quality of their NFTs. Competing platforms such as OpenSea allow anyone with an account to start minting NFTs and selling them.
Foundation does not allow creators to sell NFTs on their platform unless they were invited by another creator. Moreover, the creator has to have sold at least 1 NFT on Foundation to have the ability to send an invite.
There aren't paid membership options that allow users to skip the invitation requirement. To become an NFT creator, the best way is to develop a close relationship with an existing member of the Foundation community. Aspiring creators can visit one of the sold auctions on Foundation and message established members using the contact information on their profile. Afterward, they can ask them for an invite. Foundation occasionally awards invites to people who post on their Discord channel.
How to Mint NFTs on Foundation?
Creators upload their artwork on Foundation to produce the NFT. Acceptable file formats are JPGs, PNGs, and videos. The files are not uploaded to Foundation's servers, but they are stored on IPFS (InterPlanetary File System). ISFS is a peer-to-peer file storage network that is decentralized.
The creator has to have an ETH balance to cover the gas fee for the minting transaction. They also have to "sign" a transaction by paying a gas fee, similar to signing a contract in real life. This certifies them as the original creator of the NFT and they are entitled to royalties in the future.
The freshly minted NFT is deposited in the creator's MetaMask wallet. They are fully in control of the NFT token and the Foundation team can never withhold their NFT or funds.
Creators keep 85% of the sale price. However, creators get 10% royalties from any re-selling on the secondary market. If an NFT was sold on the Foundation market and is re-sold on OpenSea or competing NFT markets, the original wallet that minted the NFT is credited 10% of the sale.
Minted NFTs are displayed on the creator's profile. Creators can build a portfolio and sell collections of NFTs. They can adjust their profile by adding their photo and linking their social media accounts. This allows them to personalize their profile and share more information about themselves with potential collectors.

What are 3D NFTs?
Foundation was the first platform to introduce 3D NFTs to its marketplace. 3D NFTs are an emerging category of NFTs that can be viewed in three dimensions. Artworks in 3D can be projected using augmented reality in physical space. Collectors can scale them on their computers or mobile devices.
The idea behind 3D NFTs on Foundations is to "expand our horizons and experience a new category of artwork." Creators who are passionate about 3D printing can sell their unique designs using this feature.
How to bid on NFTs on Foundation?
Foundation is open to all collectors without invitation requirements. If a collector wants to explore NFTs, they can visit the Foundation NFT marketplace. The marketplace allows them to narrow their search using metrics such as min/max ETH price, market type (primary/secondary), and media type (image, video, 3D).
If a collector wants to place a bid, they have to bid the minimum reserve price decided by the creator. If they're out-bidding someone, their bid has to exceed the last bid by 10%.
The automated system will calculate if the collector's bid is satisfactory, or else they will receive an error message. If they are the final bidder, they will be awarded the NFT and their ETH balance will be used to pay for the NFT. The funds are immediately transferred to the artist.
How to Transfer NFTs on Foundation?
If an artist wants to transfer their NFT away from the marketplace, they first have to un-list it. In their dashboard, they'll find a "Transfer NFT" option from the dropdown.
To transfer the NFT, they must have an ERC-20 address such as a MetaMask wallet address. Once they confirm the transaction, the NFT will be transferred to that wallet. Etherscan.io is a useful resource for tracking NFT transfers to and from the platform.

Conclusion
Foundation is a decentralized NFT marketplace that facilitates the creation and selling of NFTs. Users can mint and sell NFTs in auctions that last 24 hours. Foundation employs an invitation system designed to improve the quality of their NFTs. A creator must be invited by a registered creator who has sold at least 1 NFT on the platform.
NFTs are deployed on the Ethereum blockchain and all transactions are settled using ETH and MetaMask, a Web 3.0 extension. NFTs can be transferred from the Foundation marketplace to a private wallet or a third-party NFT marketplace such as OpenSea or Rarible where they can be re-sold.
---
Phemex |
Break Through, Break Free