Non-fungible tokens (NFTs) look set to change the way brands interact with their customers by enabling stronger community building and engagement. In addition, NFTs facilitate brand co-ownership, passing on brand value to NFT owners as the price of NFTs increase or owners get rewarded with airdrops.
Among the most notable examples of brands leveraging NFTs for community building and engagement is Bored Ape Yacht Club (BAYC). Its BAYC community members created the world's first animated NFT cartoon show, "The Red Ape Family." These members also founded the world's first BAYC-themed restaurant, a Long Beach burger joint, where for a period of time a limited number of verified token holders were eligible for a free combo meal.
In sports, some of the world's biggest clubs are catching on to the possibilities offered by NFTs as a new platform for fan engagement as well as revenue generation. One of the companies emerging as a frontrunner in this space is Chiliz.
What Is Chiliz?
Launched in 2019, Chiliz is a blockchain fintech solutions provider for the sports and entertainment sector. Its sports fan engagement platform, Socios.com, which connects fans with their favorite teams, is built on the Chiliz blockchain infrastructure and uses $CHZ as the on-platform currency.
Socios.com aims to meet a growing market need–with increasing media engagement across all ages and backgrounds, sports brands around the world are looking for new ways to engage with fans on digital mediums. Major players, such as the European football clubs of Paris-Saint Germain and Schalke 04 have expanded their online presence by establishing e-sports teams and embracing new methods to interact with fans.
At the same time, Chiliz' exchange, Chiliz.net is the world's first cryptocurrency exchange for sports fan tokens, enabling token holders to trade fan tokens from various sports clubs. These fan tokens are cryptocurrencies that enable the monetization of the relationships between fans and sports teams by providing benefits such as exclusive merchandise and NFT purchase, discounts, event access and voting rights to token holders.

What Is The Chiliz Coin?
Chiliz is the Ethereum (ETH) ERC-20 utility token powering the CHZ sports fan engagement platform, Socios.com.
At the time of writing, CHZ is trading at $0.10 per token with a circulating supply of 6 billion CHZ out of a max supply of 8,888,888,888, for a total market cap of $602,816,864.
The CHZ token is used to purchase club-branded fan tokens on Socios.com. These fan tokens give fans access to exclusive benefits, rewards and accord them voting rights on matters pertaining to the governance and development of the team they support.
Take an AC Milan fan who is trying to get in on the action of everything the club is doing. He will:
Buy CHZ coin as he would any other cryptocurrency such as Bitcoin or Ethereum through exchanges such as Phemex.
With these CHZ coins, he can download and log on to the Socios.com app to purchase AC Milan's fan tokens ($ACM.)
As a Socios fan token holder, he now has access to exclusive NFTs, such as the inaugural ones released during AC Milan's match against AS Roma in October 2021.
The NFTs were photography shots captured when Zlatan Ibrahimovic's teammates surrounded him to congratulate him on his goal. Those shots were minted into 100 limited edition NFTs and dropped to $ACM Fan Token holders who held at least 10 $ACM Fan Tokens in their Socios.com wallet, and took part in predicting the outcome of the match using the predictor feature in the Socios.com app. That NFT collection made history for being the world's first in-game, live NFT release.
The world's first in-game, live NFT release by AC Milan (Source: Socios.com)
The token serves as a ticket to a community of passionate, like-minded fans, giving fans a large community to leverage when trying to influence their team's decisions.
In addition, fan token holders can vote in official polls and have a say in their favorite club's decisions (such as customizing kit design or choosing a match celebration song). The more tokens a fan holds, the more voting power he has.
While there are existing fan clubs and fan-led management frameworks that serve similar purposes, the blockchain technology powering these fan tokens strengthen "voting integrity and transparency, and turn voting rights into an 'ownable' commodity," according to Chiliz.
These fan tokens have a finite supply and are fungible, meaning their ownership can be traded on exchanges such as its Chiliz.net (the world's first cryptocurrency exchange for fan tokens). Fan Tokens are specific to a team or a club, and are a finite, digital asset separate from NFTs that provides access to voting and membership rights.
Source: Socios Platform Website
The Socios fan leaderboard system provides another powerful incentive for engagement. Clubs can use the platform to offer their most active fans exclusive experiences, from personal meetups to jerseys signed by players on the team.
Socios has partnered with a number of high-profile soccer teams, including European legends Juventus and FC Barcelona, while onboarding new clubs who then launch their branded tokens through Fan Token Offerings (FTOs). Much like an initial coin offering (ICO), an FTO is a period in which a certain number of fan tokens are offered at a fixed price. This helps ensure that fans can participate and interact with their favorite clubs at an entry-level price.
Source: Socios Platform Website
Although most of the platform's partnerships are currently with soccer clubs, Socios is also expanding into e-sports and professional fighting. Notably, the platform has entered into partnerships with the Professional Fighters League (PFL) and Ultimate Fighting Championship (UFC), giving fans the opportunity to influence the season both in and outside of the ring.
In addition to club fan tokens, the platform also offers its own Socios United (SSU) fan token. This token operates as a type of governance token, meaning that each SSU gives holders the right to influence app changes, updates, and other features. SSUs can be purchased in the same way as normal fan tokens, or earned through achievements and engagement with Socios partners.
Socios users can also participate in a Token Hunt, an augmented reality geolocation game resembling Pokemon Go. Here, players hunt through the real world for procedurally generated "treasure chests" that contain SSUs and CHZ. During special partner events, club-branded fan tokens are also made available.

Who Is Behind Chiliz (CHZ) Crypto?
Chiliz crypto was founded by CEO Alexandre Dreyfus, a French entrepreneur with a long history in the gambling industry. To help Chiliz grow and respond to the industry's needs, it has signed on a panel of advisors across the finance, tech, and gaming industries, with notable figures including Mickey Kim, a Director at Google, Gil Rotem, former COO of Bet365, and Guillaume Patry, the Starcraft World Champion.
Chiliz was entirely funded through a private placement in 2018, through which it raised over $66 million. According to the team, there will never be an ICO.
Chiliz (CHZ) Coin Price Prediction
After its launch in 2018, the Chiliz token price flatlined for some time before a massive surge in March 2021. From January to April 2021, the Chiliz token rose from $0.02 to $0.42 — a rise of approximately 2000% over a 3-month period. Inevitably, it plunged along with other cryptocurrencies in the mid-year crypto market crash and subsequently recovered to lower highs of about $0.50.
Much of the massive growth experienced by Chiliz can be attributed to the enormous hype surrounding non-fungible tokens (NFTs). Chiliz had a head start on most of its competitors because the token already had a strong network of partnerships before the craze began. Despite offering no NFT platform beyond its own fan token products, Chiliz ranked as the second largest NFT token by volume.
CHZ price graph Jul 2019 – Feb 2022. (Source: coinmarketcap.com)
The Chiliz token is currently ranked #65 by market cap ($602,816,864), and is trading at $0.10 per token with a circulating supply of 6 billion CHZ out of a max supply of 8,888,888,888.
How to Buy Chiliz on Phemex
You can easily buy, trade or hold Chiliz (CHZ) crypto via Phemex by following these steps:
Go to Phemex.com and select "Buy Crypto." You can select to pay using a credit card or bank transfer.
Sign up for a Phemex account with your email and password.
Deposit fiat currency or crypto into your account.
Search for CHZ, consult Phemex's live price chart, and specify your maximum buy price, as well as how much CHZ you want to buy.
Confirm the transaction.
Your CHZ will appear in your Phemex wallet. Crypto settlements on Phemex usually appear within two hours.
What is the future for Chiliz?
While many blockchain projects position themselves as platforms for decentralized applications (DApps) or decentralized finance (DeFi) solutions, Chiliz operates more like a traditional business. In essence, fan tokens are marketed as a form of tradable asset, like trading cards, sold by Socios and its corporate partners.
Notably, this is a highly centralized model, meaning that absolute control of the project ultimately belongs to private Chiliz shareholders. The advantage in this is that the Chiliz project has a very well-defined use case that can be largely directed by business ventures. A corporate structure may also give CHZ token holders more confidence, given that it has a public insider trading policy.
While none of the Chiliz project's core leaders have extensive blockchain experience, their corporate expertise has helped land the token key partnerships with huge brands. Additionally, this centralized and capitalist approach may well be a contributing factor in keeping the project afloat as the crypto market navigates a turbulent season ahead.
The Chiliz crypto and blockchain team have stated that they are seeking to expand to hundreds of new partners over the coming year; the project's early success in the football and fighting space is a promising sign.
A key driver of expansion for Chiliz is the Socios Locker Room, which "crowdfunds" from fans when they spend CHZ to buy locker room tokens at a base price. This allows them to have a say on their teams and vote on decisions on the Socios platform. Lockers stay open for 120 days, after which they are either converted into fan tokens, in the case of a successful partnership, or refunded to the user's wallet. Up until now, the Locker Room program has led to successful partnerships with Manchester City and AC Milan.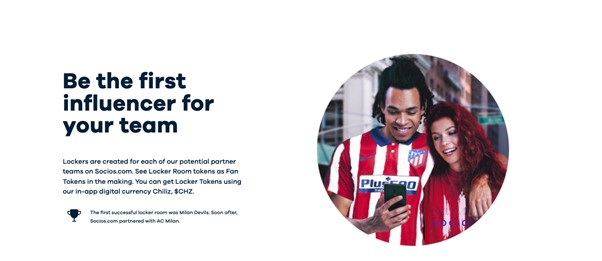 The Socios Locker Room pushes fans to influence their teams to create fan tokens. (Source: socios.com)
Conclusion
Chiliz has achieved something that still eludes many blockchain projects—a clear application with active users and high-profile partnerships. The project grew rapidly in 2021, with a steady string of new partnerships and expansion into new sectors (the FTO for the Professional Fighting League token sold out in just 10 minutes when it launched on April 1.)
The future of Chiliz crypto hinges strongly on the success of the Socios platform, an integral part of the CHZ token value proposition. And while potential investors should note the relatively centralized structure of the Chiliz project, its early mover advantage in what is still a niche market will likely position it for healthy growth going forward.