November has proven to be one of the most nail-biting months in cryptocurrencies since December 2017, and there's every sign that the price action is in no danger of dying down just yet. Following a bullish trend in October, BTC continued on a meteoric path this month. Starting November around the $13,800 mark, Bitcoin saw several bullish breakouts that brought the price to a peak of $19,390 – tantalizingly close to its all-time high of $20,089 reached on December 17, 2017.
Source: CoinMarketCap
Before it could penetrate the final overhead resistance, crypto's flagship asset fell, finding support around the $17,000 mark during the last week of November. Things are moving so rapidly that this could easily change by the time we move into the early days of December.
The heat of the price action even drew comment from parts of the mainstream media that usually maintain a steadfast refusal to comment on cryptocurrencies. The WSJ and the Financial Times both featured BTC price movements on their front pages as it looked set to test new highs. Of the financial media reports, Bloomberg appears to be one of the more bullish on Bitcoin's long-term outlook. It points to the growth in the number of wallets, market depth, and network improvements since 2018 as reasons why BTC could rebound from its late November drop.
However, any rally may not happen immediately. Other reports indicate that whale deposits on exchanges are on the up, meaning that another sell-off may soon be on the cards. Nevertheless, the mid-term outlook remains exceptionally bullish.
ETH Reaches Frenzy Point as eth2 Launch Set for December 1
Even the most diehard ETH fans would admit that the hotly anticipated Ethereum 2.0 upgrade has been a long time coming. But in early November, it looked as if the wait was finally paying off. The eth2 core development team confirmed that it had opened the deposit contract where validators could start staking their ether in preparation for the launch of the Ethereum beacon chain.
Providing that a minimum of 524,288 ETH were staked at least seven days in advance, the beacon chain could launch on December 1, marking a significant milestone in the move towards eth2.
Despite a slow start, validators staked enough to meet the threshold with hours to spare on November 24. Therefore, eth2 is set to implement its first phase on December 1.
It's difficult to know how much of November's ETH price action can be attributed to the market's general bullish sentiments. With over half a million ether now locked away for the next year or two, ETH has also undergone a supply constraint that could have helped to drive price.
ETH started in November at around $390 but hit a peak of just over $620 on November 24. Although in percentage terms, this is further away from its all-time high of $1,432 compare to what Bitcoin achieved with its November spike, the monthly returns for ETH were close to 60 percent compared to BTC's 40 percent.
In any case, Ethereum followed Bitcoin's late November pattern, with prices dropping off and finding support around the $500 mark. It's hard to say where next for ETH, but assuming Bitcoin rallies, there's a fair chance that crypto's second-largest asset by market cap will follow suit. Furthermore, the launch of eth2 is also bullish for ETH's longer-term outlook.
XRP's Surprise Rally
The price action continued in other alts. Most notably, XRP, which was trading flat around the $0.25 level for most of November. Then all of a sudden, XRP underwent a steep breakout, posting gains of over 230 percent at its top monthly price of $0.768.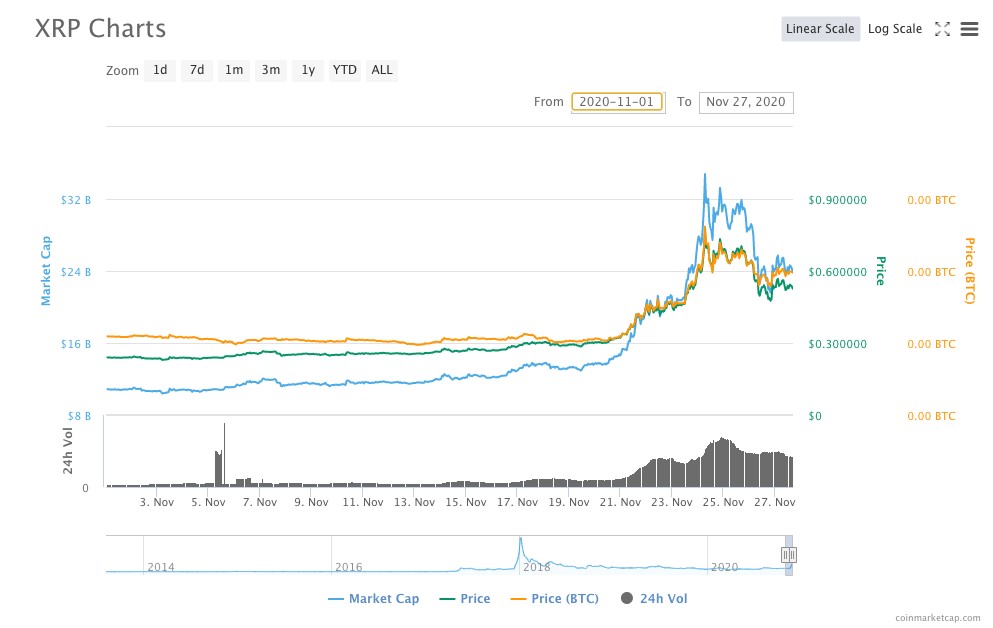 Like the rest of the markets, it's since corrected back down to around $0.50. Still, a 100% gain in a month is an impressive return for XRP holders. Cointelegraph attributed the sudden bull run to an increase in XRP addresses, along with a buyback program and excitement about a possible new service from Ripple Labs.
Facebook's Libra Could Finally Debut in 2021
PayPal's entry into crypto is widely credited with the start of this bull run when it was announced in October. So the news that the Facebook-led Libra digital currency will finally launch early next year could prove to be a further buy catalyst for BTC and the rest of the cryptocurrency markets. The Financial Times carried the story on November 27.
However, excitement is likely to be dampened by the fact that the first version of Libra is significantly pared back from the original vision of a global stablecoin composed of a basket of fiat currencies. Libra will now just launch a single coin backed one-to-one by the US dollar. Currently, the project is awaiting sign-off from the Swiss financial market authorities.
It's hard to know what Libra is hoping to achieve with a dollar-pegged stablecoin when so many already exist. However, Facebook's entry into the crypto arena may still provide enough boost to help BTC, and the rest of the markets achieve their bullish forecasts.
---
Phemex |
Break Through, Break Free