Web3 and the online world is changing, creating a world where anything can be created visually through non-fungible tokens (NFTs). With this change has come the growth of the Metaverse and its millions of NFTs to create multiple unique and interesting digital universes. To access these many possibilities and trade this digital artwork, multiple NFT marketplaces are beginning to appear. One of these is the Solanart platform. The cryptocurrency used by Solanart, Solana (SOL), is currently valued at $89 with a circulating supply of 334.4 million SOL for a market cap of $29.8 billion. Of that total, the Solanart volume is just over 5 million tokens.
What Is Solanart?
Created in 2021, Solanart is a Solana-based open NFT marketplace and the first of its kind on the Solana blockchain. This means that artists can create Solanart NFTs, display their collections, and sell them directly on the platform. The fact it's an open marketplace means that creators can mint on Solanart without the need of the platform's authorization. This can create fear of fake NFTs, however, and thus many open NFT marketplaces, such as the Solanart marketplace, have a process to certify their collections. For example, Solanart NFT collections become certified after they have attained a certain number of transactions. This certification is then shown through "blue ticks" next to the collections.
Solanart NFT collections now account for nearly 697,987 NFT sales, with the platform boasting a total Solanart volume (through its SOL token volume) of just over 5 million tokens. The reason for its SOL volume is that as a decentralized application (DApp) running on the Solana blockchain, it has chosen not to have its own native token, but instead to use its parent blockchain's token, the SOL token. This is something that could be a draw to Solana users in particular, as they will not need to convert multiple cryptocurrencies, and thereby incur gas fees, to mint on Solanart or buy Solanart NFTs.
Solana's main function is as an open NFT marketplace for people to mint NFTs on Solanart, buy NFTs, and sell NFTs. (Source: solanart.io)
How Does Solanart Work?
The Solanart marketplace, although built on Solana, has multiple aspects both on and off its parent blockchain.
On-chain:
Solana blockchain: The Solana blockchain considers itself to be the answer to Ethereum's scalability issues. It's a faster, cheaper, and more efficient blockchain specifically aimed at developers and DApp creation. By using Solana, the Solanart marketplace can offer its creators the chance to mint on Solanart or buy from the many Solanart NFT collections at lower fees than those using Ethereum-based NFT marketplaces.
SOL token: Solanart uses Solana's SOL token to help its users and creators minimize gas fees for conversion, and because by using its parent blockchain's native token, it can streamline its purchasing and selling processes, as well as its fees. This also helps the platform maintain wider wallet compatibility.
Solanart fees: The Solanart marketplace has three types of Solanart fees — market commission, a creator's fee, and an ad fee. Although three fees may give the impression of fees being high, these are maintained low and are only ever taken upon trading, never for listing or minting. The market commission is kept at just 3% of a transaction, while the creator's fee (which is kept by the Solanart NFT creator) is included in the sale price. The ad fee, meanwhile, is put in place to avoid ad saturation and consists of 0.02% of the NFT cost.
Off-chain:
Solanart off-chain database: Although Solanart could be completely decentralized, the platform has made the decision to maintain a level of data off-chain, thereby creating a degree of centralization. This has been done to create a faster and more efficient database, enabling quick sorting of all Solanart NFTs based on qualities, price, and when the NFTs were sold.
Eternal Beings on Solanart form part of an NFT collection inspired by famous rapper, Lil Uzi. (Source: athjournal.com)
How Do You Get on Solanart?
To become a Solanart user, creators and NFT purchasers can go to the main webpage and sign-up by downloading and creating a Solana wallet. This will give them access to the platform, the Solanart NFT collections, and give them everything they need to mint on Solanart or create NFTs on Solanart.
The steps according to the Solanart website are as follows:
Create a Solana wallet. We recommend Solflare.
Download the wallet extension for your browser (Google Chrome recommended).
Buy SOL on a crypto exchange and send it to your wallet's public address.
Once you have loaded up your wallet, navigate to https://solanart.io/ and connect your wallet by tapping the 'Connect wallet' button in the upper right corner.
How to Create NFTs on Solanart and How to Sell Art on Solanart?
Once a user is registered with the Solanart marketplace, they can start to create NFTs on Solanart and list their collections to then sell them. To gain permission to create and mint the Solanart NFTs, creators and developers can contact the platform by filling in a form, whereupon the platform owners will decide if the Solanart NFT or Solanart NFT collection is a good fit for the marketplace. This is an example of how although the Solanart marketplace is trustless, it's not decentralized — with platform owners essentially having the ultimate say in what NFTs are minted and listed on Solanart.
To sell NFTs on the Solanart marketplace, a user should first connect their wallet. After this, they can simply click on the wallet tab to see the NFTs they have available to sell. Then, they can add a description, price (in SOL), and sell.
Solanart already has many NFT collections on its marketplace. (Source: solanart.io)
OpenSea vs Solanart
Founded in 2017, OpenSea is a much more established NFT marketplace than Solana. This means that it has more users and higher trading volume and liquidity. Additionally, OpenSea is compatible with iphones, ipads, and androids, meaning that it has a much wider reach and better ease of use. OpenSea also has more integrations that Solanart and is even integrated with the Solana blockchain, making it simpler to remint Solana-based NFTs on OpenSea. However, much of this comes from the fact that OpenSea is the world's first and largest NFT marketplace, and less to do with what it's doing now. In the past, OpenSea was able to take up the entire market, as it had no competitors, but now that new NFT marketplaces are coming into the scene, things could change. Solanart's volume clearly shows that there's a high level of interest from users, while its fast transaction speeds, low Solanart fees, and use of its simple and efficient (albeit centralized) database may well keep them there. The fact that Solanart works on the Solana blockchain also works in its favor. With 1834 transactions per second (TPS), Solanart is faster than OpenSea, which works on the congested Ethereum network with a Polygon scalability solution to help it along.
OpenSea is clearly the bigger NFT marketplace, with collections and huge NFT names, such as Bored Ape Yacht Club (BAYC) and more, however, Solanart is growing too, with established collections such as Eternal Beings on its Solanart marketplace. With the Metaverse's growth propelling a huge surge in NFT popularity and despite the fact that OpenSea remains the top dog in the space, it will not be able to handle the sheer volume of NFT collections. More NFT marketplaces will be needed, and thus, Solanart's position as a fast, low cost, and open NFT marketplace may serve it well.
How Does the Future Look for Solanart?
It's hard to predict the value of Solanart in the usual sense as it does not have its own native currency, however, its growth can be seen through its userbase and its transaction volume. The below image shows how Solanart is currently seeing a drop in transaction volume, with drops of between 36.35% and 90.83% across its three most popular NFT collections in the last seven days.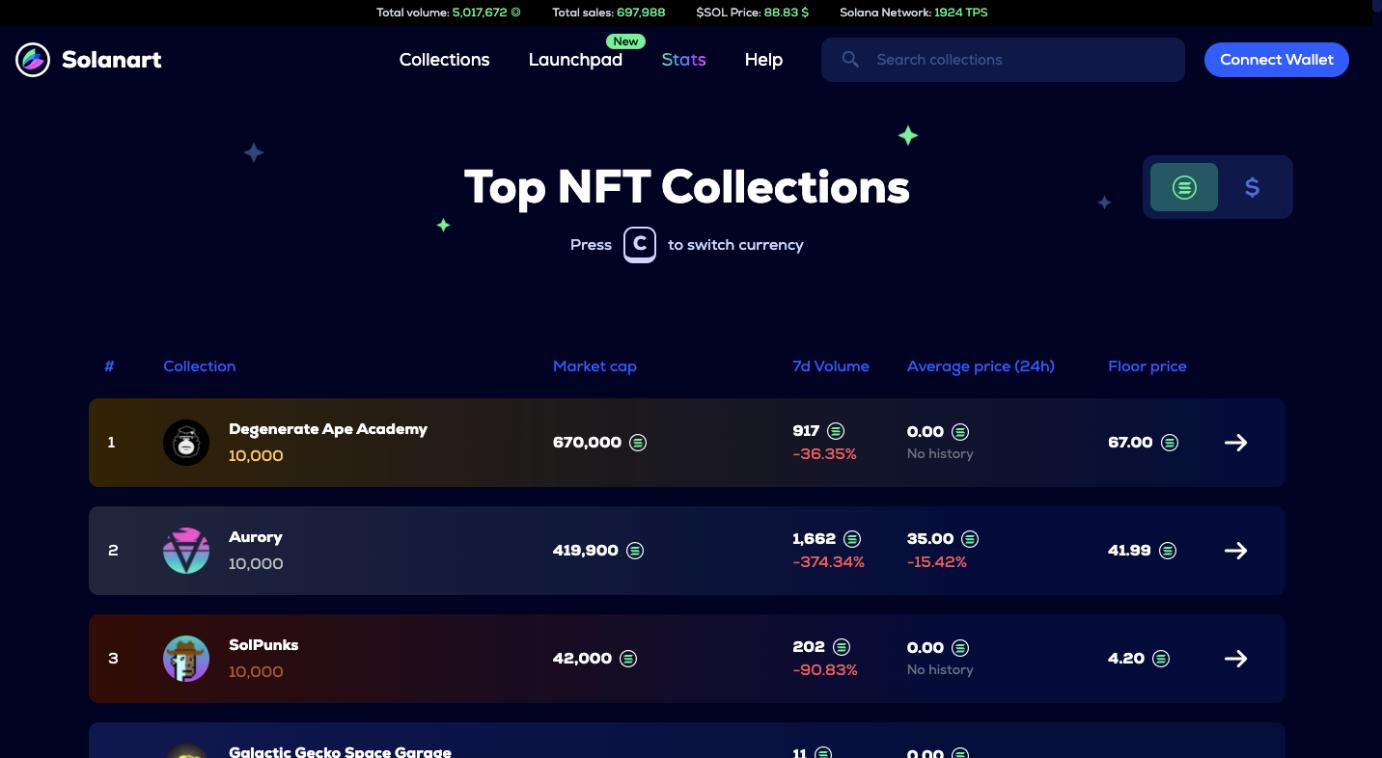 Solanart statistics (Source: solanart.io)
This is not ideal for the platform as competitors such as OpenSea are seeing growth, with transaction volumes increasing by 114.70% in the last seven days. However, as can be seen by OpenSea's statistics below, some of their other NFT collections are dropping — with Moonbirds having dropped by 75.89% over the last seven days.
Opensea remains at the top in terms of trading volume and number of collections. (Source: opensea.io)
This goes to show that what is really driving OpenSea and Solanart volume is the popularity of their NFT collections. Thus, if Solanart can attract new and hot NFT creator talent, they will be in with a good chance to shoot up in value and popularity. This is something they know only too well, as shown by their acknowledgements of the current bearish outlook of their platform — the current Solanart homepage advertises bear NFTs with an acknowledgment as to how some users are feeling.
Solanart knows it is looking bearish and is launching new NFT collections to beat its competition. (Source: solanart.io)
Alongside this, however, they also advertise their latest NFT collections — a sure sign that Solanart is already making the moves to increase its offering alongside its high transaction speeds and low fees. With the right technology in place, and as long as Solanart can create trending NFT content, this Solana-based NFT marketplace may one day be joining OpenSea at the top.
---
Phemex |
Break Through, Break Free