Launched in 2019, Theta is a blockchain-powered network designed to empower video streaming and media delivery. As of the time of writing, Theta Token trades at $12.29 per token with a capped supply of 1 billion, for a total market cap of $12.29 billion.
What Is the Theta Network?
Live video streaming is one of the fastest-growing markets in the world, even though it already accounts for roughly two-thirds of all internet traffic. With this rapid growth has come numerous growing pains, namely inefficient content delivery networks (CDNs), constant re-buffering, and high load times, especially in underdeveloped regions.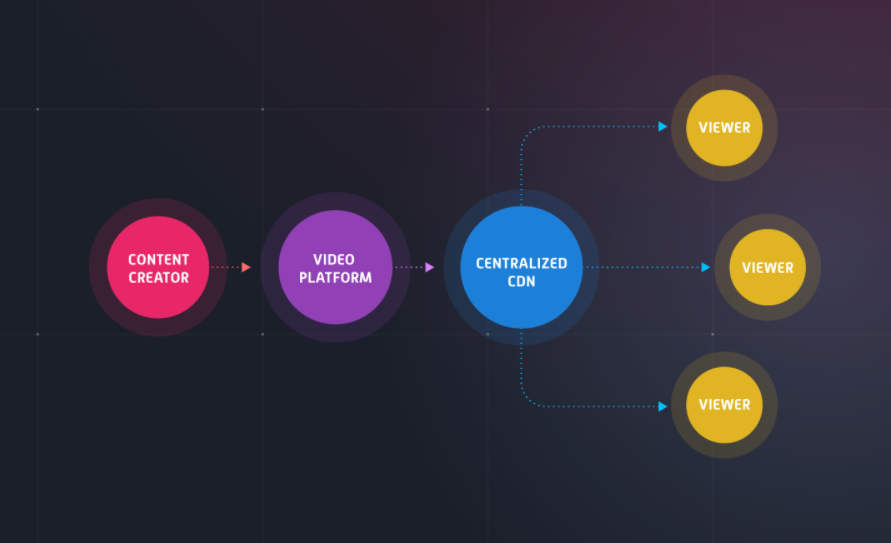 Source: Theta Token Website
That's where Theta comes in. Theta acts as a decentralized peer-to-peer video delivery network that provides higher quality, smoother streams, reduced video platform costs, and enhanced interactivity and rewards for both streamers and viewers.
Theta works by utilizing the idle bandwidth of users to relay video streams to local viewers. These users are rewarded with Theta Fuel (TFUEL), which operates much like Ethereum Gas. Earned TFUEL can then be used to send stream donations, unlock premium content, or purchase virtual items.
This network improves stream quality for streamers by opening up revenue streams, and for video platforms by reducing infrastructure costs. The reward mechanism further incentivizes users to watch content and spend their tokens in the network ecosystem.
As with many proof-of-stake (POS) blockchains, Theta Tokens operate as governance tokens: They allow holders to influence decisions concerning the core protocol, feature roadmap, and other changes to token governance. In this way, they operate much like the stock of a publicly-traded company.
What Does Theta Do: Decentralized Streaming
While initially developed for livestream applications, Theta's versatile open-source network and protocol have led to further adoption across a variety of content delivery scenarios. These scenarios include esports (Theta TV), VR, entertainment broadcasting (World Poker Tour), video and music platforms (Pandora TV), distance learning, enterprise conferencing, and peer-to-peer streaming.
The network also allows video platforms and content providers to deploy decentralized applications (DApps) with smart contracts to provide users with exclusive content and virtual items. Developers can use these virtual items, much like NFTs, to create rare or unique crypto-collectibles without the need to integrate with any third parties.
Leveraging Theta smart contracts, video platforms can design more fluid pay-as-you-use models that charge customers in bite-sized chunks and only for the content they actually consume. Smart contracts also benefit content creators by unlocking various viewer engagement tools and providing a transparent and fair royalty distribution method.
Who Is Behind Theta?
Theta was originally created by Mitch Liu and Jieyi Long in 2017 for the Sliver.tv (now Theta.tv) video streaming platform they co-founded in 2015. Liu is an MIT and Stanford grad with a long history in gaming and video content, while Long is a Peking University and Northwestern University grad with experience in automation, VR, and distributed systems.
The co-founders were later joined by CPO Ryan Nichols, who has a background in virtual currency systems and live-streaming applications. Nicholas had previously served as a Director for Tencent's WeChat app, a leading innovator in microtransactions and virtual payment models.
Since then, Theta has expanded to a larger team and is advised by tech, gaming, and crypto industry veterans such as YouTube Co-Founder Steve Chen and Twitch Co-Founder Justin Kan. Theta has also raised venture financing from notable Silicon Valley VCs and corporate investors such as Samsung Next, the Sony Innovation Fund, and Grayscale Investments. Its enterprise validator node partners include tech giants such as Google, Sony, Samsung, and Binance.
Theta Price History
Buoyed by the crypto bull market and a promising cycle of announcements, the token's price has skyrocketed over the past 3 months, increasing from $1.60 on January 1 to $12.29 by March 31.
Given its positioning in content delivery, the increased interest in NFTs has also significantly affected Theta's price in both directions. Theta is a dominant player in the NFT space, ranking 410% higher than its largest competitor, Chilliz (CHZ).

Theta's rise has not come without speedbumps. On March 25, the token's price plummeted by nearly 25% after the Theta Mainnet 3.0 launch was delayed until June. The team reportedly needed more time to "incorporate some building blocks" into its NFT marketplace.
Though Theta's price rebounded shortly after, this massive plummet strongly suggests that much of its price is contingent on its ability to facilitate NFT storage and transactions. Holders can expect to see similar drops should the Mainnet experience further delays.
A more gradual driver of value has been the global video streaming market, which is projected to grow from $ . Theta remains one of the more widely adopted coins in the video delivery space and can expect to ride industry trends so long as they continue to create successful partnerships.
Source: TradingView
Given its relative lack of presence in Western exchanges, Theta's rise to become the 12th largest coin by market cap has surprised many. It has even surpassed the likes of USD Coin (USDC), Dogecoin (DOGE), and Bitcoin Cash (BCH).
Blockchain journalist Colin Wu (@Wublockchain) has noted that the token is especially popular in South Korea, with THETA/KRW trades ranking 4th on Bithumb, the country's leading exchange.
Further investigation shows that around 61% of Theta's total supply is held in just 10 wallets. Given that Theta's supply is capped, the token may be vulnerable to manipulation and price instability should big players decide to cash out during these historic highs.
What Is the Outlook for Theta?
Theta has so far retained its unique position as one of the only end-to-end platforms for decentralized video streaming and delivery. The network has secured a steady stream of partnerships with established media companies and big names such as Google and SpaceEx.
Another notable name is NASA, which delivers science streams through the Theta TV platform. And on February 11, Lionsgate became the latest Hollywood studio to place content on the network, following MGM's footsteps.
Theta has also partnered with LINE, a Japanese messaging app with over 167 million MAUs across Japan, Taiwan, Indonesia, and Thailand. The partnership has produced a variety of solutions, including a video service targeting the Asian market, and more recently, the integration of THETA TV onto the LINE Blockchain DApp.
Theta has continued development into technologies through the Theta Edgecast DApp and a variety of micropayment solutions to facilitate streaming, video, and data delivery. This year, the network is planning to expand NFT and decentralized exchange (DEX) support, further develop a DApp ecosystem, and improve its smart contract developer platform.
The primary risk for Theta holders lies in the token's core incentive model. Nodes are required to stake Theta Tokens in order to generate TFUEL, which is then only distributed when videos are streamed. Each part of the ecosystem is essential for continued operation, meaning a breakdown in one area may carry over to the rest.
Source: Theta Token Website
While Theta has done well in terms of partnerships, its platforms have been less successful. Theta TV does not see much use beyond Theta enthusiasts, and offers little innovation outside the network's technology. In other words, Theta TV runs more as a proof-of-concept for the network itself rather than a serious competitor. Twitch, YouTube Live, and Theta TV's crypto counterpart DLive all have far more robust and active streaming communities.
It should be noted that the most viewed stream on Theta TV is from NASA, with few other streams breaking the 50+ viewer barrier. Given the importance of TFUEL to the network ecosystem, the platform's inability to attract significant viewership or popular personalities may be a cause for concern.
Source: Theta TV on 2/04/2021
Conclusion
Though Theta is a comparatively new player, it has carved out an interesting niche with clear use cases and an impressive list of partners and applications. This is especially evident if we compare Theta with coins such as Tron (TRX), which has failed to attract much digital media hosting despite its promise to "decentralize the internet".
Currently, Theta far exceeds its NFT application competitors in market cap. So long as the Theta team can get Mainnet 3.0 up and running without further delays, the token seems well-positioned to ride the wave of interest in NFTs.
That said, despite support from figures tied to YouTube and Twitch, Theta TV is unlikely to challenge media giants such as Netflix any time soon. The performance of Theta's own platforms has been middling, and the network seems to be banking on strategic partnerships and future applications (such as VR and NFT delivery) to drive further growth.
In addition to monitoring the big players with majority control over Theta, potential investors should consider how the token's current lack of presence in major Western exchanges may affect trade volume. Another issue is the token's close ties to the NFT and media markets. Theta's continued success will rely on the stability of these markets and the network's ability to satisfy demands for NFT solutions
---
Phemex |
Break Through, Break Free