All cryptocurrencies have had a bad year, with the entire market cap dropping by approximately 60%, which is equivalent to a $1.4 trillion loss.
(Crypto market cap in 2022)
However, this drop hasn't been distributed evenly across the different segments. For example, the crypto market consists of currencies, DeFi, memecoins, Web3, infrastructure, etc. DeFi is one sector that has particularly struggled throughout the year.
Memecoins have also performed poorly. This is because memecoins are market sentiment driven, and when the market turned risk-off, it resulted in extreme downward selling pressure on memecoins such as DOGE, SHIB, and most of all the other smaller dog coins.
How Are Memecoins Doing In 2022?
For the sake of simplicity, the two most popular memecoins are DOGE and SHIB. These are the critical cryptocurrencies to look at when analyzing memecoins. This is because both of them rank among the top 15 cryptocurrencies by market cap. This speaks to their popularity, influence, and symbolic place in the crypto movement.

Currently, Dogecoin ranks number 11 on the list with a greater than $7.5 billion dollar market cap and Shiba Inu ranks number 15 with a $6 billion dollar market cap. If no one loved these memecoins then they certainly would never attract such high valuations.
But after looking at their charts (featured below), you'll see that both DOGE and SHIB have been on a constant decline since reaching their respective highs in May 2021 (for DOGE) and October/November 2021 (for SHIB).

However, despite declining price momentum, memecoins aren't dead and the communities these two have built up haven't disappeared.
Is Dogecoin Dead?
Dogecoin was propelled to the world stage by its crazy community and tremendous support from Elon Musk, who has at times pumped the memecoin with announcements of it being used for buying Tesla merchandise, as well as saying it can be a cryptocurrency for outer space.
However, the last times Dogecoin was truly popular was in last October 2021, during the final legs of the last bull run, and briefly at the beginning of 2022. But since then, it has largely stalled in popularity according to Google Trends searches.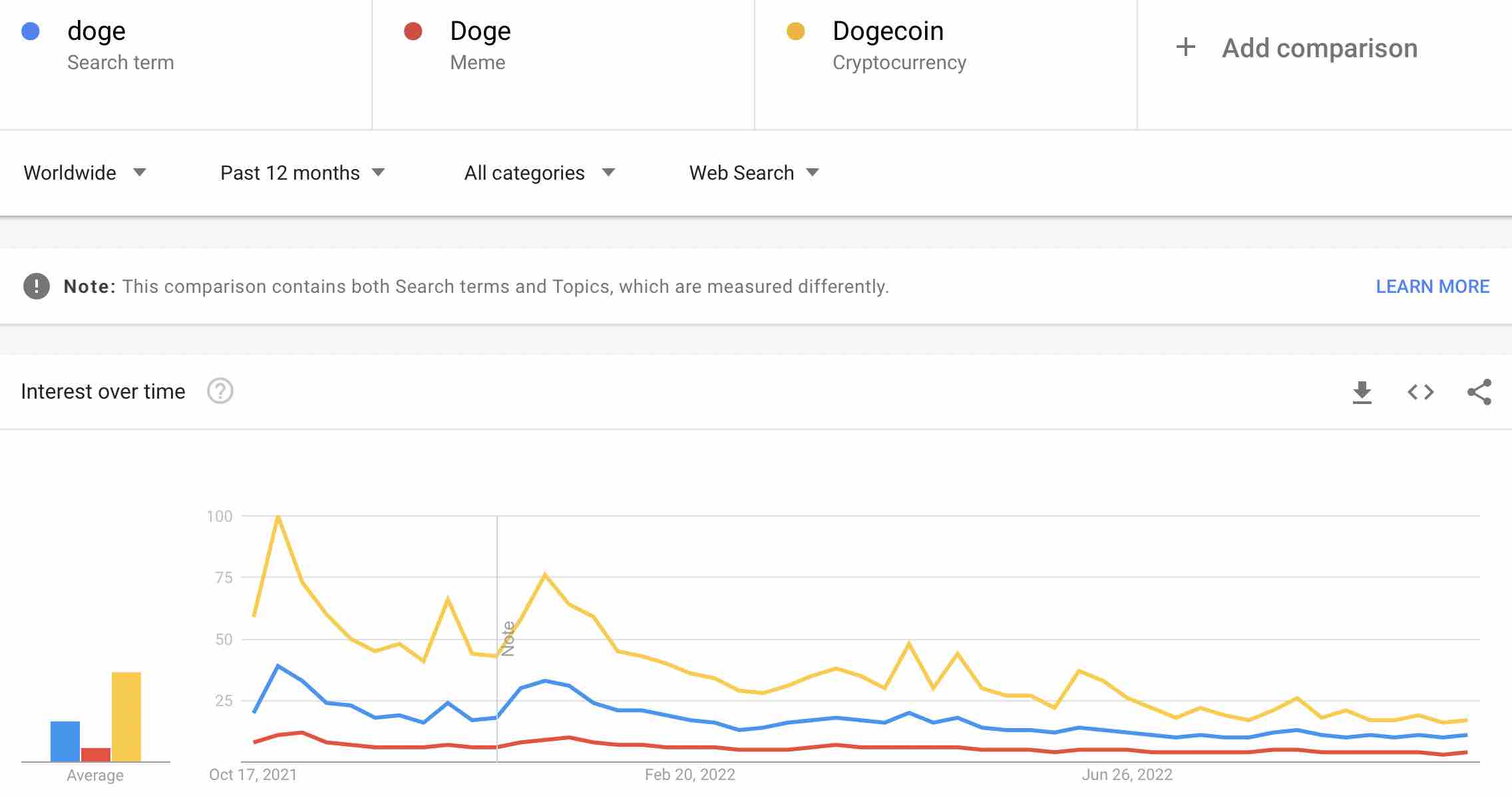 Nonetheless, Google Trends still shows that there is interest in Doge and Dogecoin on Google and that it comes and goes in spurts. So the conclusion here should be that despite price action being muted, and largely quiet from day-to-day noise, there still is interest in Dogecoin and the crypto isn't dead.
On top of that, the Twitter account for Dogecoin has over three million followers. So it's difficult to say that the crypto has totally gone MIA. Dogecoin is still endorsed by Elon Musk, and as long as it continues to have his support, the coin will have a future. Therefore, by these metrics and standards, Dogecoin is not dead.
Will Dogecoin Recover?
Dogecoin hit its ultimate peak back in May 2021 at a price of $0.73 (73 cents). At the time, many were calling for DOGE to go to $1. But immediately after Elon Musk went on Saturday Night Live, the asset fell and has since yet to recover. Especially following the start of the bear market at around January 2022, and with the US Fed's interest rate hikes, DOGE has been under constant selling pressure. Dogecoin is currently trading at $0.06 (6 cents), which signals a 90% dropoff from its peak. It's now back at its price before going parabolic.

However, despite being down by 90%, Dogecoin should not be counted out in the short-medium term. This is because it still is in the top 10/11 of all cryptocurrencies with a market cap of almost $8 billion and a daily trading volume of over $300 million. What this means is there's liquidity for constant trading, and a lot of buyers and sellers are trading the crypto.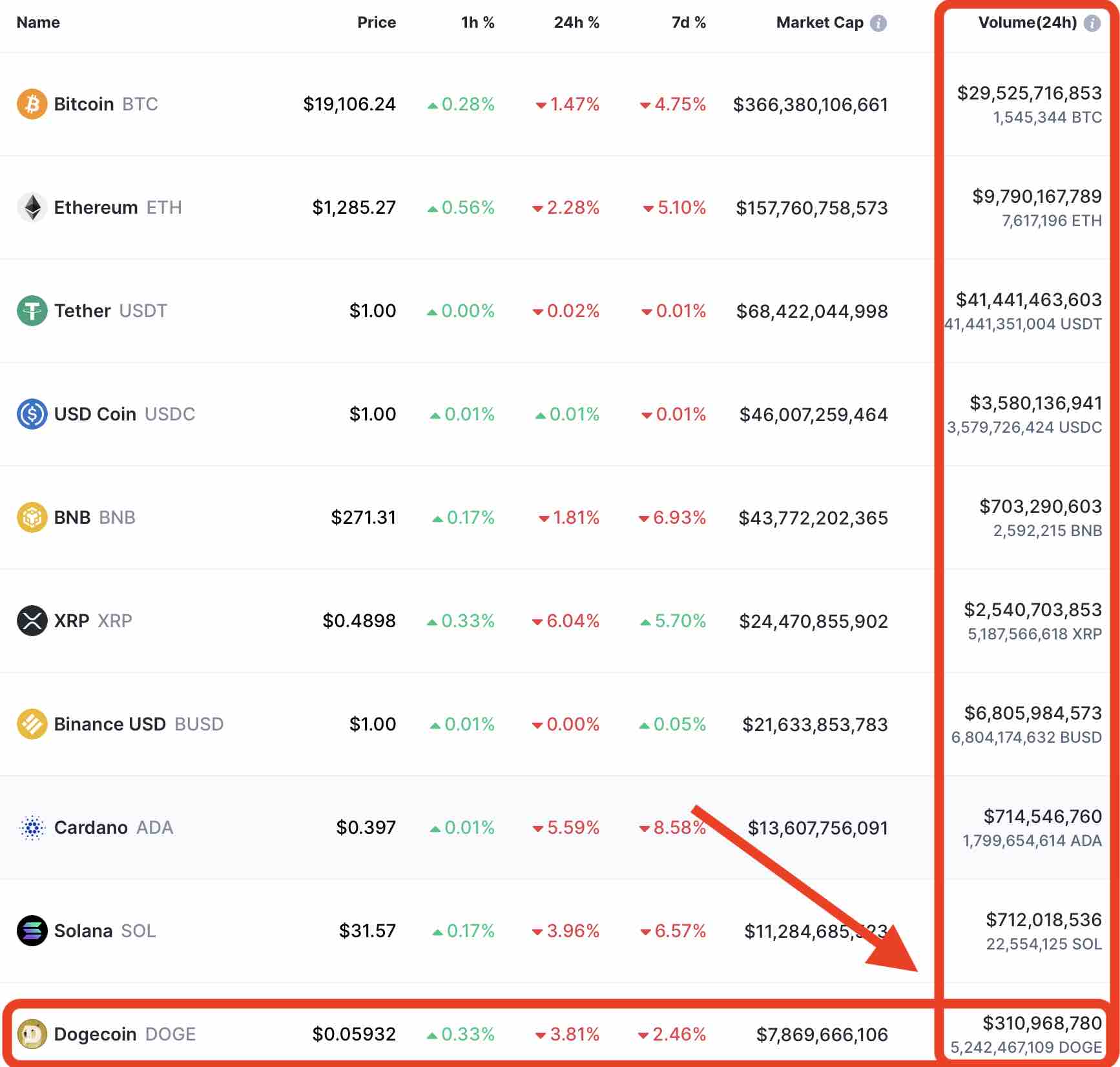 Lastly, Dogecoin has a committed group of developers that have put together a roadmap to update the tech stack and back end to help merchants like Tesla add Doge payment capabilities for customers. In addition, daily active addresses on the Doge blockchain and transactions are competitive with major protocols. So moving forward, Dogecoin's valuation and use case will depend on the holders of the asset and how the coin will work as a payment mechanism.
---
Phemex |
Break Through, Break Free