Cryptocurrency and blockchain are the future, and with them come ever-expanding possibilities for new careers, inventions, and money-making opportunities. It is therefore only right that such a new and developing field be brought firmly to the brightest minds and to the universities and students. With good guidance, the right facilities, great academic institutions, and time on their side, this partnership can open the door for students to create new and exciting products, ranging from coins and NFTs, to DApps and platforms with varying functions, or perhaps, something completely different.
What is a Student Coin?
Student Coin is an entire cryptocurrency ecosystem launched in December 2019, designed to cater, at least initially, to students and student bodies. It has big ambitions, which mainly involve bringing cryptocurrency tokens to mainstream finance. To achieve that, it is creating a platform where anyone can create their own token. These can be:
Personal Tokens
Loan Tokens (DeFi)
Organizational Tokens
Crowdfunding Tokens (DeFi)
Start-Up Tokens
These tokens are then all linked together in their price reference point, which is the Student Coin's own currency, STC. In implementing this into the university space and linking these students together through one common token, STC, it aims to guarantee its own longevity and that of cryptocurrency as a whole. Judging by its current adoption by over 500 universities, including the top 100, across 30 countries, it seems to have started off well.
What are Student Coin's Plans?
Student Coin has two aspects: a business side and an educational side. The business aim is primarily financial, both in terms of transforming world finance as well as making a profit, while the educational aim is to improve and promote cryptocurrency and its technology. This is first done by implementing this technology in universities, a place of young and ambitious minds that will shape the future. Secondly, this is achieved by providing an entire library of information to teach anybody wishing to learn about blockchain, cryptocurrency, investing, and the potential it offers. By doing this, Student Coin is equipping future generations to pick up cryptocurrency and further develop it. By providing a platform and the necessary tools for these students to build, it is hoping that this future will be with Student Coin.
The platform will allow anyone within the partnered universities to design, build, and manage their own token as simply as creating a profile on social media. The team is also already working on taking this ability to create to further stages, having published an ambitious roadmap. What is most interesting, however, is that these tokens overlap with traditional finance — tokens geared toward paying off student loans or mortgages, for example, or simply paying for coffee on campus. This overlap suggests that with the development of the project and its eventual implementation on a wider scale, cryptocurrency as a whole could become further legitimized and accepted as currency, meaning huge possibilities for growth.
How is Student Coin Structured?
The Student Coin ecosystem will mainly rely on its exchange (STC Exchange), token creation platform (STC Terminal), STC App, and of course, its token (STC). This ecosystem will allow for full operability, as well as future growth.
STC Terminal: Here, the software will be provided for individuals, businesses, and organizations to create their own tokens, as well as manage them.
STC Exchange: This is a publicly available exchange where all tokens built in the Student Coin ecosystem can be traded for STC tokens. This is also where DeFi tokens are issued and where startup crowdfunding can take place.
STC App: Being a student-based cryptocurrency, it is paramount that it be as accessible to student users as possible and thus available on their primary devices. The STC App will therefore allow for storing, swapping, and using tokens. However, token creation itself will not be accessible here.
The Student Coin Ecosystem. (Source: STC Whitepaper)
What Is the STC Token?
The STC token is Student Coin's own currency. Launched in December 2019 it is a non-minable token with a total supply of 10 billion. Only 2% of the tokens were initially launched, with the remaining tokens being released as the project develops, and the final installment to be released in 2024. The tokens are split between sales and the involved parties, as below: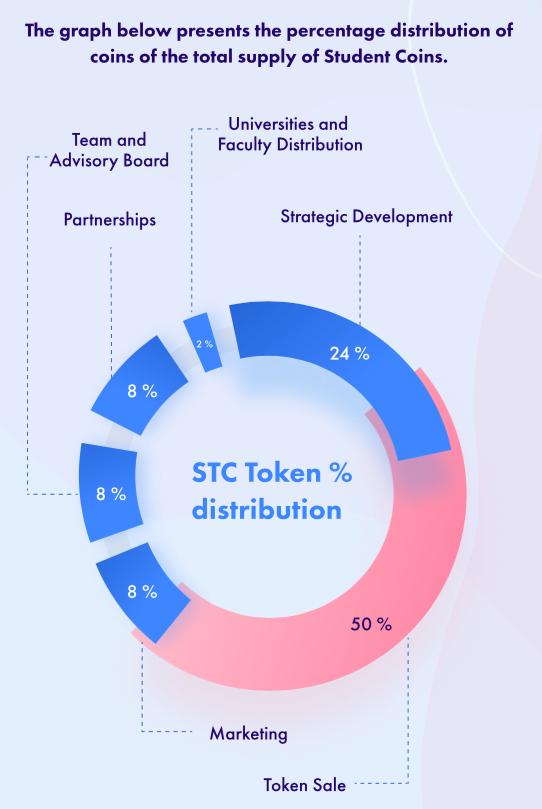 Distribution of Student Coin tokens by percentage. (Source: STC Whitepaper)
STC has multiple functions according to the blockchain's needs:
Reference currency for all student coins: STC's main function is a measure of worth for all tokens created on the STC platform and as a template for their initial creation. In order to be traded, all tokens will first need to be swapped to STC on the STC exchange. This ensures strong growth for both the coin and the exchange.
Staking: As with any staking coin, STC offers investors the chance to earn a passive income. The staking rewards, 13%, will come from the fees from trading and crowdfunding on the STC Exchange and STC Terminal. This is particularly beneficial for investors, considering that all student coins will need to be traded to STC before being able to be traded elsewhere, thereby maximizing profitability for investors.
Governance: STC holders will have the right to vote on new projects to be developed on the Student Coin ecosystem.
Who is behind Student Coin?
Founded by Wojciech Podobas, Student Coin started its life as ALK Student Coin, before dropping "ALK" (which stands for Akademia Leona Kozminskiego, or in English, Kozminsky University) to become adopted by other universities. With its growth, it is now led by an international team of over 51 members from 21 prestigious universities, including the University of Oxford, University College London, London School of Economics, Harvard, New York University, and Stanford, amongst others. This team not only boasts impressive academic institutions, but also impressive cryptocurrency credentials of its own. With such an experienced team, a huge amount of influence, and great ambition, it will certainly be exciting to see if STC reaches its goals.
STC Price Analysis
Today, STC is valued at around $0.0076 per token, but despite its low cost, it still has a healthy valuation, with a market cap of over $40.3 million. 53% of its total 10 billion tokens are now in supply and Coinmarketcap ranks it #603 in its cryptocurrency market ranking. However, it must be remembered that it is still in its early phases. Although trading and other functions are open on STC, its primary function, that of token creation through its STC Terminal has not yet been launched.
STC Price chart Aug 2020 – Sep 21. (Source: coinmarketcap.com)
STC saw its price soar to around $0.54 in April 2021. These highs coincided with the announcing of STC on five exchanges, including UniSwap, and a fork of the STC token into a faster Ethereum-based version, among other upgrades. However, after this bull run, the token came crashing back down to near its initial value throughout May and June. These bullish and bearish trends for STC were undoubtedly also a consequence of the events of 2021. Bullish highs in April and bearish lows through May and June were seen across the board, including in Bitcoin (BTC) valuations. These trends are associated with the 2020 BTC halving and the 2021 crypto crash. Apart from some normal fluctuation, STC's value has not significantly changed since the summer and there is no reason for it to change until its STC Terminal is officially launched. Once this crucial step is taken, however, the platform will have something truly unique and valuable to offer, and thus its valuation could increase substantially.
Conclusion
With support from over 500 world-renowned academic institutions behind it, as well as a truly innovative and revolutionary idea, Student Coin brings a lot to the table. However, it is still very much in the early days of its development, so it is hard to tell whether it will truly achieve its goals. It isn't holding back, though. Working with the best blockchains, a strong leadership team, as well as installing itself in institutions renowned for technological breakthroughs, it is certainly showing its dedication to its goals. Looking at its value evolution, it is yet to impress, but it is also worth remembering that its main offering has not yet been launched. Thus, for a platform that is yet to deliver its offering, it has arguably kept up quite well.
Student Coin undoubtedly has a lot to offer, and if it achieves its goals, it has the potential to change modern finance in a big way. There is a lot of space for growth here, but how it develops remains to be seen.
---
Phemex |
Break Through, Break Free