We're all aware of the popular multimedia apps Spotify, YouTube, Instagram, and TikTok. These apps have been very successful in driving forward the growth of the social media entertainment, video, music, and streaming industries. However, in the past two years as issues around data privacy, content moderation, and ownership have risen to the fray, we've seen a replication of these applications using blockchain and Web3 technologies.
Let's take a look at how the industry is changing and evolving, and what Web3 applications are being developed to replicate these apps on the blockchain.
The Traditional Entertainment Big Four
Spotify: Music + Audio
Spotify in particular has seen its worldwide revenue grow from approximately 750 million euros to 9.7 billion euros in under 10 years (a 1000% increase). The majority of Spotify's revenues come from its premium subscribers. Spotify has become a market leader in the digital music streaming sector, competing alongside established companies such as Apple and their streaming service Apple Music. However, despite this growth, Spotify has experienced a significant jump in its operating costs, which have resulted in large losses due to high costs in content creation, marketing, sales, and securing rights over audio and video content. This last part is very important.
Although Spotify may have its internal issues, the app is one of the most widely downloaded on the app store. In February 2022 alone, Spotify was downloaded 3.6 million times from iPhone users, claiming the most-downloaded music app on the market. Therefore, it's undoubtedly a popular company and business.
YouTube: Video
YouTube is the world's most popular video watching platform. It's great for really everything, including watching sports highlights, news, music videos, game streams, education, etc. Pretty much anything you can think of, YouTube's got a video for it.
Let's talk about some amazing statistics: YouTube has more than 2.6 billion active users, more than 25% of the world's population use it every month, and around half of the world's internet users have access to YouTube. So on numbers alone, YouTube is a force to be reckoned with. In the US, YouTube is the second most popular online platform that online consumers use regularly.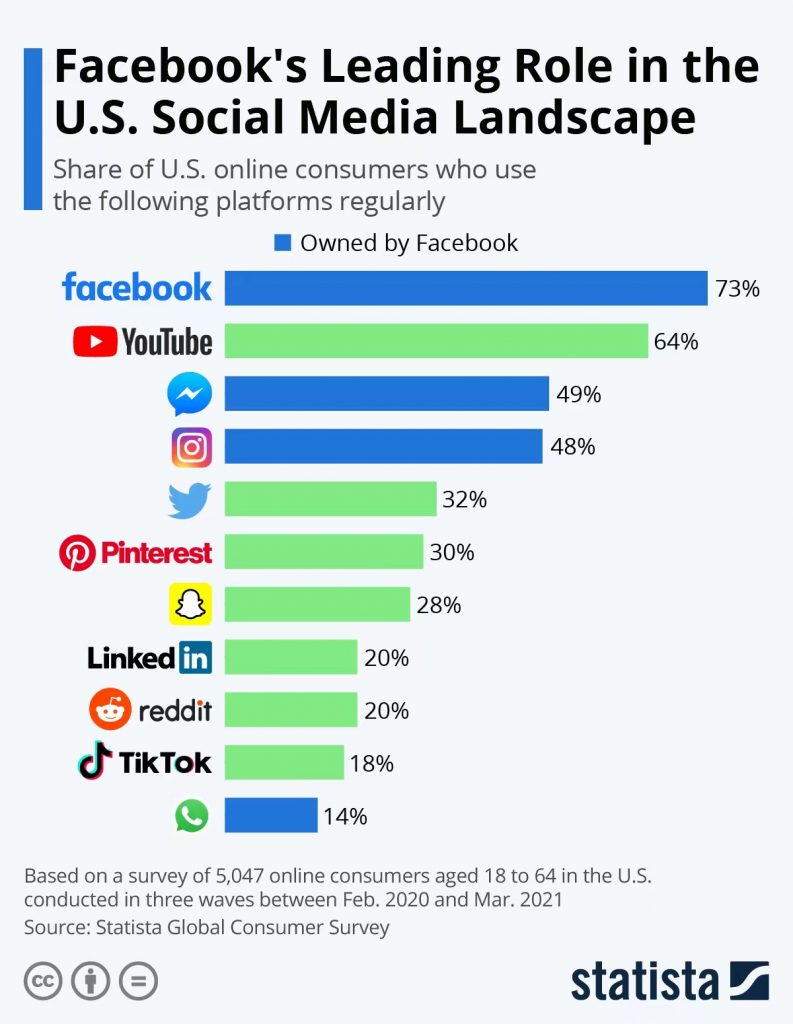 However, despite YouTube being a fantastic all-access platform, there have been issues arising regarding censorship, algorithm bias, content ownership, and content creator fees. These issues have risen to big enough of a status that there have been calls to break it up, as well as create alternative decentralized versions of the platform.
Instagram: Pics + Stories + Social
Instagram was a step up for social media, taking MySpace and the traditional Facebook app to the next level. Seen as better for scrolling and sharing pictures with your friends, while also becoming a hot spot for influencers, fashion, and clout. But Instagram too faces challenges in its links to Facebook, but it nonetheless still feels like the best all around social media platform, and the go-to for posting updates to your friends.
Instagram is reported to be working with NFTs, and its links to Mark Zuckerberg mean that it will likely merge with Zuckerberg's vision for what the Metaverse will look like. So that's its metaverse nexus, but this isn't the same version of Web3 and crypto that goes by traditional decentralized "values." So that brings us a question, are there any Web3 versions of Instagram being created that can actually compete with its UX, sleek design, and replicate its network effects?
TikTok: Short Video + Streaming
TikTok was the newest incomer to the world of social media giants, and is increasingly a favorite to the young generation (high-school and college kids). On iOS devices, TikTok reached over 120 million monthly active users in January 2022. After Vine, the early short video app shut down in between 2013-2015, there was a vacuum in the industry. TikTok sought to fill that gap, and with its special algorithm and design, it quickly took over and revolutionized short video, and became the most downloaded app on the App Store at various times. Today TikTok is used for news, social, instruction videos, humor, talent, and expression. However, it too, just like the other platforms has faced criticism from centralized control, algorithm bias, censorship, and privacy, and data safety.
Web3 Multimedia: Canistore, Audius, DTube, & CanCan
Currently, in the Web3 multimedia space, there isn't fully one app that can replicate all the above applications and their features completely, but there is one that's close, and that's Canistore. Canistore is a do-all application that allows content creators to upload music, photos, and videos, as well as discover and search for those same mediums, and interact with the community just like one would on Instagram, TikTok, or YouTube. Although not a one-size-fits-all, Canistore does a pretty good job of beginning the process of creating a super app that can do it all.
Besides Canistore, there are others such as Audius, DTube, Steemit, and Pixelfed, which cover the music, streaming, video, and social media segments, all using blockchain and Web3 technology.
Decentralized Spotify: Audius & Canistore
Not quite exactly the same as Spotify, but it does have some resemblances – Audius, which is a brand-new streaming platform built for all musicians, not just those signed to labels. Audius allows creators to build a fanbase, share their works in progress, and publish completed tracks for the world to hear. It's a place where creators can create, grow, and monetize without the need to graduate off the platform or sign a record deal.
Canistore is also a place where artists can release their music, monetize their creations, and establish a brand and personal profile to grow. But different to Audius, Canistore allows for licensing, NFTs, social networking, and on-chain storage.
There's absolutely a future in decentralized music platforms, as many artists will surely emigrate to these platforms to brand themselves and monetize directly on their works.
Decentralized YouTube: DTube, LBRY, & Canistore
According to DTube, it represents the world's first crypto-based video platform that's decentralized and built using the STEEM blockchain, alongside the IPFS P2P network. Another decentralized YouTube is LBRY, which is a new protocol that allows anyone to build apps that interact with digital content on the LBRY network. It actually has functionality similar to YouTube, Instagram, and Spotify, all in one. So in this sense, it's actually similar to Canistore, an impressive feat. On LBRY, publishers and their fans can interact directly without the risk of demonetization or other interference.
Decentralized Instagram: LBRY, Steemit, & Canistore
Regarding the Web3 alternative to Instagram, right now it boils down to LBRY, Steemit, and Canistore. We already covered LBRY, so let's discuss Steemit and Canistore.
Steem is a blockchain focused on hosting decentralized social media projects, and mainly serves as a decentralized blogging and content sharing platform. In order to become a larger player though, all these platforms including Steemit need to improve their user experience and design sleekness. This is because the applications run by YouTube, Facebook, and Instagram are all very smooth, clean, modern, and attractive.
Canistore, built on the Internet Computer by Dfinity, is going to become another competitor in this area because of its vast content offerings all put into one mega social media app. On Canistore, users will be able to upload their content as NFTs, including music, videos, and photos. So if it has a great design like Instagram, it could put some pressure on the traditional player and bring in some users.
Decentralized TikTok: CanCan
So far, the Web3 and blockchain community have not created the perfect replica of TikTok, however, a project on the Internet Computer, CanCan, has given a shot at creating a similar application. So moving forward, there needs to be significant development in the short video and streaming space in order to create an alternative to the behemoth TikTok.
Conclusion
Social media and multimedia are very important markets and innovations that have given humans much pleasure, aesthetic inspiration, connection, and creativity. After all, in every minute on the internet, there are thousands of individuals watching Netflix, sharing Instagram stories, uploading Youtube videos, sending messages, and downloading TikTok. So it's a market with lots of future, especially as the internet continues spreading across the globe and more and more people buy smartphones and connect to social media.
---
Phemex |
Break Through, Break Free