X2Y2 is an emerging NFT marketplace that launched in February 2022. X2Y2 rivals OpenSea (the largest NFT marketplace), featuring bulk-listing, rarity tracking, and real-time notifications. The X2Y2 token is the governance token of the X2Y2 marketplace, currently trading at $0.32 with a market cap of $42 million and a total supply of 1 billion tokens.
The team behind X2Y2 is comprised of NFT and blockchain development veterans that noticed the downsides of centralization in the NFT ecosystem. Namely, 90% of all NFT transactions are on OpenSea and every time there is a downside or censorship, the whole NFT ecosystem is affected. Their message was "NFTs are not only on OpenSea."
The home page of the X2Y2 NFT marketplace.
The centralization of the NFT ecosystem has led to the creation of a few competing NFT platforms, one of which is X2Y2. The X2Y2 name is derived from a mathematical formula that creates a perfect circle. The X2Y2 logo represents a blue circle based on that formula. X2Y2 had an airdrop at the launch of their token (read below to learn how to claim it).
What is the X2Y2 NFT Marketplace?
X2Y2's NFT marketplace brought new features to the forefront of NFT trading. Those features include:
Profit-sharing: X2Y2 is the first NFT profit-sharing platform. Users who stake their X2Y2 tokens on the platform will receive a % of the fees for all NFT trades proportional to their share. Other platforms such as OpenSea don't offer profit-sharing.
Bulk listings: Users can list all their NFTs simultaneously or list selected NFTs in one transaction. This saves on gas fees from having to pay for individual NFT listing.
Bulk purchasing: Traders can purchase multiple NFTs with one transaction, paying a singular gas fee. This also saves on gas fees for frequent traders.
Push notifications: X2Y2's system automatically emails users the second there's a bid or a purchase of one of their NFTs. It also notifies traders if their bid is accepted.
Rarity statistics: X2Y2 features a brand new rarity tracker that can track the rarity of items and also show the last price on OpenSea. Detailed analytics are included for each NFT and its history.
Secret items: X2Y2 will be the first NFT platform to feature secret NFTs and privacy will be one of their main angles in the future.
X2Y2's NFT marketplace is only compatible with Ethereum (ETH) mainnet NFTs. Even though the website design resembles OpenSea and other NFT platforms, the features and the back-end were developed from scratch for this platform.
The X2Y2 marketplace has similar collections to OpenSea and the largest collections are well-known collections such as "Bored Ape Yacht Club", "Boomgala", "Azuki", "Crypto Chicks", and others. Under "Hot Collections" users can see the most-traded collections of the week with daily statistics:
The most-traded NFT collections on X2Y2 by volume.
The Bored Ape Yacht Club generated 100 ETH ($260,000) this past week and other popular NFTs have significantly less. This is a lot lower compared to the trading volume on OpenSea where the Bored Ape Yacht Club collection fetched over 5,100 ETH ($13 million) in trade volume in the same week. However, this is normal for a new marketplace.
The X2Y2 marketplace has 404,000 items listed at the time of writing, which is impressive considering it only launched a few weeks ago. This is due to the smart planning surrounding the X2Y2 airdrop which required all traders to list one or multiple NFTs on their marketplace before they could claim their airdrop.
The "Explore" menu showcasing the latest NFTs on X2Y2.
Other emerging NFT platforms such as Looks Rare (LOOKS) allowed users to claim their tokens directly, but X2Y2 mandated that claimers list at least one NFT on their marketplace and spend gas fees. As hundreds of thousands of coins were claimed, it immediately expanded the marketplace and made it similar to the OpenSea marketplace in size.
The X2Y2 marketplace also features domain name NFTs such as Ethereum Name Service (ENS). At the moment, over 12,000 .eth domains are listed for sale on the marketplace:
Ethereum Name Service domain name NFTs for sale.
While this is significantly less than the 400,000 listed on OpenSea, the fact that tens of thousands of domains are listed already indicates that the market is taking X2Y2 seriously.
X2Y2 vs. OpenSea: Which is better?
At first glance, X2Y2 and OpenSea look similar. Users who are familiar with the OpenSea platform will find it easy to adjust to the design of X2Y2. They are presented with three navigation options: "Explore" (to browse NFTs), "Ranking" (top-performing NFTs), and "Rewards" (X2Y2 coin rewards). The main distinctions are noticeable when users start actually using the system.
One standout feature of X2Y2 is the "Bulk Selling" option. OpenSea offers something similar, a feature called "Bundles" that allows users to sell multiple items at once. X2Y2 wants to lure OpenSea users by allowing them to directly import their NFTs from OpenSea.
X2Y2 aims to tackle the following OpenSea downsides, as stated in their whitepaper:
Centralization. More than 90% of all NFTs are sold on OpenSea, hence additional platforms will help decentralize the ecosystem.
Private fee collection. OpenSea charges 2.5% fees for every transaction on the platform — buying or selling. OpenSea developers pocket the fees themselves. X2Y2 shares the fee profit through a "Rewards" system for all users who stake their tokens on the platform.
Downtime. OpenSea has frequent maintenance upgrades and this can cause NFT transactions to halt or for NFTs to disappear in user's wallets. X2Y2 claims there won't be downtimes on their platform.
Private ownership. OpenSea is working with Silicon Valley investors and X2Y2 claims they won't take any private investment and their token will be distributed fairly. Even users with less trade volume will be eligible for the airdrop.

What is the main difference between OpenSea and X2Y2?
The main distinction between OpenSea and X2Y2 seems to be that OpenSea doesn't have its own token. OpenSea will likely go public and IPO (Initial Public Offering) at some point, making them reluctant to release their own crypto coin as it could impact their chance of becoming a publically-tradable company.
As the NFT industry really started making waves in mid-2021, most OpenSea competitors arose in the last few months and released their own token at launch.
Other platforms that generated noise include OpenDAO and Looks Rare. All of them targeted OpenSea users for their airdrop. However, on platforms like Looks Rare and their token, they only made users who traded 3 ETH ($8,000) eligible for the airdrop. X2Y2 makes everyone eligible, even if they made a single transaction on OpenSea.
X2Y2 was also reluctant to conduct private sales with investors prior to the launch of the token. They only had one public sale where everyone could participate. This is in accordance with their vision to "build a truly decentralized NFT market and give back to the community."

What is the X2Y2 Token?
X2Y2 is an ERC-20 coin running on the Ethereum network. It launched in February 2022 and made waves in the crypto community for its airdrop. The token is the governance and fee-sharing utility token for the X2Y2 ecosystem.
The X2Y2 token distribution.
The X2Y2 token distribution is the following:
Staking Rewards (65%): In the fee-sharing program, staking rewards are allocated the highest % point. Users will be able to claim a portion of the fees generated based on their X2Y2 stake.
Airdrop (12%): OpenSea users who made trades prior to January 1st will be able to claim 12% of the supply on launch.
Team (10%): The funds used for development and team salaries will be covered with a 10% stake.
Treasury (10%): The X2Y2 treasury will retain 10%.
Pre-Sale (1.5%): The pre-sale was completed successfully and gathered 1,500 ETH.
Liquidity Management (1.5%): The initial LP token will include 1.5% of the supply for trading.
The tokens are vested over a 720-day period and will be released gradually.
The vesting schedule of the X2Y2 token over 720 days.
There are a total of 1,000,000,000 (1B) X2Y2 tokens in existence, out of which only 130,000,000 (13%) are circulating right now. That means that with a market cap of $43 million, the fully diluted market cap is $340 million.
X2Y2 Airdrop Events
The team behind X2Y2 airdropped 12% of the supply to OpenSea users who traded on the platform before January 1st, 2022, or Ethereum block #13916166. This includes all OpenSea users who bought/sold any amount of NFTs. To claim the airdrop, connect your wallet by clicking on the top right wallet icon:
X2Y2 can connect with a number of DeFi wallets.
After you login with your wallet, you will be presented with a message or a green pop-up on the home page alerting you that you're eligible. This will take you to a different page where you can see how many X2Y2 tokens you can claim:
The airdrop amounts are pre-calculated for all eligible claimants.
In order to claim those tokens, you'll have to list at least one NFT from your current collection on X2Y2. For wallets that own multiple NFTs, the platform automatically presents them with a "Bulk Sell" option where they can sell their entire collection at once:
X2Y2 claimants must list an NFT before they can claim tokens.
Note: The NFT listing can incur gas fees that amount to $30-50. Make sure to do this on the weekends when Ethereum gas fees are lower to save on unnecessary costs.
X2Y2 Price Performance & The Future?
The X2Y2 token had a very successful pre-sale, gathering over 1,500 ETH ($4 million) for the equivalent of 1.5% of their token supply. It started off at $1.9 on February 15th and doubled in price to $4 in less than two days.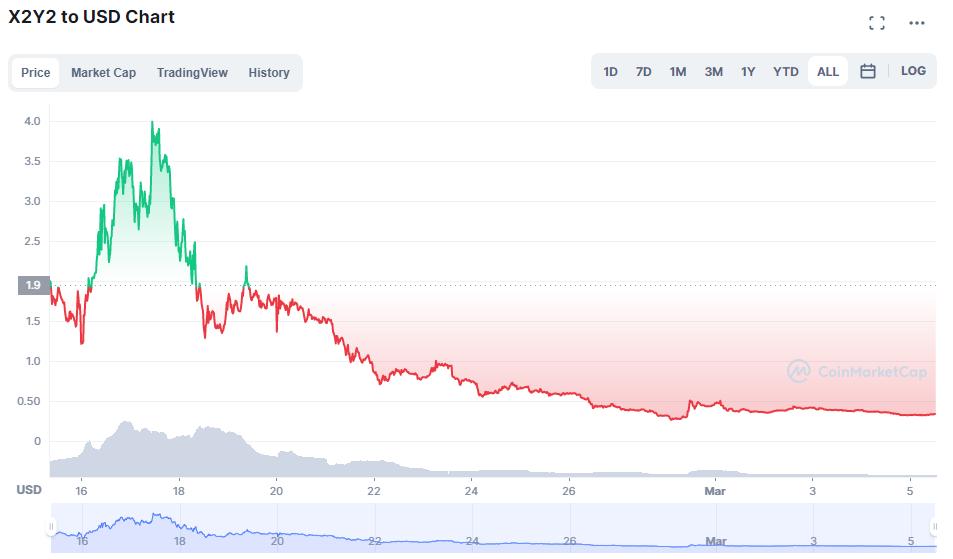 The price performance of the X2Y2 token since it launched.
The token price peaked a few days after launch, but it has since degraded significantly and is trading at $0.32 – a 91% decrease from its all-time-high. This can be partially attributed to the large number of people who claimed the airdrop and sold their tokens immediately after launch.
However, it's still early to make X2Y2 price predictions because the token launched only 2 weeks ago and we don't have historic data to estimate future performance. It's common for tokens to have a downturn after a successful launch and recover later.
The team plans to enter the metaverse with a 3D/VR integration in April 2022, L2 integration for Ethereum (i.e. Arbitrum, Matic), and build a DAO (Decentralized Autonomous Organization) by the end of the year. These upgrades could trigger a comeback for the X2Y2 token, despite the initial selloff from the large airdrop.

Conclusion
X2Y2 is a daring platform that aims to challenge OpenSea's market dominance by sharing profits with users and developing a unique rewards system. The platform brought new interesting features such as Bulk Selling that can save on gas fees.
The X2Y2 team successfully beefed up the catalog offerings on their NFT offerings by requiring airdrop claims to list their NFTs on the platform instead of openly gifting tokens to all eligible claimants. This gave them a head-start that many other competitors are lacking on NFTs by offering a wide variety of NFTs.
Despite the rise of alternative NFT platforms, OpenSea is still largely dominant in the NFT scene and it remains to be seen if X2Y2 will be able to become the 2nd largest platform or among the largest NFT platforms in the future.
---
Phemex |
Break Through, Break Free