World of Women, a relative newcomer to the cryptocurrency space, has made headlines around the world because of the speed with which its "Women" collection has sold, and the value these pieces have accumulated. Backed by celebrities and influencers alike, World of Women has bucked the trend of male domination in the crypto community, engendering a feeling of much needed equality.
What is World of Women?
World of Women is an NFT platform that has gained considerable interest in recent months. Its NFTs, completely unique digital tokens in the form of artwork, cannot be forged or duplicated in any way, as they are secured via blockchain encryption. World of Women completely sold out its sole original collection of digital artwork (NFTs) on July 27th 2021, the very same day it was put up for sale. The collection in question consisted of 10,000 pieces, created by artist Yam Karkai, all of which were hosted on the World of Women website.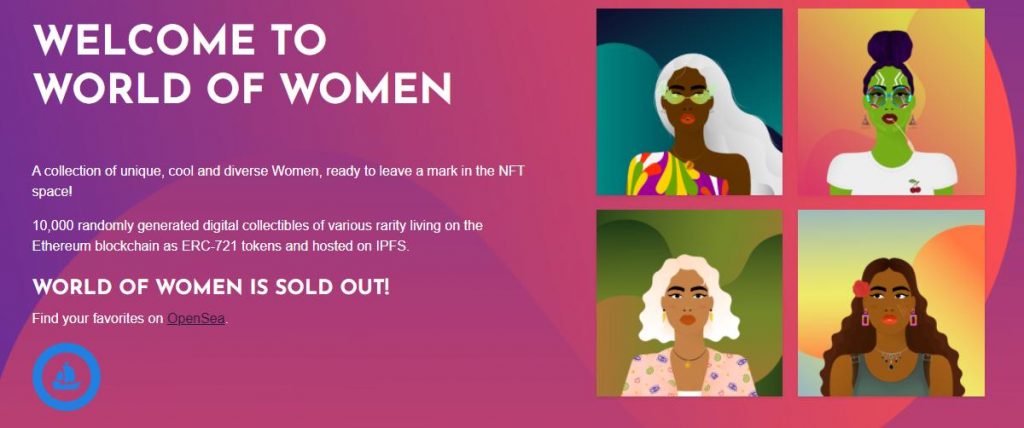 Each individual piece is drawn out by Yam herself in a colorful style using Adobe Illustrator and Procreate, then randomly combined to generate the 10,000 unique pieces (which are simply called "Women"). Many have praised the quality of the artwork hosted on World of Women; with every piece being a face-on picture of a different woman avatar, each composed of a combination of multiple distinct features, thereby ensuring uniqueness and rarity. These randomized features include 10,000 "Women" NFTs, each created from a combination of the following:
11 different backgrounds
14 different skin tones
27 types of clothing
25 distinct hairstyles
23 different facial features
13 different facial accessories
17 different pairs of earrings
15 different necklaces
9 types of mouths
7 different lip colors
28 eye combinations
World of Women has made strong claims of it helping to bring inclusivity to the cryptocurrency space, and their rapid rise in popularity has helped back-up these claims — at least to a certain degree. It's no secret that for a long time, women have been underrepresented in the world of digital currency, and World of Women's mission has been to help bring some balance to this inequality. "The mission of my art was always to showcase women, put them in the spotlight, and bring more diversity into the space," said Yam Karkai, the creator of the Women NFTs who launched the WoW platform with her partner Raphael Malavieille. As more than two-thirds of cryptocurrency investors based in the US are men, and around 60% are white, this is sorely needed, and World of Women is seen as a breath of fresh air in the space it inhabits.
How Is World of Women Structured?
All of the "Women" NFTs hosted on the World of Women website are based on the Ethereum blockchain, existing as ERC-721 tokens. These are one of the standard tokens traded on the Ethereum network, and usually used for non-fungible assets such as NFTs. Fungible assets are products which are highly liquid and, as a general rule, immediately tradeable for another token of agreed-upon and equal value; meaning that non-fungible tokens are the exact opposite. After an investor has successfully purchased one of these non-fungible tokens on the World of Women platform, they are given several unique perks of ownership:
Commercial royalties: Each owner of a WoW NFT is due 50% of any royalties made from commercial use, with the other 50% being due to the creators (in this case, Ms. Karkai herself).
Commercial rights: Each owner of a WoW token is granted exclusive rights to the artwork they have purchased. So if the owner wishes to use their digital image creatively in a commercial space, they are completely free to do so.
Physical prints: For every 1,000 primary sales generated, World of Women has promised to send out up to 10 signed and framed prints to a random selection of its clients. In order to be eligible one must simply own a single WoW NFT.
Digital prints: While WoW NFTs can be saved digitally as a 800×800 pixel image by anyone who chooses to, owners have exclusive rights to high quality 4000×4000 versions of the NFT they own. This allows them to print out the artwork for derivative projects of their own choosing, both for home and commercial use.

So long as owners agree to the licensing terms applied to the World of Women NFT collection, they are entitled to all the above benefits, and by purchasing an NFT they also indirectly contribute to several charitable causes. This is because another of the distinctive elements that separates WoW from its competitors is the unique promises it makes when it comes to profit allocation. According to the website, profits generated from primary sales (which is called "The Fund" on WoW) are intended to be used for reinvestment purposes. In total, 15% of profitable funds are to be invested in other crypto art for future auctions on the platform, while 2.5% is to be contributed to each of three charities centered on women's rights: She's the First, Too Young to Wed, and Strange Cintia.
Who is Behind World of Women?
Yam Karkai and Raphael Malavieille are newcomers to the world of cryptocurrency, operating without any significant history in digital finance whatsoever until July 27th of 2021. The real-life couple first met in Paris over half a decade ago – where Yam was studying to become an actress. Prior to becoming a celebrated NFT artist, Ms. Karkai's professional aspirations were all theatre, script writing, and physical art based. However, when NFTs suddenly exploded onto the scene less than two years ago, the pair were early in realizing the commercial opportunities such a space could potentially offer artists. Working as a team, Karkai began drawing and creating the actual digital artworks themselves, and Malavieille focused on the operational side; using the knowledge he had acquired from a background in project management. The platform they created, together with the help from Toomaie (tech development) and Boring Bored Ape (an influencer), was named World of Women.
World of Women has been backed by celebrities and influencers worldwide— including celebrated NFT collector (and Banksy-impersonator) Pranksy, social media star Logan Paul, and actress and entrepreneur Reese Witherspoon. Even digital currency influencer Gary Vaynerchuck, often referred to affectionately as Gary Vee by the crypto community, has spoken out in support of World of Women. He reached out to his 9.1 million Vaynermedia followers on Instagram earlier this year, suggesting that they should check out the WoW NFT collection because of the "fire art" hosted and the huge potential for exponential profit.
Less than 24 hours after posting the Instagram video (which featured representations of Ms. Karkai's artwork), Mr. Vaynerchuck had amassed 360,000 views, which only served to further build WoW's reputation in the digital space. "This is for everyone who has smaller bags but wants to learn (about) #nfts," said Mr. Vaynerchuck, who also went on to say that the platform had a helpful and active Discord community. All of this, along with the actual quality of the artwork and prints themselves, has contributed to World of Women's rapid rise in price and brand visibility in the market.
World of Women Price Analysis
The rise in price performance of the World of Women NFTs has been nothing short of meteoric since almost the very beginning. When originally listed on the WoW website, the minting price (or original value) of the artwork was 0.7 Ether (ETH), which equated to roughly $130 at the time. By October 2021, just three short months later, the lowest starting price (or floor price) for a WoW NFT sat at around 2.19 ETH, or around $9,200. Despite the company being too small and having too small an offering to be listed on CoinMarketCap's NFT collections by sales volume, one can still track their floor price performance on other applications, such as on CoinGecko:
As things currently stand, World of Women NFTs trade with a floor price of 1.89 ETH ($7,790) and have a total market cap of 18,900 ETH (almost $78 million). Considering the original price of these NFTs, this results in an average gain of roughly 60 times the original value of investment for the first investors – which is truly staggering. In just the last 24 hours they have seen a trading volume of around 43.5 ETH (around $180,000). The original 10,000 NFTs (which is still the same number in circulation to this day) are owned by 4,625 different, unique owners, and the highest amount generated from a single sale now stands at a whopping 100 ETH. This is equivalent to about $420,000 in today's money and represents a "reasonable" return on an investment that originally cost just $130 only a few months prior.

Conclusion
With all of these statistics, it is abundantly clear that the launch of the World of Women NFT range can only be considered an astronomical success. It may still be early days, but with the large amount of backing the platform has received it would be extremely unexpected if the popularity of these digital creations were to fall off any time soon. In fact, with the rise of NFTs in general, and the World of Women range in particular, it may be time for any prudent investor to begin giving these new forms of digital currency a closer look.
---
Phemex |
Break Through, Break Free