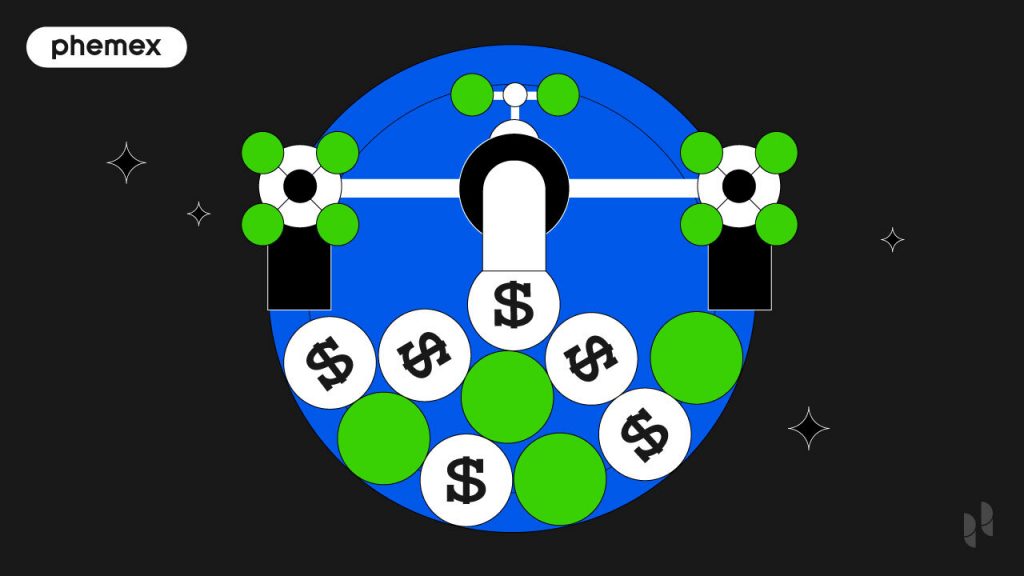 What is a Cryptocurrency Faucet?
A crypto faucet is a software for users to earn free crypto from completing small tasks. A crypto faucet utilizes the divisibility of cryptocurrencies to be able to reward users with small amounts of crypto. The term faucet is used because the amount of incentives given is small, just like water droplets from a faucet.
Users typically gain some small amount of a specific cryptocurrency from a crypto faucet. Even though the earnings are not very significant, it is still enticing. The tasks to receive the free crypto are also generally easy to do and do not require any prior cryptocurrency or blockchain related knowledge. Each crypto faucet has a reward pool where users can claim their rewards after reaching the required threshold or conditions. Nonetheless, it is generally difficult to earn big rewards despite doing the tasks for a long time.
How Does a Cryptocurrency Faucet Work?
A cryptocurrency faucet offers a series of tasks for users such as solving captchas, sharing links, viewing advertisements, completing quizzes or questionnaires, downloading and using apps, and watching videos. Users that complete these tasks can earn free cryptocurrencies. Typically, more tedious tasks, such as watching videos or downloading apps, would have higher rewards. On the contrary, easier tasks like solving captchas and sharing links have lesser rewards. Furthermore, faucet rewards are offered differently wherein the rewards distribution are set up based on the time, tasks, or amount of people on the website. For example, a crypto faucet may give rewards that are only available to be claimed at a certain time.

Users typically have to sign up before they can start doing tasks offered by the crypto faucet. For the sign-up process, users are required to give basic details and their main wallet addresses before obtaining their rewards. For beginners without a main wallet, wallet creation should be the main priority so that the accumulated rewards do not go wasted. After signing up, the faucet system also creates a micro wallet for the users. A micro wallet is a wallet that stores small rewards from a crypto faucet. The incentives are allocated to the micro wallet after users complete the tasks.
In addition, a crypto faucet typically does not let users get the cryptocurrency directly. The crypto faucet does this by setting up a threshold requirement where the rewards have to reach that threshold before they are eligible for withdrawal. Unfortunately, the threshold can be quite high. Therefore, users can sometimes take weeks before they can reach the threshold. When the threshold is reached, the micro wallet transfers the cryptocurrency to the main wallet address. However, if the crypto faucet allows the user to withdraw cryptocurrency, it usually also has a withdrawal limit where users can only withdraw a portion of their rewards at a time. In some cases, a crypto faucet that offers high incentives may have a low withdrawal limit or tedious withdrawal process. For example, users may have to go through a lengthy KYC verification process.
Are Crypto Faucets Worth it?
This is expected since the faucet owners usually fund the rewards for the crypto faucets themselves. The owners typically profit from the traffic that "free crypto" brings to their sites. As such, they have a lot to gain from users that view their advertisements and share affiliate programs and referrals from faucet rotators. Although owners can gain benefits from a crypto faucet, it can still take a lot of time, mental energy, and electricity to maintain the faucet. Sometimes, hackers may even steal the funds that the faucet owners have deposited.
What are Some Examples of Cryptocurrency Faucet?
A Bitcoin Faucet
The first cryptocurrency faucet was created by Gavin Andersen to spread awareness about Bitcoin (BTC). At the time, people didn't see much value in Bitcoin. Therefore, the first crypto faucet was designed with the intention to incentivize people looking to learn more about cryptocurrencies. In the past, the Bitcoin faucet's highest reward offered was about 5 BTC. Now, a Bitcoin faucet allows users to earn up to 0.00005000 BTCs or 5,000 satoshis only. Satoshis are the smallest unit of BTC typically offered by the Bitcoin faucets. $1 is equivalent to about 12 thousand satoshis.
The Bitcoin faucet was the pioneering faucet. After that, more faucets were developed such as Dogecoin (DOGE) faucets and Ethereum (ETH) faucets. The different faucets give out different cryptocurrencies. Details about the Bitcoin, Dogecoin, and Ethereum faucets are as follows:
Bitcoin faucet: The rewards from a Bitcoin faucet are very small since BTC rose in value. Users can take a long-time to complete tasks, only to earn a few cents. Examples of Bitcoin faucets that have high traffic are Bitcoin Zebra and Bitcoin Aliens.
Ethereum faucet: Ethereum faucets are faucets that give out free ETH. However, users that want to withdraw funds may have to deal with transaction fees or gas on Ethereum. Therefore, the cost of users that move ETH to the main wallet may have exceeded the accumulated ETH rewards. Examples of Ethereum faucets are Fire Faucet and Dutchy CORP.
Dogecoin faucet: DOGE had a low value at the beginning of its launch. For Dogecoin faucets that were created, the rewards are around 1 to 5 DOGEs. Currently, 1 DOGE amounts to $0.25 USD. Some of the Dogecoin faucets are Moon Doge and Free-Dogecoin.
What Is a Cryptocurrency Faucet Rotator?
Example of a crypto faucet rotator (Source: FaucetBitcoin)
Since there are many crypto faucets, users can use a crypto faucet rotator to complete the daily tasks of multiple faucets of interest. A faucet rotator is a program that helps the user to switch between faucets to collect rewards more quickly. Crypto faucet rotators are also available on Google Play and App Store, where users can choose the rotator of choice according to ratings. In addition, a crypto faucet rotator may be helpful for the user in finding legitimate crypto faucets from various other crypto faucet scams.
A faucet rotator typically aggregates multiple faucets that have legitimate rewards in them, so users' time is not wasted. Additionally, a faucet rotator usually sorts crypto faucets by withdrawal methods, language, and other additional services for the user's convenience. It also gives users the option to remove and choose their desired faucets to earn rewards. Moreover, some faucet rotators may incorporate a system where users can report faulty or invalid crypto faucets so that the existing faucets for selection are up to date.

Are Crypto Faucets Safe?
Not all crypto faucets are legitimate because some owners use the crypto faucets as scamming tools. In the past, crypto faucet scams were prevalent, which led Google and Facebook to ban them. Scam sites typically have some telling signs such as significantly high rewards, unsolicited faucet offers, and plenty of grammatical errors.
What Are the Forms of Cryptocurrency Faucet Scams?
Hackers may infect crypto faucetsites with malware, which can affect users' computers or install mining software.
The site may try to prolong a user's stay to use users' computers for mining activities. The mining activities are generally not suspected by users because the large amount of advertisement on crypto faucet sites tends to lead to a higher CPU usage as well.
Users are banned from the website and cannot log in after they have reached the threshold.
Some faucets may also adopt a slowing mechanism as users reach their threshold, making further earnings almost impossible and causing users to work even more.
The website may request users for a transaction fee before they can receive their cryptocurrencies. Once users pay the fee, no rewards will be transferred.
The website may also erase users' accumulated cryptocurrencies after they complete the tasks or once they reach the threshold, making users work in vain.
Hence, users are recommended to do their research before getting into a crypto faucet. For example, users should check reviews and community forums on specific crypto faucet sites or apps to find the ones that have gained major trust from other users. In addition, users can also find communities that have tested out the crypto faucet to increase efficiency when selecting suitable crypto faucets.
Should You Use a Cryptocurrency Faucet?
Beginner Friendly
A crypto faucet can be fun for beginners to explore cryptocurrency. The crypto faucet allows beginners to learn and potentially invest in cryptocurrency in the future. Additionally, a crypto faucet also provides beginners with the satisfaction of owning cryptocurrency even though the amount is small. Generally, the rewards can be as small as a few dollars even after the user consistently completes the tasks for a long period. However, beginners will be more willing to learn about cryptocurrency since they hold some cryptocurrencies earned from the faucet rewards.
Convenient and easy
Moreover, the crypto faucet is convenient and easy because completing each task is not very time-consuming. Plus, many people are already spending their time on the internet. Therefore, users earn some value going online to perform crypto faucet tasks that help them earn cryptocurrency. After a while, users may even accumulate enough crypto to swap for other tokens of interest.
Furthermore, a crypto faucet is good for users that like low-risk investments, where users can hold the cryptocurrency before the cryptocurrency becomes valuable. For example, Bitcoin had its crypto faucet before it greatly rose in value. Nevertheless, the outcome with the crypto faucet can go both ways. Either one's time is well spent through rewards earned or a complete waste of time from being scammed.

Conclusion
A crypto faucet is a software where users are awarded free cryptocurrencies after they have completed a task. The tasks required can range from watching ads, solving a captcha, to playing games. Generally, the amount of reward is associated with the difficulty of the task. If the task requires more time, the reward offered may be higher. Before task completion, users need to sign up first. The user typically needs to provide their wallet address to receive the rewards when the required threshold is reached. Some crypto faucets may allow withdrawal (but with a withdrawal limit). Moreover, owners and users of a cryptocurrency faucet can be vulnerable to hacks or scams. Therefore, both parties have to perform due diligence to hedge the risk. Nonetheless, the cryptocurrency faucet is beneficial for beginners that want to learn about the cryptocurrency market and hold some cryptocurrency without spending money. In the long run, users may even accumulate sufficient cryptocurrencies to trade for some major cryptocurrencies on a crypto exchange platform.
---
Phemex |
Break Through, Break Free