Main Takeaway: Markets Reverse In Anticipation Of US Inflation Data
It's been a positive four to five days since last Thursday for the crypto and stock markets, however, there's been a multiple percentage point reversal (4% for crypto) on the heels of poor company earnings in the US, and with today's US inflation print.
The US will be reporting its July inflation at 8:30 AM ET. If inflation drops, then the appetite for risk-on assets (cryptos) and stocks will increase and we may see continued upward movement. But on the other hand, if inflation is still high, the Fed will be more aggressive in September and the markets will begin pricing that in.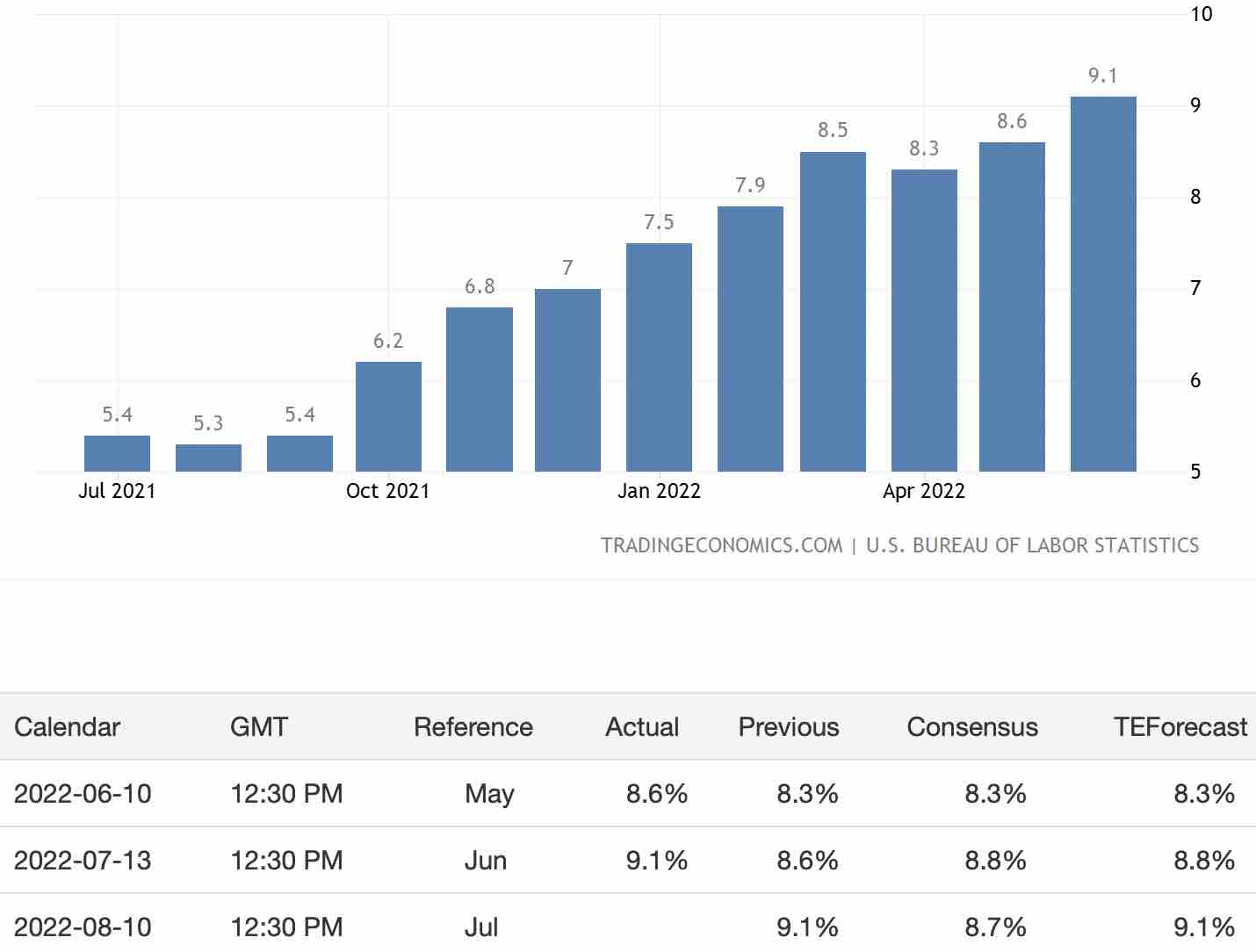 The main takeaway is June's inflation in the US hit its highest in years, so if today we get a reading back to May levels, this may be a positive sign for the markets. But 9% is truly high, so it's unimaginable to think the US will be able to get back to the Fed's goal of 2% or 3% without damaging the economy and employment situation. Expect the markets to be jittery to the downside throughout the day and in pre-trading hours.
Key Stories: Circle Supports Ethereum PoS, Curve Gets Hacked
Yesterday we reported on the situation regarding Chainlink's support for Ethereum PoS (and not supporting PoW). Today, in follow-up, USDC's Circle announced it will only support the Ethereum PoS chain post-Merge. If this continues, developers and projects looking to migrate to an Ethereum hard fork will be a dying trend. This is bullish for Ethereum PoS.
Another hack occurred, but this time with Curve Finance, an Ethereum-based exchange liquidity pool for stablecoin trading. The DNS hack stole around $570,000, but the problem was quickly resolved by the Curve team.
Today's Top Gainers
Despite overall the markets being down 4%, many cryptos on Phemex are performing well d-o-d, here are the top five coins on Phemex: StepWatch (SWP/USDT), Spell Token (SPELL/USDT), DAO Maker (DAO/USDT), RankerDAO (RANKER/USDT), and Bounce (AUCTION/USDT).
---
Phemex |
Break Through, Break Free