Summary:
The Bomb Crypto is an NFT pixel game with a play-to-earn feature.
There are five Bomber Heroes and three game modes in Bomb Crypto.
BCOIN token is the main in-game currency, and it is mainly used to buy bomber heroes, reset their skills, upgrade the heroes, and many other uses.
What is Bomb Crypto?
Bomb Crypto is an NFT pixel game with a play-to-earn feature. Players manage a team of Bomber Heroes of cyborgs programmed to look for BCOIN and fight monsters. Each Bomber Hero has varying stats, meaning that some are greater than others. If players are fortunate enough to find Bomber Heroes with good stats, they can sell or upgrade them to enhance their performance and combat ability.
Each Bomber Hero is an NFT. Instead of just holding these NFTs, players can also trade them. Also, players can hunt for other NFT items, such as decorations in the game.
The game is set in a land called Bomberland, a peaceful land far away from Earth where the people lived happily until the day an evil force came to invade Bomberland. The evil force burned down forests, destroyed buildings, arrested people, and stole BCOIN–the most important asset in the land.
To restore peace in the land, the kingdom's scientists have researched and created heroic bombers to help the people get their BCOIN back while destroying the henchmen of evil forces.
The rarity of these Bomber Heroes is organized hierarchically from common, rare, super rare, epic to legend. The higher the rarity, the higher the success rate.
Bomber Heroes have six power stats:
Power: the bomb's destructive power
Bomb range: the length when the bomb explodes
Stamina: the hero's energy
Speed: the movement speed
Bomb: the number of bombs that can be placed
Ability: random strength
As mentioned before, each Bomber Hero has a different power stat, and the higher the rarity, the stronger these five power stats will be.

The Bomber Heroes
Henricus – the Knight
This is the first Bomber Hero of Bomberland. As the descendant of a loyal knight who has consistently pledged to protect the land since ancient times, Henricus has fought countless battles with a sharp sword in his hand and stud iron armor. He also receives technical upgrades from the scientists from time to time.
A chip has been inserted into his brain; hence he can analyze the opponent's movement and always strikes fatal blows. He is also the strongest shield among the bomber heroes. His famous slogan is: "Stand behind me, and I'll get you to victory."
Bully Frog – Frog
The cutest bomber hero on the team. The evil forces have killed the bully frog's family, so Bully Frog is determined to join scientific research. Bully frogs gradually become increasingly evolved until they are no longer normal frogs.
Bully Frogs are experts in long-range attacks, with their long tongues and ability to jump long distances. His catchphrase is: "Frogs, ribbit, ribbit!!!!!"
Richard – Man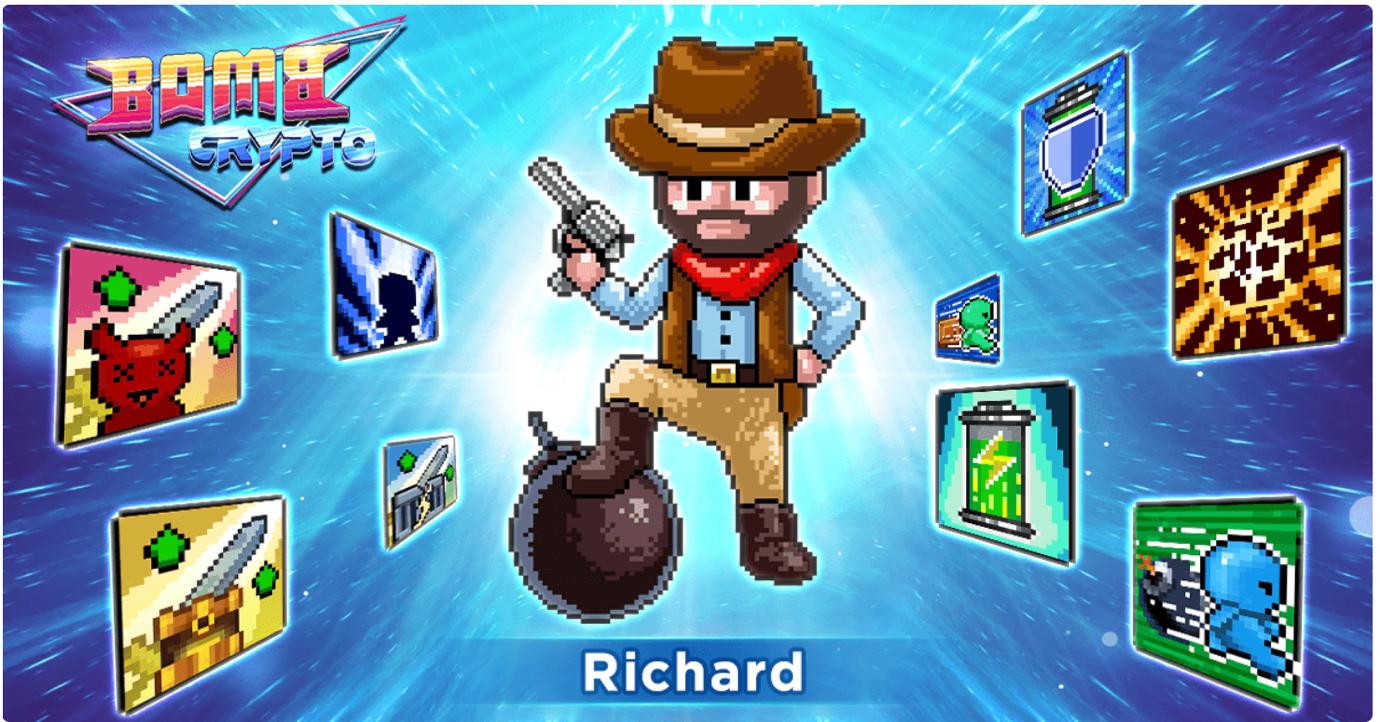 The only human Bomber Hero on the team. He is a legendary gunman, holding the record of shooting 10 robbers with only one bullet. With the assistance of scientists, he is able to recover swiftly, thereby making him the captain of the Bomber Hero squad. With his leadership and vast experiences, Richard is trusted by the Bomber Hero team members.
Jasper Vampire – the Vampire
A DNA scientist nurtured and implanted the DNA of an ancient creature into a man, creating the Jasper Vampire. Jasper Vampire has the agility to move like the wind, with powers of hypnosis to hypnotise enemies.
Magic Yaga – the Witch
This adorable witch is granted powers from the ancient magic book together with the modern auxiliary from her costumes. Magic Yaga can control matter and use her powers to explode things.
How to play Bomb Crypto
To start playing Bomb Crypto, players must first get a Bomber Hero. There are three ways to get a Bomber Hero:
Buy one from the P2P marketplace for 10 BCOIN.
Rescue one from a prison block that is holding a Bomber Hero hostage. The damaged hero needs to undergo recovery before it can go wild again. However, it should be noted that the prison blocks only exist in Treasure Hunt Mode, and these prison blocks have a time limit.
Through auction at the P2P marketplace.
There are three game modes in Bomb Crypto:
Treasure hunt mode: In this mode, players can dispatch Bomber Heroes to the mining areas to bomb the blocks and find BCOIN. Also, these heroes can work automatically without needing the players to be always online. This can potentially translate into a form of passive income on the part of the player. Every time a bomb is placed, the energy level of the hero decreases. When the hero runs out of energy, he will enter a resting state to recharge his energy. If players have extra money, they can purchase a house as this increases charging speed.
Story mode: Players get to choose a Bomber Hero to participate in each level. The player is tasked to kill all the monsters to pass each level. Breaking blocks and killing monsters also allow players to find BCOINs. The Bomber Hero's energy is consumed whenever he engages in a level. Hence, if there is not enough energy, the hero is prohibited from participating in certain levels. Moreover, if a monster touches a Bomber Hero in the game, the hero will lose his energy. The player loses the battle when his hero's energy is fully consumed.
Battle mode: Players enter a bomb battle to fight against other players in this mode. However, to join the battle, players not only need a specific type of energy but also have to pay a certain amount of tokens as an entry fee. The entry fee will then be used as a reward. The final winner gets to claim losers' tokens.
BCOIN token info and price analysis
BCOIN token is the main in-game currency for Bomb Crypto. It is mainly used to buy bomber heroes, reset their skills, upgrade the heroes, buy a house, join events, staking and reset ROI. Also, it is used to pay entry fees for PvP and PvE games in Bomb Crypto.
From an initial price of over $1.74 on 2 October, 2021, the BCOIN swiftly gained traction and hit its first peak of more than $4.65 the next day. This might have been due to the fact that the game was highly welcomed by the community, where it sold 150k Bomber Heroes and 242 houses on 2 October. This bullish uptrend lasted more than ten days before a bearish downtrend entered.
BCOIN gained traction again in November 2021 and rose to its all-time high of $8.77 on 29 November. This could be attributed to Bitcoin's price spike to its all-time-high of over $67,000 with the launch of the Taproot upgrade.
Moreover, it was reported that Bomb Crypto's LP was raised to $2M after opening a farm on PancakeSwap, which also helped boost BCOIN's price.
BCOIN price chart from October 2, 2021 to July 3, 2022. (Source: CoinMarketCap)
This bullish uptrend lasted until the end of January 2022. Starting from February 2022, BCOIN has been in a bearish downtrend. On 2 July, BCOIN dropped to its all-time low of merely over $0.028. This is most likely due to the downtrend across the whole crypto market rather than a coin-specific event. The global cryptocurrency market cap shrunk below $1 trillion to $977 billion, and almost every altcoin is now worth less than 20% or 30% of their peak value.
At the moment of writing, BCOIN is trading at over $0.03 per token with a circulating supply of more than 10.77 million for a total market cap of more than $323,000.
Who is behind Bomb Crypto?
Senspark is a gaming studio that is responsible for Bomb Crypto's game development. It is a Vietnamese indie game developer established in 2011 and has launched more than 40 games, which have been downloaded over 100 million times. Its most successful and popular games to date are Stickman Battle 2021 (18M+ downloads) and All Gold Miner Game (20M+ downloads).
The founder of Senspark is Lam Ho, a Vietnamese serial game entrepreneur who has led the studio for over 10 years. The gaming studio has more than 40 staff in total. In addition, Bomb Crypto is being advised by Thai Duong (the Head of Security at Google), Truong Do (Google's Game Industry Manager in Southeast Asia), and Eric Vuong (Chairman and CEO of HVA Investment JSC, an investment and financial advisory firm based in Hanoi, Vietnam).
---
Phemex |
Break Through, Break Free