With its decentralized access mode, blockchain technology offers great potential for industries and companies that need quick and efficient access to inter-organizational data. One such promising area is supply chain management.
Blockchain solutions are currently being widely used, tested, or piloted by a range of businesses to optimize their supply chains.
What is a Supply Chain?
A supply chain refers to the entire set of processes, tools, regulations, and actors involved in delivering physical goods from their origin to the final destination. Supply chains are crucial elements in the overall business model of retail operators, transportation companies, commodity trading companies, manufacturers, and many others.
How Complicated are Supply Chain Operations?
Supply chain operations is a complex area due to a number of reasons, such as:
Many supply chains span multiple jurisdictions, such as different countries or different states in countries with federal systems. The cross-border nature of these supply chains necessitates dealing with customs and border control. Customs and border regulations in some countries may be extremely bureaucratic and sometimes change with little notice.

Modern supply chains typically involve different actors, such as original manufacturers, distributors, resellers, warehouse operators, transportation companies, customs authorities, and retail stores. Due to issues of trust, there is usually a need to thoroughly check that the actual information entered into the supply chain software matches the real state of things. For example, retail operators need a way to ensure that the condition and quality of goods-in-transit reported by the transportation company match the reality.
The involvement of multiple jurisdictions and actors requires detailed documentation. Generating, updating, and verifying this documentation is a complex task in itself.
Modern supply chain management software is dominated by large enterprise software companies such as SAP and Oracle. As there is a need for different actors along the supply chain to collaborate, there has been a recent move towards cloud-based supply chain solutions.
Despite cloud solutions improving cross-organizational cooperation, the issues of trust, verification, and documentation remain. As of now, supply chain operations remain relatively slow, complex, and bureaucratic.
Source: sap.com
Blockchain & Supply Chain: How Can They Work Together?
Blockchain technology has been frequently cited as having great potential to simplify supply chain operations. Blockchain may help supply chain operations in a variety of ways, not only in terms of reducing complexity:
Blockchain can provide unified access to all actors along the chain to record, update, and view supply chain data.
Cryptography, which blockchain features, helps keep all the data secure.
Use of blockchain oracles feeding data into the main platform may provide an enhanced way of verifying data authenticity. This is an important point given the issues of trust that may arise between different actors along the chain.
If government entities, such as customs, become a part of the blockchain, bureaucratic delays at borders and naval ports may be eliminated.
Unified analytics. Blockchain can help actors along the supply chain to share and use unified analytics data. An example of this is inventory forecasting by retailers, who are often the final recipients of the goods. When the inventory forecasts made by retailers are shared via blockchain, other entities, such as transport companies, distributors, warehouse operators, and manufacturers, may adjust their own operations to optimize the entire supply chain.
Blockchain offers great potential to simplify modern supply chains, which are characterized by their complexity and a large number of actors (Source: OliverWyman.com)
Impediments to Blockchain's Implementation in Supply Chain Management
Despite all the benefits that blockchain offers to supply chain management, its implementation is not trivial. A number of impediments, reservations, and risks remain when considering blockchain supply chain solutions. These include:
Blockchain technology may be complex to implement from a software development point of view. It might involve multiple organizations, each with their own programmers' skill-set and underlying technology.
The open-access nature of most blockchains is not optimal for supply chain systems where part of the data must be protected from the view of other actors along the supply chain. For example, a retailer who buys produce from a farming cooperative may not want the transportation company to see some of the data related to the next purchase.
Although most blockchain-based supply chain solutions involve permissioned, rather than public, platforms, customizing access to all the data by various actors may not be an easy task.
Some supply chains require high data throughput, something that many blockchains may struggle with. In the commercial setting, the Proof of Work (PoW) blockchains, including the world's most popular smart contract platform, Ethereum (ETH), often struggle due to their low transaction processing speeds.
The Proof of Stake (PoS)-based platforms are significantly better in that regard. However, depending on the industry and volume of data to process, even they may struggle to meet the throughput requirements of some supply chains.
There might be challenges in getting some external actors, particularly government entities, to become part of a blockchain-based supply chain. Many supply chains feature customs as one of the key supply chain actors. Customs services in many countries are used to having their own information systems that may not be compatible with external blockchains.
Getting the government customs service to join a supply chain system run by private businesses with the primary goal of simplifying their own operations might prove difficult. Large corporations, with significant lobbying and dancing around, might persuade governments that joining their blockchain is worth it. However, supply chains without corporate heavy-weight members might have considerably more difficulty in that respect.
As noted above, public blockchains, with their completely open access mode, are hardly suitable for corporate supply chains. Most blockchain-based supply chain solutions, therefore, use a permissioned access mode.
However, in such a permissioned blockchain, there might be a problem with appointing the entity that controls and grants those access permissions. For example, if a retailer acts as the access controller on the blockchain, other actors, such as distributors and manufacturers, might consider this network the retailer's own internal system rather than a shared blockchain where each entity has equal rights.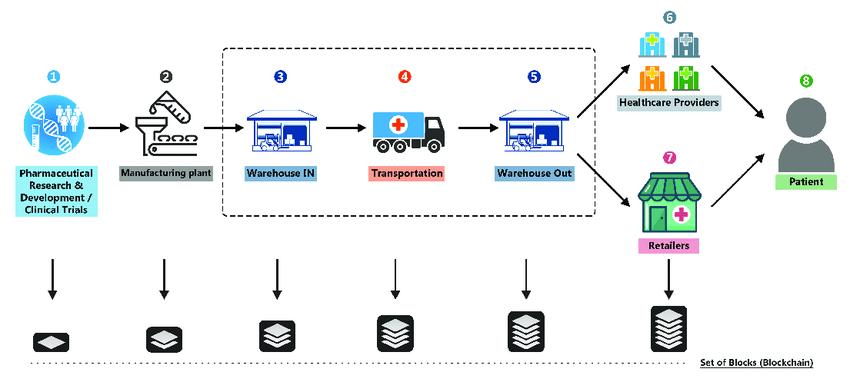 Source: researchgate.net
4 Popular Blockchain Supply Chain Use Cases
Leading companies in various sectors are actively exploring or implementing blockchain-based supply chain solutions. Some of the key examples of these include:
Walmart, in partnership with IBM, has been using blockchain for some of its vast supply chain operations. Two areas where Walmart employs blockchain are tracing the origin of mangoes sold in the retailer's outlets and tracing pork imports from China. The blockchain system used by Walmart cuts the time required to properly trace the origin of mangoes from about 7 days to mere seconds.
BHP, one of the largest miners in the world, has introduced a blockchain-based supply chain solution to track and manage samples of minerals it mines and processes. Before the blockchain solution, the samples were handled and shared along the supply chain using Excel spreadsheets. This made sample management slow and prone to error.
With the introduction of the blockchain supply chain system, the quality, speed, and accuracy of sample management have all improved.
Software developer Provenance has implemented a blockchain supply chain solution to trace meat from its original farm all the way to the shelves of the retailer. The platform was built in partnership with the Soil Association, a leading UK-based non-profit organization supporting organic and environmentally-friendly consumption causes.
The Abu Dhabi National Oil Company (ADNOC), the national oil producer of the UAE and one of the largest oil producers in the world, has piloted a blockchain-based supply chain project, which is used to trace the origin of oil along the entire supply chain, from the point of extraction to the final destination of delivery.
The pioneering lead by ADNOC opens up great opportunities for blockchain to be implemented in the oil industry on a wider scale. As commodity supply chains, including oil supply chains, involve a great deal of complexity, blockchain has vast potential in this massive and lucrative industry.

Conclusion
Modern supply chains feature a large degree of complexity. Getting the goods from the origin to the final destination requires the involvement of a wide variety of actors, such as manufacturers, distributors, warehouse operators, transportation companies, customs, retailers, and more.
Blockchain technology may help simplify these complex operations. Key advantages that blockchain offers to supply chain management include unified access to shipment data, data security, use of external blockchain oracles to ensure data quality and integrity, reduction in bureaucratic delays, and unified analytics to help with forecasting.
However, despite all these promising advantages, blockchain's implementation for supply chains may be hindered by a number of factors. These include development complexity, incompatibility with the existing systems, limited transaction throughput on some blockchains, and the difficulty of getting all participants onboard.
Despite all these impediments, blockchain-based supply chain solutions are being actively implemented, or at least, trialed, by a wide range of companies, including industry giants such as Walmart, IBM, BHP, and ADNOC. The examples set by these industry leaders are likely to help blockchain's further adoption in the world of supply chain solutions.
---
Phemex |
Break Through, Break Free