Main Takeaway: Lower Lows
Over the weekend the crypto market reached its lowest point since December 2020, with the market extending its downturn even more. Despite being at a two-year low, Crypto Twitter FUD and negative sentiment were at their highest, with sentiment feeling worse than in 2020 and 2018. This was largely because Bitcoin and Ethereum broke through the psychological levels of $20,000 and $1,000 – with Bitcoin dipping to $17,700 and Ethereum dropping to just below $900. But luckily, by Monday morning Asia time, the market saw a 5% recovery from Sunday levels, giving people a short breather from the carnage. At the moment, Bitcoin is back at $20,000 and Ethereum at $1,000.
Outside of prices, there was a lot of crypto news that happened over the weekend.
Key Stories: El Salvador & Elon Musk To Save The Day?
One of the biggest stories was a Twitter interaction between Elon Musk and Altcoin Gordon that took place on Sunday the 19th, in which Elon tweeted out, "I will keep supporting Dogecoin."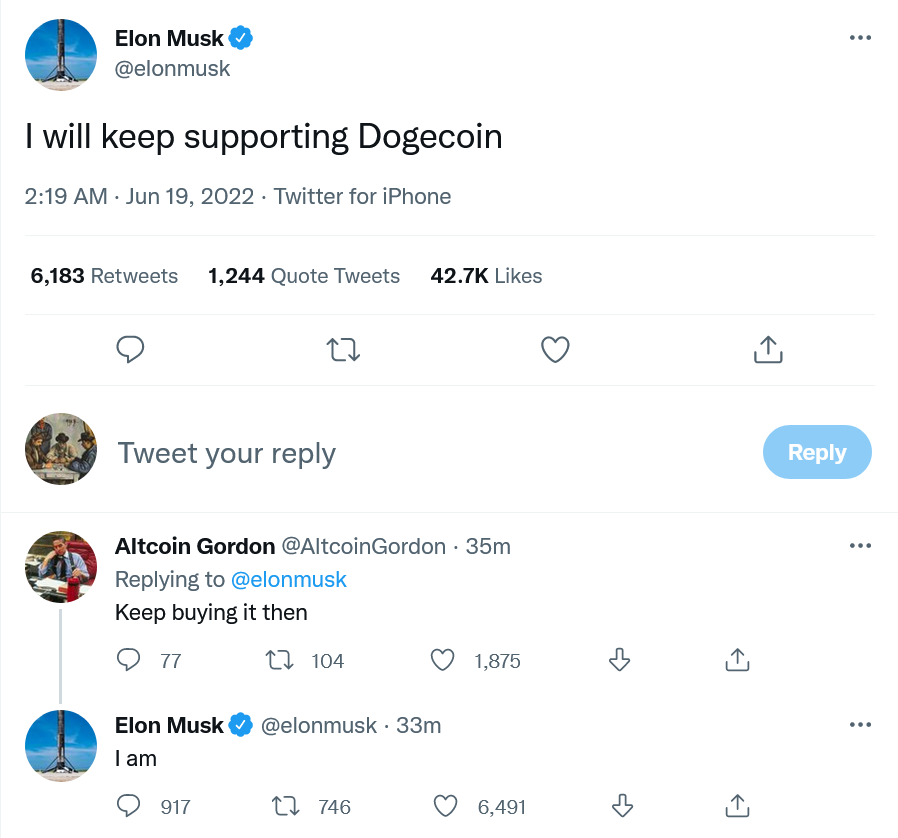 Given the market as of late and the tanking of memecoins in particular, this tweet of 'support' gave DOGE a much-needed boost – at one point gaining a 15% to 20% price increase.

Elon Musk of course is one of the most important figures in crypto, and any show of support from him is crucial. So it'll be important for investors to keep an eye on Tesla's earnings calls and see what the company does with its crypto. If Musk stays bullish on crypto, Bitcoin, and Dogecoin, and his Twitter business dealings go through, it'll be a positive momentum builder for the markets.
The second story on the 'celebrity' Twitter news cycle was that El Salvador president tweeted for BTC investors to have patience in the market and to understand that once the bear market is over, Bitcoin's price will recover. This advice was received with immense criticism from the likes of Peter Schiff and others as they critique the president's moves to invest in Bitcoin when the nation's economy is under duress and when there's a severe poverty problem. While Bukele is not a major head of state of a wealthy G20 country, he has become a global figure in the crypto space.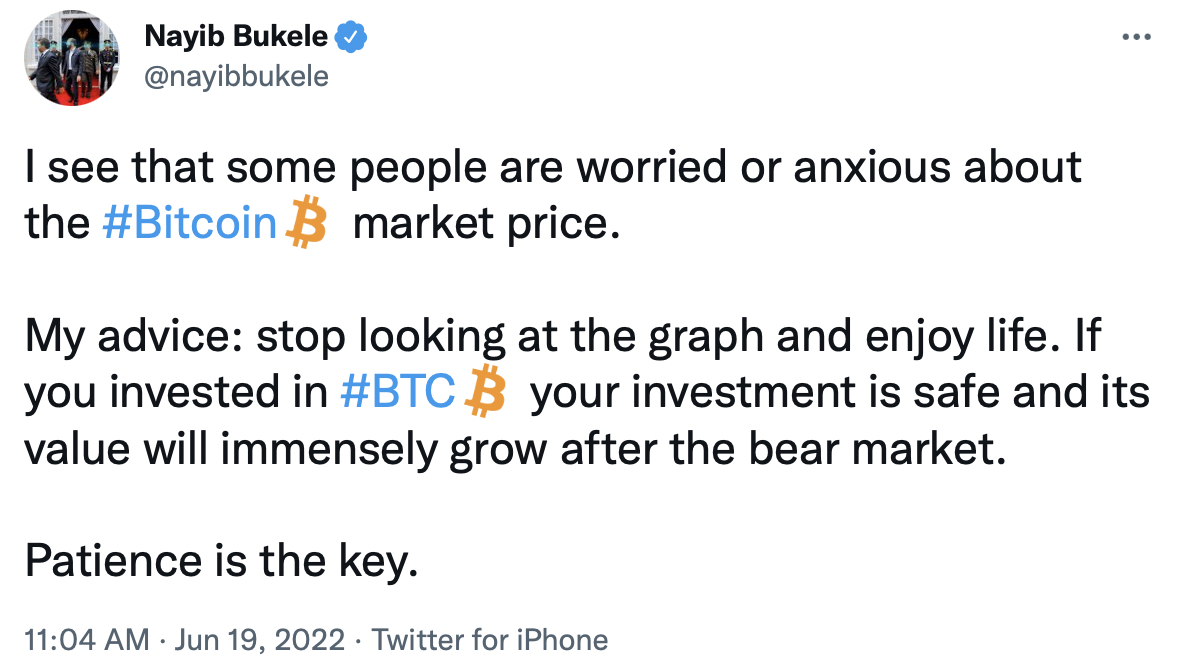 Investor Insights: Keep An Eye On Contagion & Stablecoins
In the past week, we've seen a lot of continued market contagion from the VCs and other project lenders such as Celcius – and it's important to remember this is all happening on the heels of the LUNA crisis and the negative macro backdrop. Therefore, it's prudent to stay focused on the unseen knock-ons from these events. Global interest rates are on the rise and heightened talks of recession. So crypto investors need to do extra research on where the leverage still exists in the system, guard against it, and focus on the projects with true value and application.
Secondly, after the LUNA/UST collapse occurred it feels like there's a deadly hammer coming down on unstable and risky stablecoins. Recently, there's been numerous instances where stablecoins have lost their peg – namely USDD and Magic Internet Money (MIM).
Magic Internet Money (MIM) is a USD soft-pegged stablecoin minted by the Abracadabra.money decentralized platform that uses interest-bearing tokens as collateral to mint MIM. MIM keeps its peg via arbitrage incentives within the Abracadabra ecosystem. On Friday, June 18th, MIM briefly lost its peg but it has since recovered.
(Source: Messari)
USDD is a decentralized algorithmic stablecoin released by the Tron Foundation. Different from UST, USDD is said to be significantly more collateralized with current collateralization of 200%. It's currently trading at $0.95, below its peg of $1.
Risks & Opportunities: What's Up With Solana & Solend?
Solana over the past year has been a top-five crypto on a consistent basis, and for a while was top three – but because of incidents around network outages, and other complaints about the network's decentralization, it has dropped significantly in price. Moreover, just on Sunday, Solend, an algorithmic, decentralized protocol for lending and borrowing voted to seize a Solana whale's holdings of $170 million in SOL to prevent liquidation risks because the wallet controlled a large portion of the protocol in SOL and USDC. This incident is ongoing and there are some proposals to undo the action.
Despite the news, Solana's price is holding up d-o-d, and remains at the price level seen about a week ago on June 12th.
The Good News: Today's Top Gainers
By evening Asia time, the crypto market is on a rare path to have a solid day in the green, with price recoveries across the board from the currency segments all the way to smart contract platforms and memecoins.
On the Phemex Markets tab, you can see below the day's top gainers, which include Synthetix (SNX), the Render Network (RNDR), and Automata (ATA). Besides these three, two other coins are performing particularly well: Storj (STORJ) and Crypterium (CRPT).
---
Phemex |
Break Through, Break Free