Tuesday Deposit - So Easy to Win 5,000 USDT & Cashback Vouchers!
Dear Phemexers,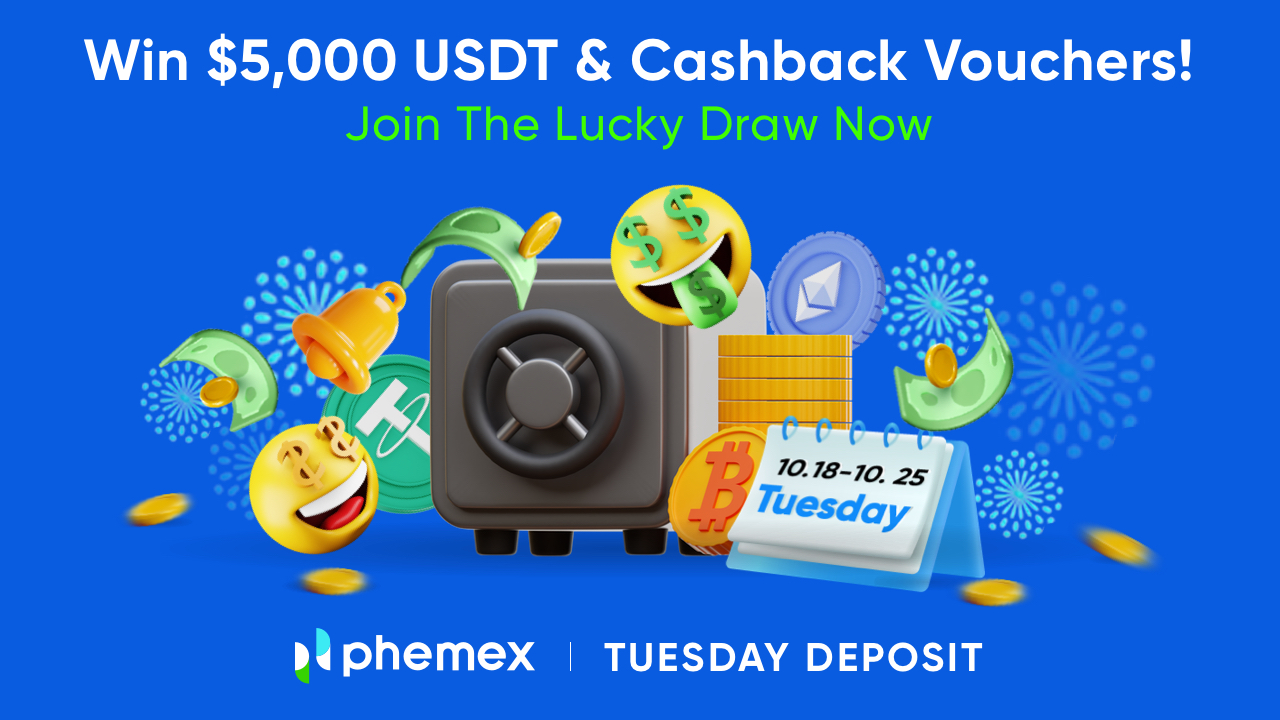 It's deposit Tuesday, which means we're giving out prizes when you just deposit into your account! For this week's campaign, there's up to $5,000 USDT in cashback vouchers to win just by depositing money into your account. Make sure to read what the rules are to get on this amazing deal while you can!
Good luck!
How It Works
Fill in your UID and follow our official social media page @Phemex_official
Deposit over $500 USDT every single day during this event period.
Users who continue to complete the deposit tasks for 7 days, will win 500 USDT Cashback Vouchers.
If more than 10 users complete this target, the top 10 deposit volume users will win a $500 Cashback Voucher. The remaining users will each win a $300 Cashback Voucher.
Users who continue to complete the deposit tasks for 5 days during this period, will win a $200 Cashback Voucher.
For users who complete their deposit in less than 5 days, (for 2 to 4 days instead), you will get a $20 Cashback Voucher.
The rewards are not valid for one day deposits.
All the best to all participants!
Prize Pool – $5,000 USDT & Extra Rewards
| | | |
| --- | --- | --- |
| Days of Deposit | Prize (USDT Cashback) | Number of Winners |
| 7 | $500 | 10 |
| 5 | $200 | First come, first serve |
| 2 – 4 | $20 | First come, first serve |
Dates
Campaign period: 0:00 UTC on 18 October to 24:00 UTC on 25 October, 2022
Prize Calculation: October 26 to November 9, 2022
Prize Distribution: November 10 to November 17 , 2022
Terms and Conditions
To qualify for this event you must complete required actions from announcement page
Users are only eligible to participate with a single account. If we detect multiple accounts with the same IP addresses or UIDs, all offending accounts will be disqualified.
After the campaign period ends, we will update the Reward Recipient List here.
This promotion is available for only users who trade within the campaign period.
To receive rewards, users must ensure they have provided an accurate Phemex UID that is identical to their email. Users must also respond to the winners announcement email within 14 days in order to claim their reward.
The following actions will result in immediate disqualification: batch account registration, profits from market manipulation, self-dealing or wash trades.
Note that the Cashback is only for contract trading, and not spot trading. To learn more about cashback vouchers and how to use them, click here.
Only main-accounts are allowed in this competition, sub-accounts will not be counted.
Phemex reserves the right to make any final and binding amendments to these rules.
---
Phemex |
Break Through, Break Free