Long/Short Coin Flip for $5,000 Prize Pool
Author: Alan W.
Date: January 26, 2022
Hello Phemex Traders,
Crypto prices are constantly changing. At any particular moment in time, Bitcoin price is either going up or down. How would you like the chance to guess whether BTC will go up or down…and be rewarded from a $5,000 prize pool if you're right? This is a super simple event where you just have to submit your guess, make an inverse BTCUSD contract trade, and potentially collect some free rewards. Enjoy a 50% chance to win a bonus if you're correct, and lose nothing if you're wrong!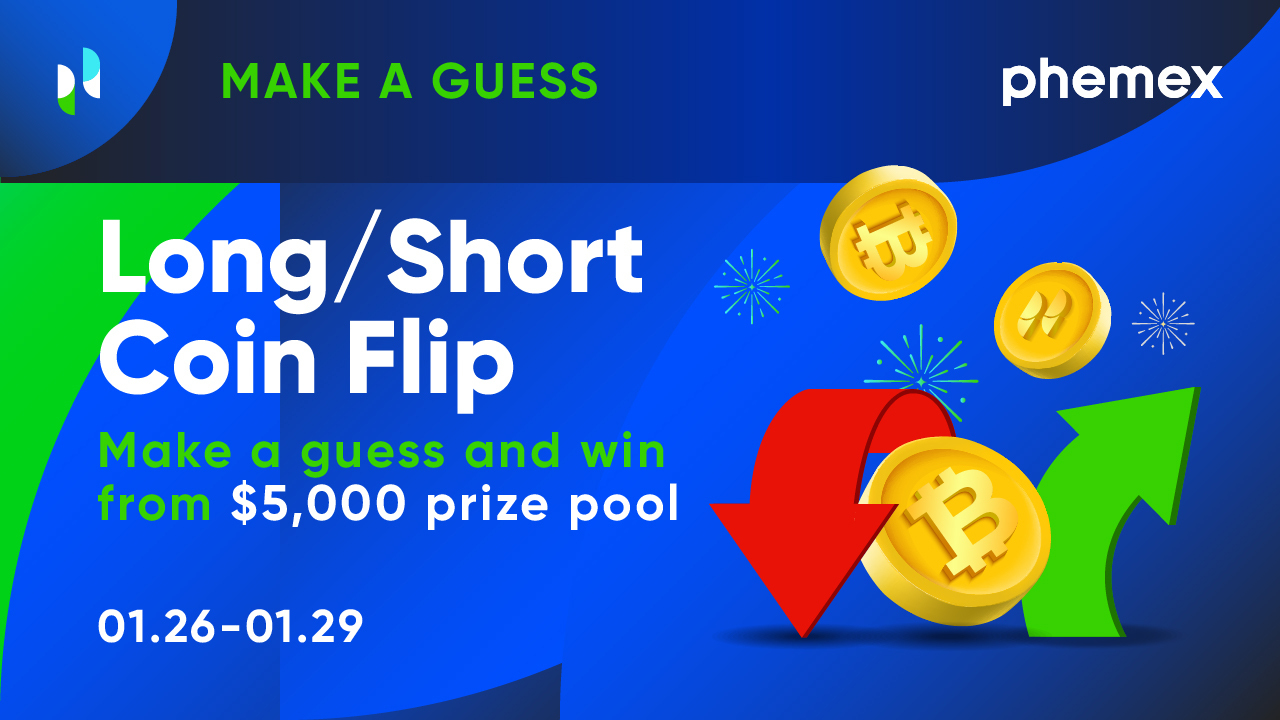 Here's how it works:
Predict whether the inverse BTCUSD BTC-margined contract will rise or fall during the minute from 12:00 noon to 12:01 pm UTC on Jan. 29. Submit your prediction using this form.
After submitting your prediction, you must open an inverse BTCUSD perpetual contract position (either long or short) of at least $50 to qualify for rewards
Be eligible for rewards by making sure you've completed KYC verification
If you predicted correctly on price movement of inverse BTCUSD contract at the designated time, and completed all other campaign actions, you'll win from $5,000 prize pool
Dates
You must fill in and submit the campaign form (along with completing all campaign actions) during the campaign period. Your submission will either be correct or incorrect, based on whether the inverse BTCUSD contract increases or decreases in price at the "BTCUSD Price Snapshot" time. If you guessed right and completed all other campaign actions, you'll receive your rewards during the prize distribution stage.
Stage 1 (Campaign Period): Jan. 26 at 9:00 am UTC – Jan. 29 at 11:59 am UTC
Stage 2 (BTCUSD Price Snapshot): Jan. 29, 2022 at 12:00 noon UTC (candle chart price movement for one minute from 12:00 to 12:01 pm)
Stage 3 (Prize Distribution): From Jan. 30, 2022 to Feb. 3, 2022
Prize Pool – $5,000
The first 1,000 users who complete all relevant campaign actions and end up guessing correctly will split a $5,000 prize pool.
Each lucky winner will receive $5 in contract trading bonus.
Terms and Conditions
To qualify for this event you must fill in and submit this task form, then open a BTCUSD BTC-margined contract position of at least $50
All rewards will be distributed as trading bonuses to user's contract trading account
Users are only eligible to participate with a single account. If we detect multiple accounts with the same IP addresses or UIDs, all offending accounts will be disqualified.
This event is only open to Phemex registered users whose accounts are in a normal state. Locked or frozen accounts are not eligible.
Users must complete KYC verification to receive rewards from this event
The following actions will result in immediate disqualification:batch account registration, profits from market manipulation, self-dealing or wash trades.
Only main-accounts are allowed in this competition, sub-accounts will not be counted.
Phemex reserves the right to make any final and binding amendments to these rules.