Dear Phemexers,
Thanks to all the efforts of the Phemex Alliance, we find ourselves with a batch of newcomers. With that comes the Masters, those who have earned their time here at Phemex and are full of wisdom. In order to spread the word and expand the Alliance, the Masters must now look for more students to become the strongest Alliance of them all!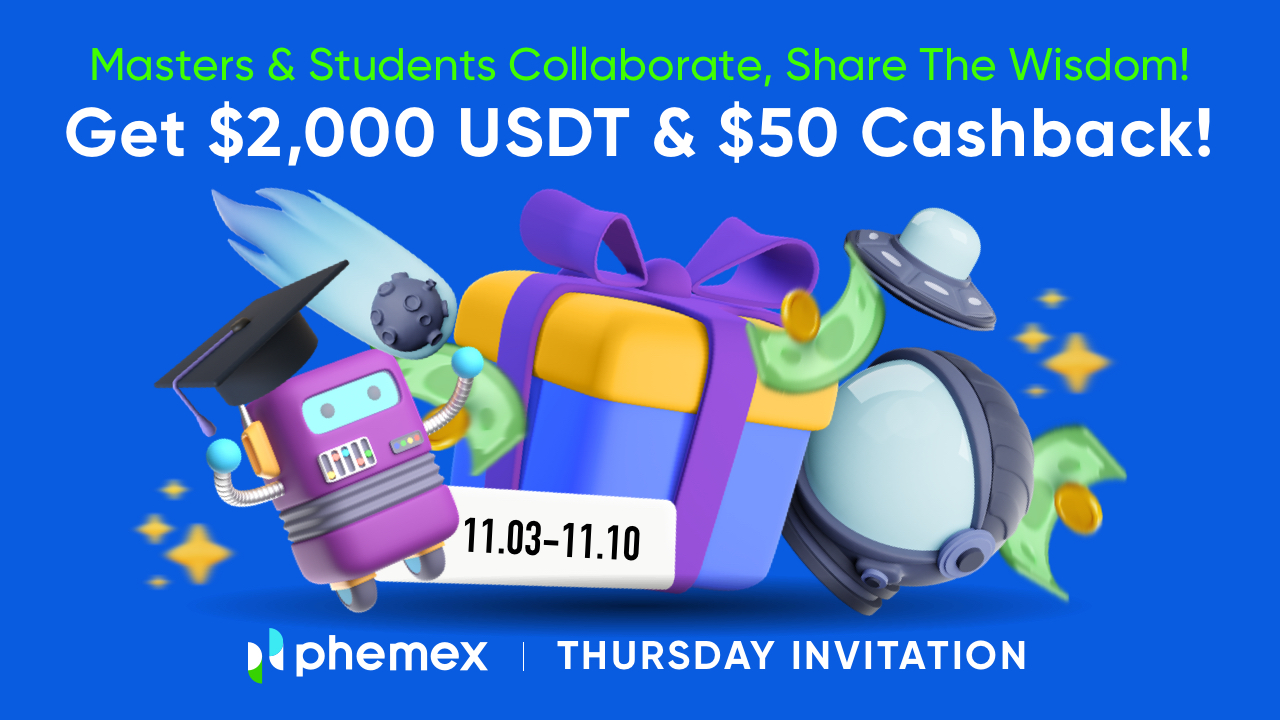 How It Works
Register or log in to your Phemex account.
Fill in your UID and follow our official social media page @Phemex_official
Invite at least 3 qualifying new users to join Phemex, and you will be rewarded with $50 Cashback Vouchers.
Invite at least 5 qualifying new users, and you will be eligible to join in our prize pool Lucky Draw.
Each invitee can be rewarded $20 Cashback and each account is limited to 5 invitee rewards.
For example: A master shares their knowledge with their new students. There are 6 students who joined. Student 1 to 5 will receive $20 Cashback each as a reward, however Student 6 will receive nothing. This is because a Master can only have 5 students at a time.
Please note that for a new user to be qualified as a successful invitee, they must register through your referral link, verify the KYC and complete at least 1 transaction over $100 in volume for either contract trading, or spot.
Prize Pool
Lucky Draw – $2,000 USDT
10 lucky users will win $200 USDT each via Airdrop.
The lucky draw will only be open to those who invite at least 5 qualifying new users.
Cashback Vouchers
Invite at least 3 qualifying new users to join, and the user (inviter) will be rewarded with $50 Cashback Vouchers.
Note that the cashback vouchers are only for contract trading, and not spot trading. To learn more about cashback vouchers and how to use them, check out What Are Cashback Vouchers and Cards?
Dates
Campaign period: 0:00 UTC on 3 November to 24:00 UTC on 10 November, 2022
Prize Calculation: November 11 to November 25, 2022
Prize Distribution: November 26 to December 03, 2022
Terms and Conditions
To qualify for this event you must complete required actions from announcement page
Users are only eligible to participate with a single account. If we detect multiple accounts with the same IP addresses or UIDs, all offending accounts will be disqualified.
After the campaign period ends, we will update the Reward Recipient List here.
This promotion is available for only users who complete the required actions within the campaign period.
To receive rewards, users must ensure they have provided an accurate Phemex UID that is identical to their email. Users must also respond to the winners announcement email within 14 days in order to claim their reward.
The following actions will result in immediate disqualification: batch account registration, profits from market manipulation, self-dealing or wash trades.
Only main-accounts are allowed in this competition, sub-accounts will not be counted.
Phemex reserves the right to make any final and binding amendments to these rules.
---
Phemex |
Break Through, Break Free