The Phemex Crypto Converter feature allows you to instantly convert your Crypto into USD, to be used for the USD Contract Trading Account. To learn more, please read "What is the Crypto Converter?"
To convert your crypto into USD, perform the following steps:
1. Open the Phemex App and log in to your account.
2. Tap the Assets Icon on right side of the bottom navigation bar.
3. By default, you will be seeing the Overview page of your Assets.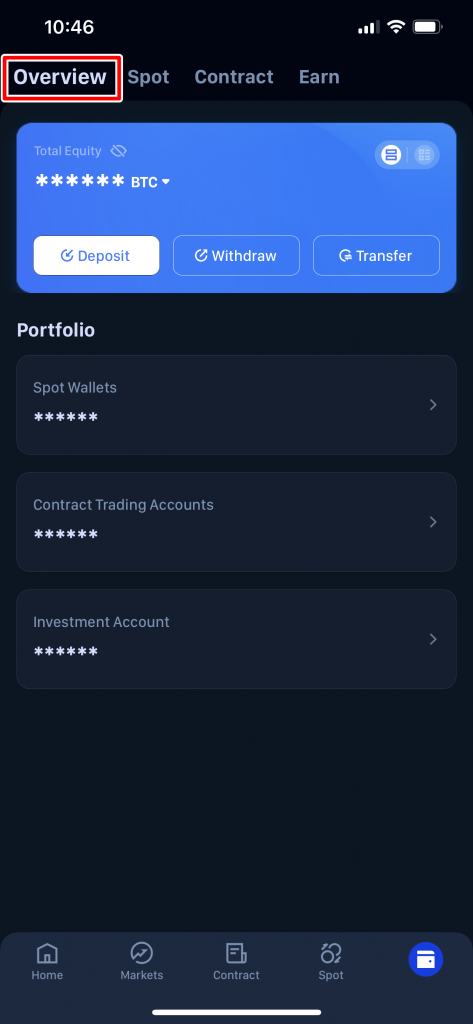 4. Tap on the second tab Spot and then tap the Quick Conversion option.
5. Tap the From option to select the crypto you wish to convert.
NOTE: If you're converting from crypto to USD, the To option will always have USD selected or vice-versa if you're converting from USD back to crypto.
6. Enter the amount of crypto you wish to convert. Your available balance for that crypto will be displayed on-screen. To convert all of it tap All.
7. Tap the Get Quotation button. How much USD you will receive and the applied quotation rate will be displayed for 7 seconds. If the time expires, tap the Get Quotation button again for a new quote.
8. An optional checkbox is ticked by default. This will automatically transfer your USD into the contract trading account. To learn more about this, please read "How do I fund my Contract Trading Accounts? (APP)".
9. Once you're satisfied with the quote, tap the Confirm button.
10. Tap the Trade Now button to enter the contract trading page or tap Done to return to the assets page.
---
Phemex |
Break Through, Break Free