1. Firstly, register or log into your Phemex account. Then click on Assests, followed by Withdraw.
2. Select the coin that you would like to withdraw. Funds for withdrawal must be available in or transferred to your Phemex Spot Wallet. Please make sure you have also selected the same coin on the platform where you are depositing funds to for this withdrawal. You will see the first coin that you have enough balance in. Make sure to only select the coin that you have enough balance in your spot wallet to withdraw.
3. Next, select your network.Please make sure to choose a network that supports both the platform and Phemex. Ensure that Phemex has your assets and then can proceed to withdrawal.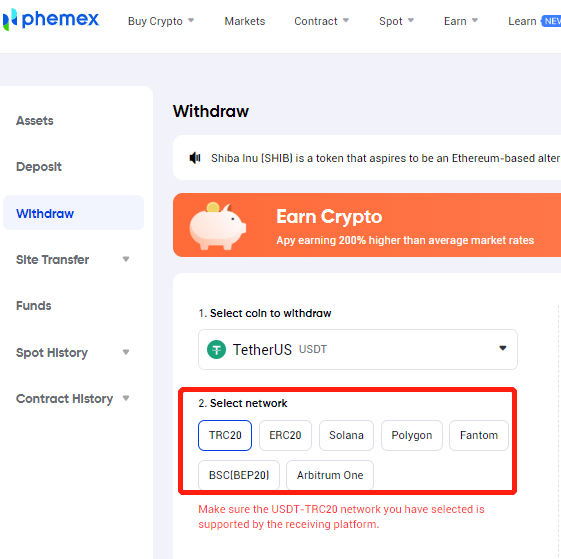 4. When you select crypto coins like XRP, LUNC, EOS, etc… They might require a tag/memo. Therefore, for those coins that require a tag/memo, please ensure that you have input the correct tag/memo for your withdrawal.
5. There are 2 methods that you can enter a withdrawal address:
i. You could just paste the address you copied.
ii.You can click the icon right of the address input box, then select one from Address Management.
6. Next, enter the withdrawal amount that you desire. Please take note of the minimum amount, the transaction fee, the available balance, as well as the limit remaining today. After confirming everything, click Withdraw to proceed.
7. Next, you need to verify the transaction. Please enter your Google Authenticator code for verification. This step is required for keeping your assets safe.
8. You will be receiving an email confirmation regarding the withdrawal. Please check your email within 30 minutes as the link will expire after that. If you did not click the link within 30 minutes, your withdrawal will be considered invalid.
9. You can double check the withdrawal details again via the confirmation email. Once everything looks right, click Confirm to proceed.
10. Once you have finished all the withdrawal steps, you can check your withdrawal history by clicking on Assets, then navigating to Withdrawal. This is where users can view the data and it is at the bottom of the web page.
If the withdrawal status is still pending, you can click Cancel to cancel the withdrawal.
And that's it! Congratulations, you now know how to withdraw funds on Phemex.
---
Phemex |
Break Through, Break Free