To initiate a withdrawal for the first time, perform the following steps:
Log in to

Phemex.com

and click Assets on the top right corner of the page.
Click Withdraw on the left-side menu.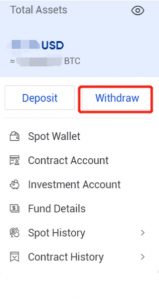 Click the Address Management link on the top right side of the page.
Click the Add Withdrawal Address button.
From the drop-down menu, select your desired symbol/coin, add Tag, Wallet Address and Address Note, then click Confirm.
Please note, Tag is not optional for some of the coins like XRP, XLM, LUNA, etc. Address Note is note for personal reference only, can be your desired wallet name or anything else that you want to put as a remark.
Enter your Google Authenticator code. If you do not yet have Google Two-Factor Authentication enabled, please view How do I enable Google Two-Factor Authentication?
Once the verification code has been verified, the system will prompt a success message and the desired wallet address would be added into the Address Management.
8. Check your inbox for a confirmation email sent by Phemex. Once you click on the confirmation link, your withdrawal will be fully confirmed.
NOTE:
The withdrawal normally completes within one hour. If your transaction is still not completed within the indicated timeframe, please contact our customer support team for further assistance.
Withdrawal delay might be caused by the following possibilities: Security risk detection; Network confirmation; Network congestion; Node upgrade. For better clarification, please reach out to our customer support team.
Withdrawal function would be disabled for 24 hours after a password or 2FA have been reset.
Learn how to make a Deposit HERE
---
Phemex |
Break Through, Break Free