Play-to-earn (P2E) games are one of the newer and fast-growing areas within the overall blockchain ecosystem. In the last few years, the gaming industry has moved decisively into the blockchain arena with platforms such as Axie Infinity (AXS) and Decentraland (MANA).
One of the relative newcomers in this space is Gala Games (GALA), a blockchain-based P2E platform where users can earn non-fungible tokens (NFTs) for game assets and achievements.
Gala's native token, GALA, currently trades at $0.70, with a circulating supply of nearly 7 billion tokens, for a market cap of around $4.9 billion.
What Is Gala Games (GALA)?
Gala Games is a decentralized app (DApp) for games that allow players to earn NFT tokens for game assets. Initially launched on Ethereum (ETH), it has also been available on BSC since August.
The project's market cap and profile within the blockchain gaming community spiked sharply this month. Gala is now the fourth-largest blockchain gaming platform.
The top 10 blockchain gaming platforms as of November 25 (Source: CoinMarketCap.com)
A great feature of Gala is that all games on it are free. Gala currently lists five games in its core offering, but only one – Town Star, is live and open to users.
Gala also features an NFT store where users can trade game assets. The platform's utility token, GALA, is mainly used for payments between users, rewarding nodes, and asset purchases.
How Does Gala Work?
A key element of Gala's architecture is the founder's nodes, which are special network nodes that have governance rights on the platform. Founder's nodes vote on fundamental issues for the app, such as which games to introduce and how the reward system in games should work. Currently, Gala has around 20,000 founder's nodes, and the total number of the nodes to ever exist is capped at 50,000.

Before October, each additional 100 founder's node licenses sold triggered a price increase of $100 per license. By now, every 100 new licenses sold increases the founder's node price by $500. The current price for a founder's node is $18,000 and is expected to grow quickly, especially given Gala's popularity spike this month.
Gala has stated that the founder's node price will be capped at a maximum of $100,000 when the final licenses are sold.
Although Gala resides on Ethereum and BSC, it is actively working on launching its own blockchain. The founder's nodes will be instrumental in enabling operations and governance on the new platform.
Five Games on Gala
Gala's platform is currently made up of five games, one in the finalized release state, one in beta testing, and three in the development stage.
The five games currently being promoted on Gala are:
Town Star, the only game that is currently finalized
Spider Tanks, a game which is going through the beta testing stage
Mirandus, in development
Echoes of Empires, in development
Fortified, in development
What is Town Star?
Town Star is a town building game. At the beginning of the game, you are given a choice to place your town anywhere in the world. After selecting your location, you can get down to building up your town from the ground up.
The game's key purpose is to let you use different kinds of workers in the game to build up your town as efficiently as possible. While building your environment, you can create valuable assets that could then be traded as NFTs.
You may also buy NFTs from Gala's NFT store to enhance your little town. Gala's NFT store is not the only place to trade NFTs from Town Star. Gala lets you connect to an external NFT marketplace, OpenSea, for an added variety when buying or selling NFTs.
What is Spider Tanks?
Spider Tanks is a battleground for tanks where players compete in a variety of environments. The main game assets here include tanks, weaponry, and armor options.
The game is currently in the closed beta testing stage. Depending on the outcome of this stage, Spider Tanks' full launch on the Gala platform may not be far away.
What is Mirandus?
Mirandus is an RPG game where you end up in a land controlled by five "monarchs". As a player, may decide to serve one of the monarchs as a knight, venture into the wilderness to fight monsters, or become a shop owner in one of the five cities in the game.
Mirandus is a promising game in the hugely popular RPG niche. At the moment, the game is in the development stage, and Gala hopes to introduce it by the end of the year.
What is Echoes of Empires?
This is a sci-fi strategy game where your goal is to lead a fleet of starships in epic battles across the galaxy. As you master your craft in the game, you can expand your conquests further into galactic space.
The game has both single-player and multiplayer modes. So you join forces with other players in the quest to rule the galaxy.
The game is in the development stage, with an expected release date of around Q2 of next year.
What is Fortified?
Fortified is a game set in medieval times where your main goal is to build the best strategy to defend your tower. Players compete with each other to come up with the most effective defense strategies.
In a competition with other players, your main goal is to protect your own tower while inflicting damage on your competitors' defenses.
Fortified is currently in the development stage, but there have not been any recent definitive updates with regard to a planned release date.
Who Is Behind Gala?
Gala Games was founded in 2018 by Eric Schiermeyer, Wright Thurston, and Michael McCarthy. Each of the founders brings their own unique expertise to the project. Schiermeyer is a prominent figure in the gaming industry and also co-founded the popular social gaming platform Zynga. He serves as the Gala's CEO.
Thurston is an established blockchain technology specialist and holds two senior roles on the project – Chief Sales Officer and Chief Blockchain Officer. He is also the CEO and founder of another blockchain platform, Give Blockchain.
McCarthy was the Director of Creative at Zynga, working alongside Schiermeyer at the game development company. He brings his expertise in creative product and concept design to the Gala project, where he works as the Studio Director.
GALA Coin Price History
From September 2020 to early February 2021, the token was worth less than one cent. In February this year, GALA rose above one cent for the first time. It mostly traded at levels of approximately $0.01 to $0.07 until mid-November.

In mid-September, GALA briefly reached $0.10 and $0.12, but quickly declined below ten cents within days. Just two weeks ago, on November 11, the token was worth $0.09.
It then exploded in the space of two weeks to its current level of $0.70, an increase of 687%. One reason for this massive spike might be the listing of the GALA token on some leading cryptocurrency exchanges in mid-September. It is possible that the market is catching up to promising GameFi projects.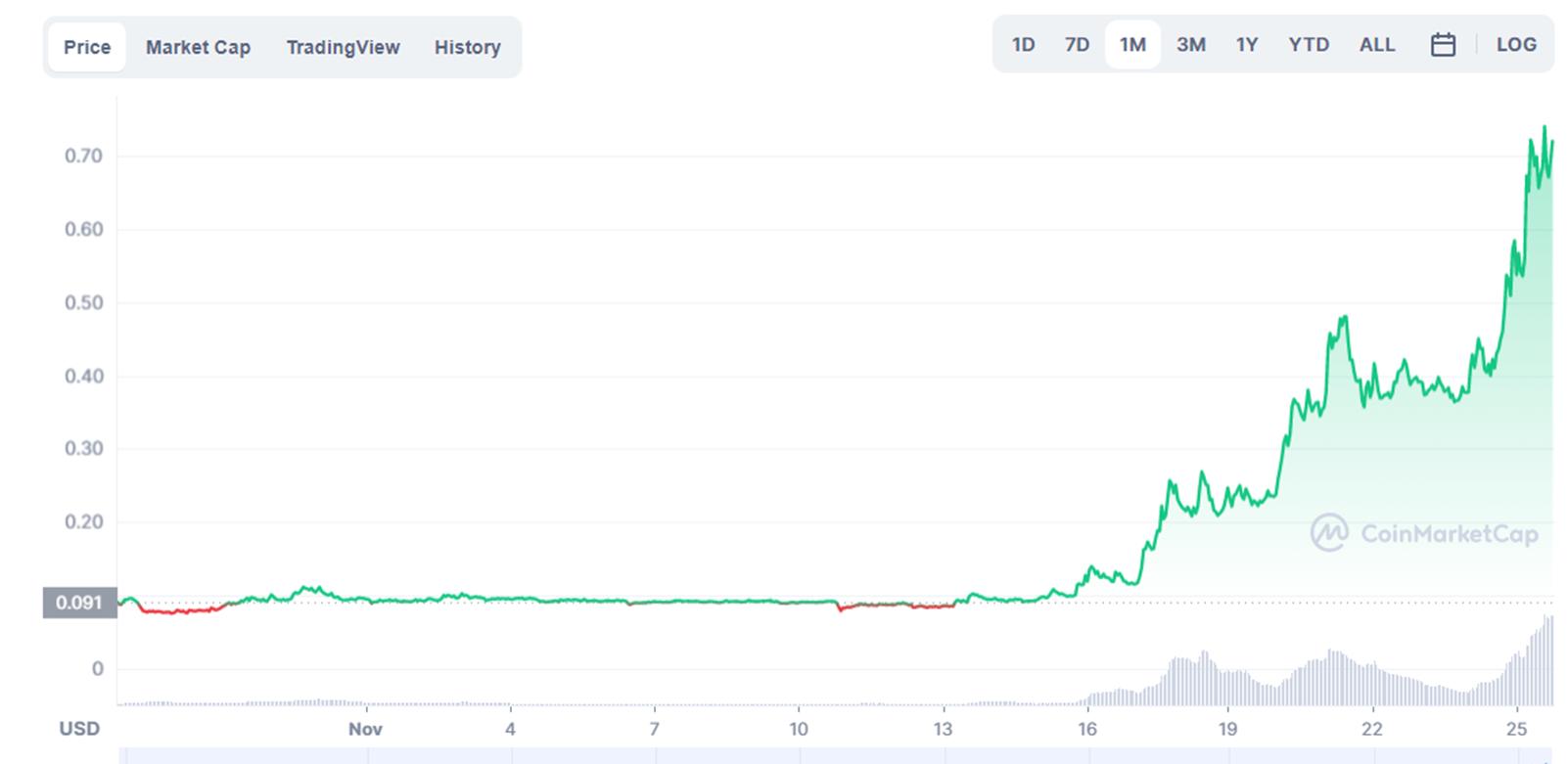 The price of GALA over the last one month (Source: CoinMarketCap.com)
Conclusion
Gala Games is a blockchain-based P2E platform where users can play games and earn NFTs for various game assets. It also features an NFT store as well as the ability to connect to external NFT marketplaces like OpenSea.
Gala is currently based on Ethereum and BSC, but has plans to develop its own blockchain. There are five games currently being promoted by the platform. However, only one of these, Town Star, is at the final release stage.
One more game, Spider Tanks, is in beta testing and is expected to become available to the public soon. The other three games are still in the active development stage.
Gala performed modestly since its launch last year, but recently GALA token has exploded in price from less than $0.10 to its current level of $0.70 in the last two weeks.
There is a possibility that crypto investors focusing on the gaming space currently view GALA as the next big mover in the market. This belief could be fueling the token's massive appreciation. Whether this enthusiasm is sustainable remains to be seen.
---
Phemex |
Break Through, Break Free